とある科学の超電磁砲(レールガン)/Toaru Kagaku no Railgun
A Certain Scientific Railgun Vol. 10 (manga review) 
–> BUY FROM RIGHTSTUF!
–> BUY FROM BARNES & NOBLE!
–> BUY FROM BUY.COM!

SPOILER Summary/Synopsis: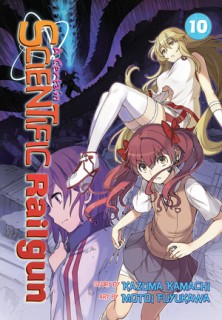 Mitori encourages Mikoto to attempt to target the "evil" of this city as she continues to power up. Misaki drafts Touma to help try to bring Mikoto under control. Touma is aided by Level 5 psychic, Sogita, as Mikoto continues powering up and going out of control. Misaki drafts Kuroko, who's memories are still altered, to pursue Mitori. Kuroko gets remote help from Uiharu and Saten to help her track down and ultimately defeat Mitori. Misaki engages in a battle of wits against Kihara Gensei, who is using Level Upper to have supernatural powers. She ultimately defeats the old man via brilliant trickery.
After failed attempts to stop Mikoto, Touma gets to her newly evolved and out of control form. His Image Breaker arm is ripped off as Mikoto, unable to do anything, witnesses in horror. However, number of serpent-dragons emerge from what remains of his arm, destroying the "shell" around Mikoto, allowing Touma to free her. His arm is then restored.
The defeated Mitori lays in the sewer, remembering her time with the clone Dolly and how Mitori learning the ugly truth behind Dolly's "treatment" subsequently lead her to ultimately be recruited by Kihara Gensei. Misaki, having found her and learned this info, recruits Mitori to go free Dolly's clone twin, who shares the original Dolly's memories. Mikoto pays a visit to Mitsuko at the hospital to thank her. Misaki restores Kuroko's, Saten's, and Uiharu's memories of Mikoto, with some modifications to not reveal the truth of what happened. Saten arranges things so that Mikoto has to dance with Touma.
Thoughts/Review:
And so comes an end to the Daihasei Festival Arc, and it was certainly an interesting and entertaining story.
The revelation that Mitori was the "Mii-chan" that Dolly knew, and who's place young Misaki took was one that I should have seen coming a mile away. And yet, up until that was revealed, I had no clue. Initially, when Mitori started having her flashback, I started thinking, "Yeah, right. This sure is convenient." But then as the flashback played out, I realized, "Actually, this makes a lot of sense." It wasn't just some hat pull, but it was clearly designed going back to the start of the story arc.
Even Misaki's not probing Dolly's mind as a child regarding Mii-chan made sense because at the time, Misaki was (1) still a child and (2) had other, more pressing concerns.
I loved how Misaki drafted Mitori to help her. It seemed pretty clear that Misaki did a mind probe of Mitori to learn the truth. In the end, I loved how they were able to save the other Dolly clone, though for how long is another question. Misaki seems to have access to medical facilities, so she might put her resources together to help extend Dolly's life.
I also note with interest that Dolly's emergence seems to have gotten her into the Misaka Network, at least to some degree as Misaka-10032 senses Dolly's desires and feelings.
Misaki's strategy against Kihara Gensei is pretty brilliant. I couldn't think of how she would overcome Gensei since he had multiple powers thanks to Level Upper, including clairvoyance. Changing stuff her her own mind so that she believed certain things worked well and was very believable. I'm guessing Gensei died, but considering how he'd modified himself so much, it wouldn't surprise me if he had his consciousness installed in a computer somewhere so that he could get a new body at some point.
As to Touma, he now appears to have some new supernatural power, that in the form of eight serpent-type dragons emerging from where his right arm was removed. Good thing the dragons were only interested in Mikoto's out of control powers and nothing else. I suppose that makes sense, seeing as how his Imagine Breaker negates powers of all sorts.
The whole thing with Mikoto's powers was kinda weird. It appeared that this was the Railgun half of the franchise attempting to bring in a bit of the Index half in with the talk of Mikoto's mind transforming to something from another dimension.
I loved Mikoto's visit to Mitsuko in the hospital. Should this part of the Railgun get animated, I really hope that Mitsuko is now completely shifted to her manga persona. She's a much better character in the manga. I don't know why the first anime series made her so annoying, other than as a comedy element. The second anime series started reconciling the character to make her more in line with her manga version, but in order to get this touching hospital scene, the anime version needs to completely abandon their original concept of the character in favor of the manga version.
Finally, even though I'm not a Touma fan, I did find Saten setting up things so that Mikoto danced with Touma at the folk dance mixer that night. Saten and Uiharu were so awesome in how they got on the same page so quickly to stop Kuroko. I loved how Touma teased Mikoto, and I got a laugh at Kuroko losing it.
On the Seven Seas side of things, Japanese honorifics are retained. There are no translator notes. It appears the omake stuff from the Japanese tankoubon is all there.
So, while we had a long wait for this volume, which was delayed in Japan as well, it was worth the wait to wrap up this story arc. I can't wait to see how the next story arc goes.