Fate/stay night: Unlimited Blade Works – 20 review
フェイト/ステイナイト [Unlimited Blade Works] – 20
SPOILER Summary/Synopsis: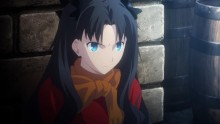 Over the objections of Shinji, Kirei tells Rin that he's going to remove her heart. He gives her a chance for last words, but then Lancer rises and stabs Kirei. Lancer collapses again, so Shinji decides to resume having his way with the still bound Rin. When Rin tells him to run while he has a chance, Shinji gets angry and knocks her down, still bound to the chair. Before he can do a lot more, he is grabbed Lancer and thrown across the room. Shinji calls for Gilgamesh, but the Servant never shows up. Lancer pricks him with Gáe Bolg, sending Shinji running. Lancer frees Rin, and the two have a brief chat about Archer. With his last energy, Lancer traces a fire rune to set the basement ablaze. Rin and Lancer say farewell before Rin leaves.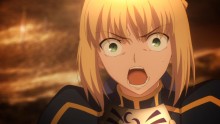 Meanwhile, Archer and Shirou continue to battle under the worried, watchful gaze of Saber. Archer realizes that every time their blades meet, Shirou gains more knowledge on how to properly make his own sword projections. Although Archer's time is nearly up, he is still vastly superior to Shirou and ends up evoking Unlimited Blade Works again. Inside, Shirou continues to lose as Archer lectures him. Archer stabs Shirou in the leg, and it is then that Shirou experiences some of the things that would turn him into Archer. He also remembers something Archer had forgotten — Kiritsugu had implanted Avalon inside Shirou, which is Saber's scabbard for Excalibur, explaining how Shirou was able to summon Saber and how he was able to survive. Having regenerated from Avalon, Shirou challenges Archer anew
Thoughts/Review:
While I certainly enjoyed this episode, it came off as a bit slow due to having to expound a great deal of exposition. The exposition was needed, but doing it during a fight where the combatants are determined to slay the other stretches things a bit.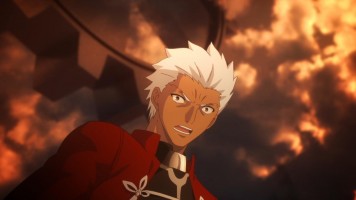 All during Shirou's fight with Archer, I kept thinking, "If Archer wanted Shirou dead, Shirou would be dead." The only thing I could come up with for Archer not killing Shirou at any point in their fight was a quote from Gul Dukat in Star Trek: Deep Space Nine. "A true victory is to make your enemy see they were wrong to oppose you in the first place. To force them to acknowledge your greatness. "  So as I see it, Archer wanted Shirou to acknowledge that Archer was right, and that Shirou was wrong for not accepting that in the first place.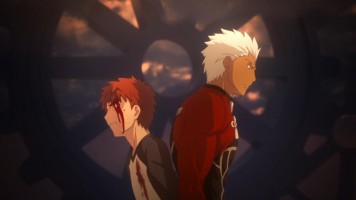 The result of this is that Shirou simply learned how to make better swords, and thanks to Avalon, Shirou simply regenerates. Shirou does understand the road his other self took to become Archer, but just because that self met a horrible end, Shirou is still going to continue on the path he feels is right.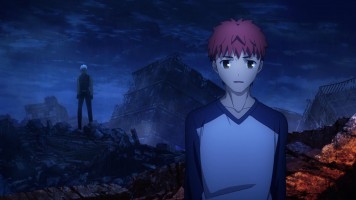 I wonder how the revelation of Avalon came across to those who haven't seen Fate/Zero or who didn't watch the original Fate/stay night adaptation (or by extension, read the visual novel).  I'd been waiting for Avalon to get a mention, but until now, there hasn't been a hint of it, at least not that I noticed.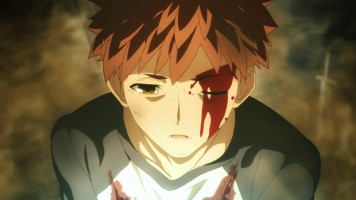 Shifting over to Rin, I'm not a fan of using the "He's not quite dead yet" plot device to save the hero or heroine. I had figured that maybe Saber would come to Rin's aide since Rin could have summoned her. Having Lancer not be quite dead yet does allow him to get revenge on Kirei and have one more comedic moment with Shinji. It also allows him to have a moment with Rin, which was nice. Unfortunately, it just feels cheap to me.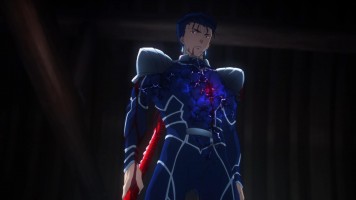 Still, Kirei is dead and Shinji runs off, so does this mean that Rin ends up resolving this fight between Archer and Shirou?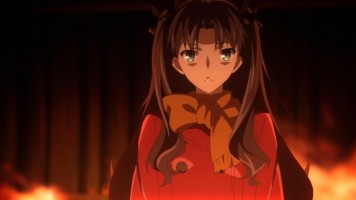 I was amused that Gilgamesh wasn't there for Shinji. Now that Kirei is dead, Gilgamesh is pretty much free and clear to do whatever he wants.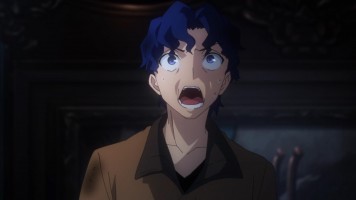 In the end, although I may have been more critical of this episode, I still enjoyed it a lot.