Fate/stay night: Unlimited Blade Works – 19 review
フェイト/ステイナイト [Unlimited Blade Works] – 19
SPOILER Summary/Synopsis: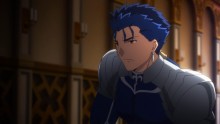 Archer is waiting at Ilya's castle when Shirou, Saber, and Lancer show up. Archer explains how Rin was able to summon him. He then tells them that he's given Rin to Shinji. Lancer has orders to protect Rin, so Shirou leaves her in his hands, although they'll be enemies after all this is over. Saber elects to stay with Shirou and witness what is about to happen between Shirou and Archer. Meanwhile, Shinji is eager to have his way with Rin as soon as all of this is over. As he caresses her legs, Lancer knocks him out. However, to his surprise, his Master reveals himself, the referee priest Kirei.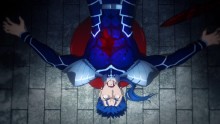 Saber chastises Archer for his actions, leading him to start to reveal Saber's own motives for entering this bloodbath. Saber cuts him off and explains to Shirou her reasons for becoming a heroic spirit and entering the Holy Grail War. Archer explains how as a Guardian, he eventually came to have to kill people he wanted to save. Thus Archer wants to kill Shirou to prevent that from happening. Saber says Archer can't change things, but he wants to try. He gives Shirou a blade to kill himself with. Shirou refuses and asks Saber to stand aside as he goes to battle Archer. Meanwhile, Kirei reveals he wants Rin to become the Holy Grail and orders Lancer to kill her. He refuses, so Kirei uses a Command Spell to force him to kill himself.
Thoughts/Review:
And the hits just keep on coming. 😀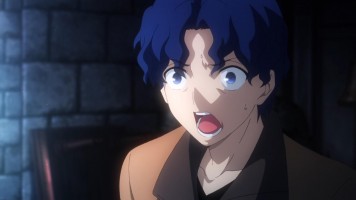 Well, we finally get the low-down on how Shirou became Archer. Not only that, we get an explanation (sort of) on why Archer looks and sounds nothing like Shirou. That was something that never made sense to me. To be honest, it still doesn't come off totally believable. After all, Saber looked the same in the past as she does now. Ditto Caster. OK, there is Berserker, since I doubt Heracles in the Nasuverse looked as he did in Fate/stay night. I'm probably overthinking this.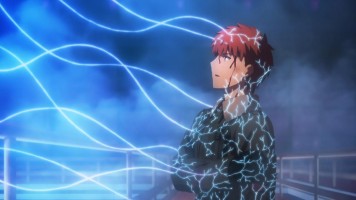 I did like Saber's and Archer's conversation, as well as Saber's reactions to Archer now that she knows he's Shirou. Archer would know Saber well since as Shirou, she'd been his Servant. (I presume that this Archer originates from the Fate route.) The interesting thing was Saber's remark that Archer existed outside of time and space, thus Archer killing Shirou will probably not change a thing. Maybe that's why Archer hasn't already killed Shirou and been done with it.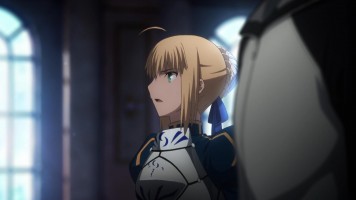 One other item of interest to me was Archer telling Shirou to kill himself, then telling him all of the exposition. I can't believe that Archer thought his former self would actually kill himself, but it was an interesting moment to me all the same.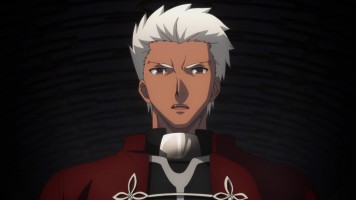 Shifting over to the scumbucket side, Shinji was made to max out his nasty factor with his eagerness to have his way with Rin and try to break her as well as rape her.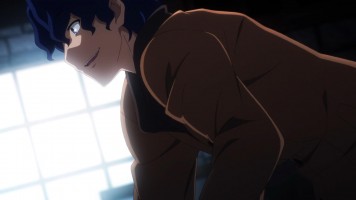 Of course, this set up Lancer's hilarious arrival to save Rin and knock Shinji out. That was such an awesome moment.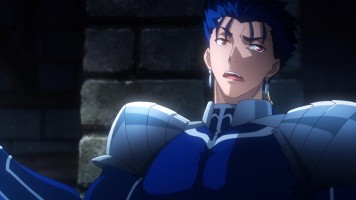 Lancer in Unlimited Blade Works has been so different from what I remember in the original anime adaptation. I think it is his interactions with Rin and Shirou regarding their romance. He seems to genuinely like and respect Rin, which is why he rebelled against Kirei.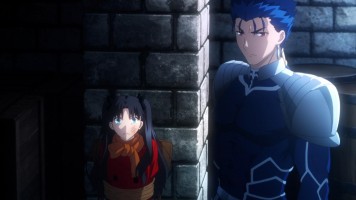 However, scumbucket number two (Kirei) showed up, and Lancer gets screwed for showing honor in disobeying Kirei's order to kill Rin.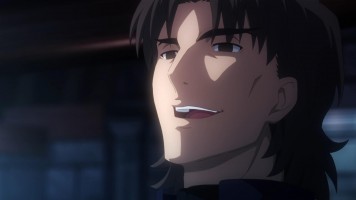 I honestly didn't expect Kirei to order Lancer to kill himself. I know Kirei has his ace in the hole since he's the one who put the extra Servant, Gilgamesh, with Shinji. And considering how many Command Spells Kirei had, it seems he could have controlled Lancer if he'd wanted.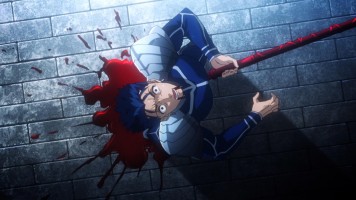 Why did Kirei want Rin dead if he was planning to make her into the Holy Grail? He could have just used Ilya for that since Ilya was supposed to become the Grail.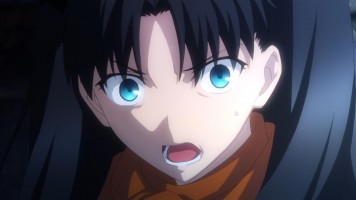 When Rin learned Kirei was responsible for her father's death, I liked how the flashback sequence was used. I presume that was from Fate/Zero.  Still, even though Rin knew Kirei was bad stuff, she didn't know just how bad he was until this episode. I felt for her because on top of all the other crap she had to deal with, she's suddenly faced with her father's death all over, only now, she knows the truth.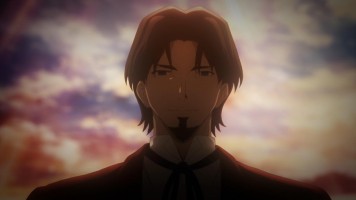 I've no clue how Shirou survives a battle with Archer, and I can't imagine Saber breaking her promise to not interfere in their fight. Of course, the situation with Rin may come to light, causing Archer and Saber to come to her aid.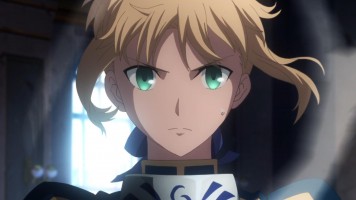 So, a lot of unexpected stuff happening her, but that's what makes this anime series so good.