ユーキューホルダー! Manga Review
UQ Holder Chapter 79
SPOILER Summary/Synopsis: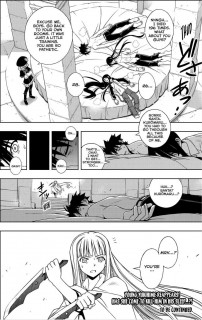 Kirie struggles with the 50 laps that Dana has assigned the immortals, but Touta is excited by this. Kirie tires of Dana's basic training, but when she attempts to leave, she discovers that Dana controls access to the outside world, thus doors in her castle lead to where she wants them to go.
Dana notes Kirie's strange power and marks her as someone worthy of training. She then cuts Kuroumaru in half at the torso before doing the same to Touta. She times how long it takes them to regenerate and says they are doing it too slow. Touta protests, but when he learns that Yukihime did it in 10 seconds, Touta takes interest. Further, Dana cites how in the face of mortals, immortals have two choices — fear and terror or beauty. Either way, that means not lying on the ground for a few minutes while trying to regenerate.
To back up her claim, Dana cuts off her own arm and flings it away, but then immediately recalls it and reattaches it in .1 seconds, including repairing her clothing. She goes a step further by destroying herself, then in a shower of petals, reforms herself from scratch. This impresses Touta greatly.
Dana takes note of Santa before attempting to shred him before using purification magic on him. Based on his regeneration time, Dana remarks that as a revenant, Santa is well made, but his mind isn't there yet. Touta asks what would have happened if Santa had passed on. Dana says they would have been happy for him. With that, she stops the talking and tells them that they will play tag without a break until sunset. Anyone she catches dies, and Touta gets extra death for every time he called her "obasan."
The day over, the three collapse exhausted into the giant round bed that Dana uses. Kirie teases them about this before Touta falls asleep. When he awakes, he discovers Yukihime there in her Eva form, wielding a couple of blades and looking surprised.
Thoughts/Review:
Well, this turned out to be a more interesting chapter than I thought.
A training arc could be boring or tedious, but Dana's militaristic basic straining was unexpected, thus not boring. The fact that she will slaughter her trainees at the drop of the hat adds another element of interest while at the same time, she's training them to regenerate rapidly. Dana is turning out to be a surprisingly entertaining character.
I'm guessing that when she slashed Touta in two at the torso, she completely destroyed his top half somehow. Otherwise, there'd be no way for him to regenerate his body in the same way that Kuroumaru does. However, based on Dana's own examples, he should be able to recall his missing limbs and such at will once the training is over.
I do note with interest Dana's remarks on Eva's regeneration being at ten seconds. We didn't see her regenerate in the first chapter of UQ Holder, but in Negima, when Fate got the drop on her, she caused her body to vanish in a field of bats and reappear whole, though with her clothing torn. (Yeah, we aren't supposed to be questioning that.)
Based on what Dana says about immortals, in that they either follow the path of fear and terror, or they follow the path beauty, Eva could be said to follow both paths. On one hand, she has the fear and terror down as she was known as a notorious shinso vampire with a massive bounty on her head. On the other, she liked to dress up in doll-like fashions.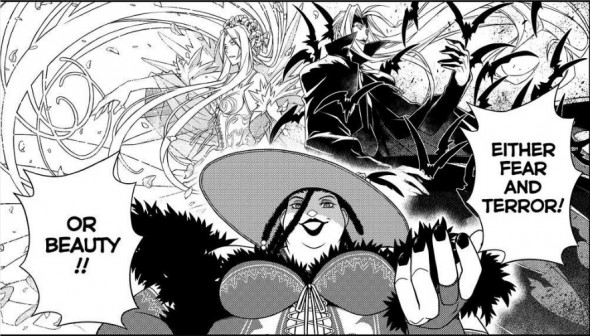 I was amused that Dana's attempt to slash Santa to death failed, but I was also equally amused by how she used purification magic to send him packing, at least for a time.
I also note with interest how Dana didn't slaughter Kirie. Indeed, once Dana became aware of Kirie's power, Dana left her alone, other than forbidding her from leaving this place of Dana's. Dana suggests that she will revisit Kirie later, and I kinda hope she does. Putting the spotlight on Kirie suddenly had me asking, "So why does Kirie still appear as a child when her power is just to reset time back to a certain point and go down another path?"
I was surprised to see Ray here. He wasn't present in the last chapter, but it makes sense that Ray would be here with Afro.
We have Eva showing up again as Touta has apparently shifted into the past again. I really do hope this arc gives us a lot more information about Eva.
Finally, Kuroumaru should just choose the beauty path and become a lovely girl. The chest covering maneuver Kuroumaru does is very much in line with what a girl would do. 😉
So a pretty good chapter here.