Fate/stay night: Unlimited Blade Works – 22 review
フェイト/ステイナイト [Unlimited Blade Works] – 22
SPOILER Summary/Synopsis: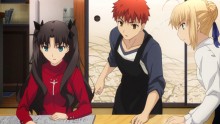 At Shirou's home, Saber bandages Shirou's wounds, after which he, Saber, and Rin agree that the Grail needs to be destroyed. Shirou fixes dinner as Rin sends out familiars, determining that Gilgamesh is summoning the Grail at Ryuudou Temple, using Shinji as the vessel. She also notes a newspaper article, citing how all of the people in the temple were taken to the hospital following a supposed gas leak, so the temple will be deserted. As they discuss plans for handling Gilgamesh, Rin suddenly realizes that Archer and Shirou are the biggest threats to Gilgamesh due to Unlimited Blade Works and the fact that Shirou of the future wasn't killed with a weapon and thus Gilgamesh has no weapon designed to kill him.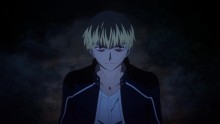 After dinner, Shirou overhears Rin conversing with Saber. Shirou pays Rin a visit. He's figured out what Rin figured out, but he knows he doesn't have the mana to summon Unlimited Blade Works. Rin does, stating she can transfer her Magic Crest into Shirou via a ritual, whereby he loses his shirt and she loses her overshirt. During the ritual, Shirou is able to experience some of Rin's memories from her childhood and one from her early teen hears when she's observing Shirou working hard on performing a high jump. Afterward, Rin is embarrassed because Shirou saw her private moments and she vows to see his private moments next time. Elsewhere, Saber has been meditating and when Shirou comes to see her, they chat, during which she makes him promise to return with Rin as Saber will protect them both. Meanwhile at the temple, the Grail is being summoned.
Thoughts/Review:
I hate to admit this, but I was laughing nearly the entire time of Shirou's and Rin's encounter and remembering how in the original anime, Shirou's and Saber's encounter was all about dragon imagery. Here, it was about dolphins.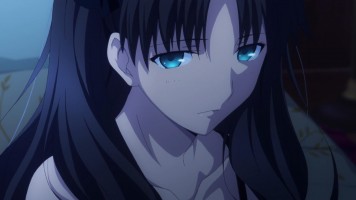 I don't know any of the details of Rin and Shirou hooking up in the visual novel. I know they had sex, and I'd seen a few images several years ago. So I wondered how ufotable would handle the issue. Their use of dolphin imagery and such comes off as funny because (1) I know it is supposed to be sex scene and (2) all of Rin's actions and reactions are based on her having sex with Shirou for the first time, not about some relatively harmless Magic Crest transfer.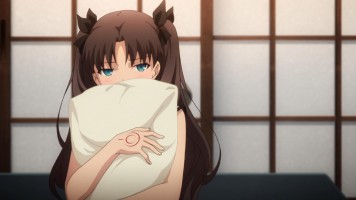 For example, at the end, Rin is going on about Shirou having seen. At that moment, I'm thinking, "OK. I bet what happened in the visual novel is that Rin had sex with Shirou to transfer the Magic Crest to him, but she made him promise not to look at her. When it was all over, she felt sure he got a look at her and then became embarrassed and angrily vowed to get a good look at him next time."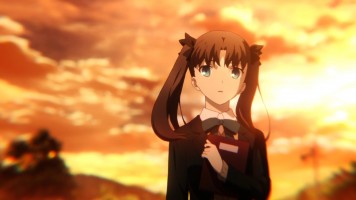 Maybe if I'd not known this was originally a sex scene, I wouldn't have giggled the entire time. However, I did know, and I'm still snickering as I write.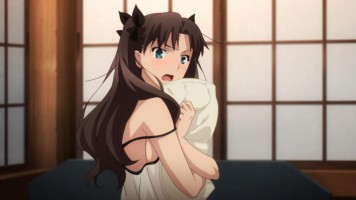 I don't think Saber has ever looked as lovely as she did in this episode. The resolution she came to based on Shirou fighting Archer has put her at peace. I loved the moment when she told Shirou that he and Rin had to return from all this and that she'd protect them. For some reason, I could see her surviving this fight with Gilgamesh and see her as the lifelong bodyguard for Rin and Shirou, protecting their happiness and basically being one of the family.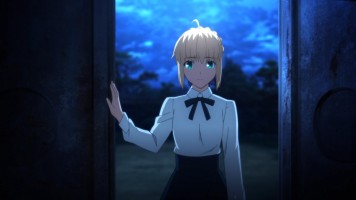 Obviously, that can't happen (well…I suppose it could, considering Gilgamesh continued after the last war). After all, if Saber couldn't stick around in her own route, she's not going to stick around for Rin's route and other than my wishful thinking getting the better of me, there's no reason for her to stick around after she's done her bit. But hey, I like Saber, and frankly, Shirou should get a harem end to get ALL the girls. *nods*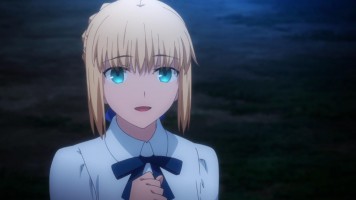 As to their plan to take on Gilgamesh, it will be interesting to see this in action. Even with his magical boost so that he can use Unlimited Blade Works, I don't know how he beats Gilgamesh.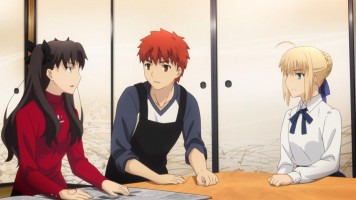 In the end, another enjoyable episode, even if I did find it ultra amusing for the wrong reasons. I am looking forward to the next episode for sure.