境界のRINNE ep 11
Kyoukai no RINNE – 11

SPOILER Summary/Synopsis: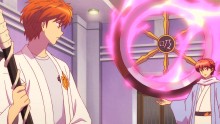 Rinne refuses to marry any of the Damashigami girls and vows to take down his father's Damashigami Company. His father accepts the challenge, providing that if Rinne loses, he has to marry one of the girls and take over the company. Sabato produces the "Blood-sucking Fire Wheel" and uses it to turn Rinne's scythe into money. After the ring hits some of the Damashigami watching the match, it turns their clothes into cash. Tsubasa brings a table cloth full of plates and silverware to hold Sabato at bay. When a man asks for payment for the Kobe beef, Rinne tosses the beef side to the ring, then sends the cash to the man asking for payment, inflicting serious damage to Sabato in the process.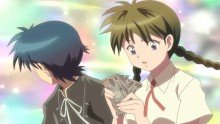 Meanwhile, a giant seal brings Rokumon to Sakura and gives them a map to Sabato's room. There, they find a safe and the safe key. The alarm sounds when Sakura opens it, causing the Damashigami to rush to Sabato's room. Tsubasa keeps them at bay while Sakura rescues Rinne's scythe, which was in the safe. Sabato refuses to let Rinne go and attempts to get his hand print in order to saddle Rinne with more debt. He even has fake marriage certificates drawn up which are in fact loans for which Rinne would be responsible. Rinne's grandmother, Tamako, shows up in the giant seal outfit and says Rinne is marrying Sakura. That puts an end to things, but only after Sabato takes a final beating from Tamako and Rinne. Sakura reveals she took Sabato's money, the fake name stamp, and other things so that Rinne would be protected from additional debts.
Thoughts/Review:
As with the previous episode, Sabato is such an evil character, I cannot find amusement in his actions. The "beating" he took at the end of the episode was nothing, nor was the fact that he and his entire company got sick. A despicable, evil person like Sabato is one you want beaten to death for desperately attempting to saddle his son with more debts so that Sabato can live the good life.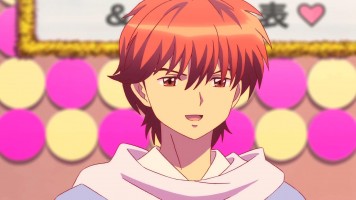 I don't know why Takahashi-sensei seemed to think such a character would be a laugh a minute, but oh well. The only mildly humorous moment came from Rinne turning the Kobe beef into cash, which then paid off the meat guy in full, which caused Sabato damage.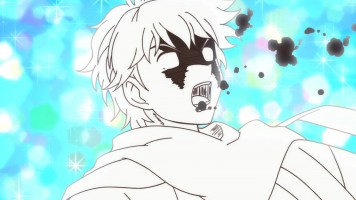 So for the most part, the episode was just 'meh' to me, but that's just because of Sabato. Rinne may have gotten a bit of revenge on his father, thanks to Tamako and Sakura, but he's still saddled with insane debts simply because his father is such an evil being.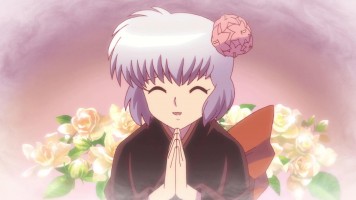 The episode touches more on the love triangle between Tsubasa, Rinne, and Sakura. Tsubasa's love is completely unrequited, which is sad for him.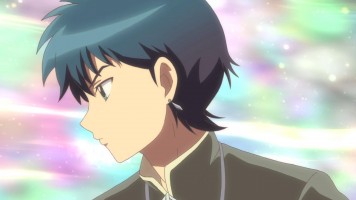 As for Rinne, he doesn't know what Sakura thinks about him, even though he has growing feelings for her. (That's a problem a lot of guys experience, unfortunately.)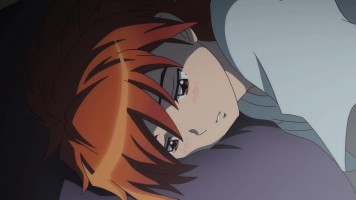 As for Sakura, I don't think she knows her feelings. She likes Tsubasa as a friend. She likes Rinne a lot more than she may realize.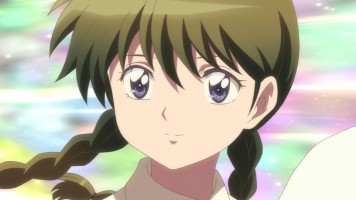 In the end, the episode was only 'meh' because of Sabato. I've no problems with the way Brain's Base handled the adaptation. I wish they would have made Sabato's beating much more severe, and thus much more enjoyable.