Fate/stay night: Unlimited Blade Works – 24 review
フェイト/ステイナイト [Unlimited Blade Works] – 24
SPOILER Summary/Synopsis: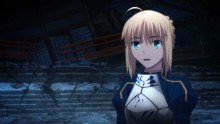 Shirou comes to an understanding of things as Gilgamesh is about to finish him. Saber comes in and saves him, but to Gilgamesh's amusement, Shirou sends her off to help Rin. The two say their farewells, Saber acknowledging that Shirou is her Master. Shirou uses Rho Aias to defend himself as he creates the Reality Marble, Unlimited Blade Works. Gilgamesh is not impressed, but is stunned when Shirou destroys Gilgamesh's summoned blades before they can launch.  However, as the battle continues and Gilgamesh is not able to land a blow as all of his fired weapons are destroyed, he begins to get angry.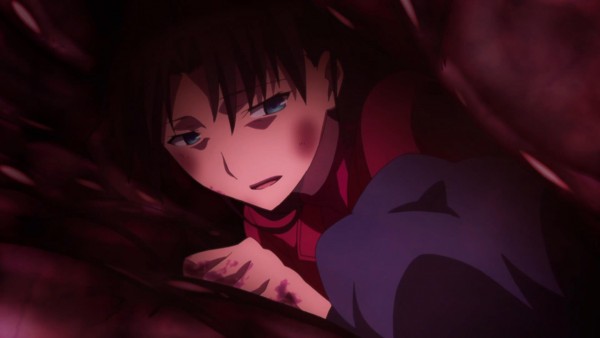 Outside, a weakened Rin cannot escape the Grail flesh mass. She prevents Saber from saving her with a Command Spell despite the fact that the Grail surrounds Rin and Shinji. Rin uses her second spell to order Saber to destroy the Grail, though Saber strongly objects to this. Archer returns to free Rin and clear a path for her to get herself and Shinji out. Once clear, she uses her final Command Spell to send maximum mana to Saber to destroy the Grail. Saber does this, and having completed her task, says farewell to Saber before vanishing.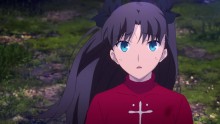 Back in Unlimited Blade Works, Shirou tells Gilgamesh that against warrior Servants, he'd have no chance. However, since Gilgamesh was a king, he never mastered any of the swords in his collection, thus Shirou can counter them all. Gilgamesh gets very angry at having to go all out and is forced to summon Ea again. However, before he can use it, Shirou slices off his sword arm, then proceeds to slash him across the chest. Outside of UBW, Shirou is out of mana. Gilgamesh is going to slay him, but a remnant of the Grail attempts to swallow him. Gilgamesh attempts to take Shirou with him, but Archer nails him with a head shot, killing him. Rin rushes to where Archer is waiting and says her goodbye before he fades. Shirou arrives to take Rin home.
Thoughts/Review:
Heh! I should have figured Archer would make one final return. Now that I look back at the episode he supposedly died in, there wasn't nearly enough dispersal stuff there to indicate he'd completely vanished. However, it is still kind of a stretch that he lasted this long, but that's what deus ex machina is all about.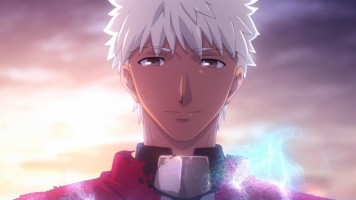 I never could see how Shirou was supposed to defeat Gilgamesh. Being within Unlimited Blade Works was something I suspected would happen. It made a weird sort of sense to me that the only reason Shirou could so easily counter all of Gilgamesh's weapons with his own copies was because Gilgamesh never mastered his weapons. In essence, Gilgamesh was a Jack of all trades when it came to weapons, but he was a master of none. However, his being a Jack of all trades was better than him being a master of one since it allowed him to stomp all of the other Servants and their lone, mastered weapon.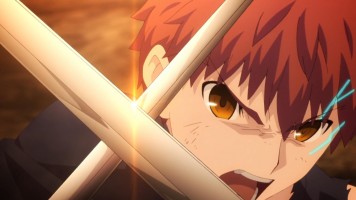 With Shirou, he too was a Jack of all trades when it came to copying Gilgamesh's weapons. Since he was a master of none, Gilgamesh had no weapon that would outright defeat Shirou save for Ea, which Gilgamesh was loath to use for arrogant reasons.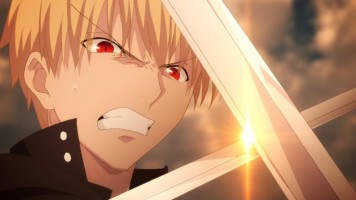 At the end there, I'm not really sure what transpired. Saber had destroyed the Grail, but then there was some sort of Grail remnant or something (the term "hole" was used in the subtitles) where Gigamesh's arm had been cut off and it tried to suck him in. That seemed out of left field to me.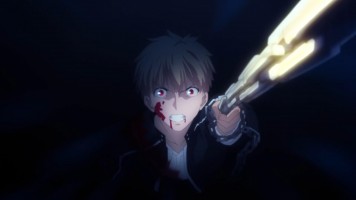 As to Archer's deus ex machina moment (or rather his dei ex machina moments since he bailed both Rin and Shirou out of trouble), there was something satisfying in him putting a blade in Giglamesh's brain pan. And it allowed for an emotional farewell with Rin. I'm glad that they made Archer look like an older Shirou with silver hair rather than a completely different person, as he'd looked for the entire series.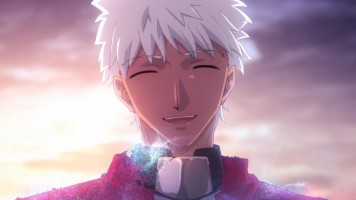 As for Saber, I was sorry to see her go even though I knew she would. I just really like Saber, so when she mentioned to Shirou how they'd talk again, I knew they wouldn't even though I hoped to be surprised and Saber would survive somehow. Oh well.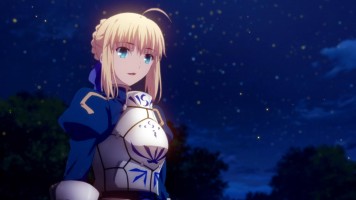 Finally, there's Rin and Shirou. I'm glad we are getting an epilogue which will hopefully be a good aftermath episode showing what happens to them and the others (Sakura, Taiga, and even Shinji). I had thought episode 24 was going to be double length and was disappointed when I saw it wasn't, but in the end, an extra episode makes it all good.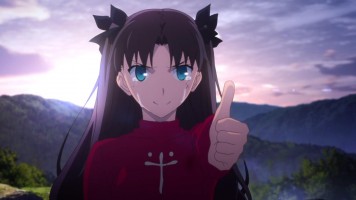 In the end, I enjoyed the episode. I'm looking forward to the aftermath.