境界のRINNE ep 14
Kyoukai no RINNE – 14

SPOILER Summary/Synopsis: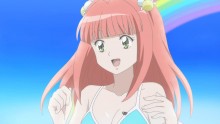 Sakura goes with her friends to the water park section of an amusement park, where they see the ghost of an idol. Sakura elects not to talk to Rinne about this, so Tsubasa takes advantage of the situation and decides to go with her to the pool. Tsubasa attacks the idol ghost, so it flees. They give chase to a haunted house, so Tsubasa decides to take advantage of the opportunity and go in with Sakura. Meanwhile, Rinne takes a case regarding a haunted house at the amusement park, which Ageha has info for. She says they have to pose as a couple, so they go in. Inside, Rinne sees Tsubasa with Sakura and throws a wooden sandal at him just as Tsubasa is about to lose his soul.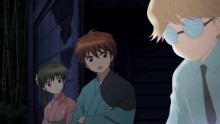 Ageha takes Rinne inside a well to explain how the Damashigami are taking souls and how Rinne needs to have perverted thoughts. They are discovered by Sakura, so Rinne attempts to explain. Ageha is irritated at Rinne having abandoned her, but she finds the Damashigami and attacks them, taking them out. Meanwhile, the idol ghost is angry that no one is paying attention to her and causes the power to go out. In the dark, Ageha and Tsubasa embrace and nearly lose their souls. The cause is a glasses ghost who never got to date anyone. After Rinne settles things with the idol ghost, who wants to do more, the glasses ghost confesses to her, causing them both to go to the afterlife together.
Thoughts/Review:
I don't like the new OP music. The first cour's OP music was nice, but the girl singing the new OP kinda grates on me (her voice, that is). And I don't like the ED music either. Oh well.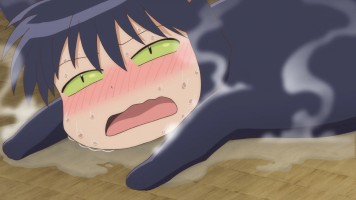 I don't remember this story (or stories, as the case may be), so I'm guessing these were plucked from somewhere after volume 9, which is where I stopped reading the manga. Because the story was fresh to me, it was more amusing to me that it likely would have been had I been versed in the source material.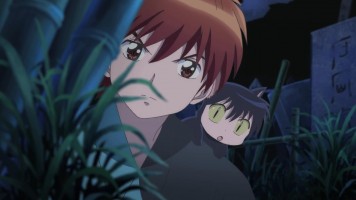 I got a laugh at Tsubasa trying to make a move on Sakura, especially after he saw the picture of her in her bikini. So his reaction to getting to go to the water park and see her in another two piece also made me laugh a bit.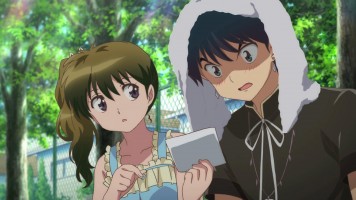 Ageha falling for Rinne made me laugh as well. She's a bit more clever about going on a faux date with Rinne that Tsubasa is with Sakura, but not much more.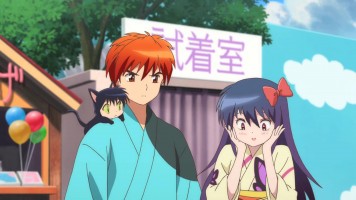 I don't know why, but I really laughed when Tsubasa and Ageha embraced and thought they were with their intended rather than each other. As far as the anime goes, Tsubasa hasn't met Ageha (I don't think), so it will be interesting when they actually do meet.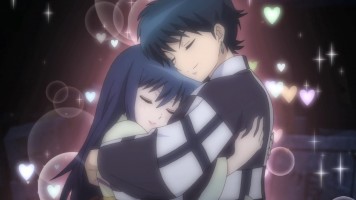 Tsubasa's reaction to thinking he'd hugged Sakura and feeling the need to take responsibility made me laugh as well.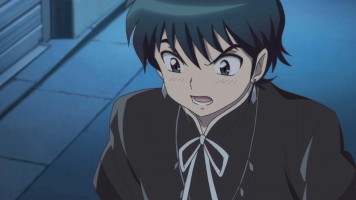 Of course, I do feel bad for Rinne, who's never going to catch a break, thanks to Sakura always finding him in situations where she doesn't know the context and just assumes things.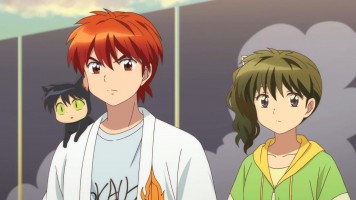 As to the story, the idol ghost and the glasses ghost were obviously just vehicles to have the double date that's not a date. I kinda rolled my eyes at the end when the idol fell for "Megane" at the end, after taking his glasses off, but oh well.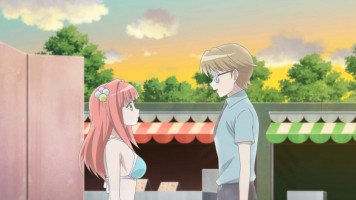 In the end, this was a pretty amusing episode to me, but it also highlights a weakness of the series, that being the comedic use of having Sakura catching Rinne in situations where she can misunderstand things. That's the one area of humor that I really won't find funny.