ユーキューホルダー! Manga Review
UQ Holder Chapter 85
SPOILER Summary/Synopsis: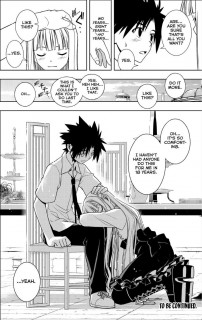 Touta is tasked with defeating the magic beast he initially encountered, but it easily squashes him, forcing him to stay in the ground for a week. He emerges to tell the tale to Kirie, Santa, and Kuroumaru. Kuroumaru notices Touta's positive attitude, leading Kirie to think there's a woman involved, but with only Dana and herself in this place, Kirie suspects Kuroumaru became a woman without telling her.
Touta meets with Kitty during the early morning hours, where she seems very surprised to see him and to hear him say that it has only been a week since he last saw her. She inquires about his training, then shows him her doll magic. He easily defeats her first summoned, life-sized doll, but then she summons quite a large number of life-sized dolls. Touta wisely goes for Kitty, but she easily throws him and defeats him.
Kitty invites Touta to tea, which he accepts. However, as two of her doll servants make preparations, Dana awakes, meaning their time is over. As Touta sees Kitty fade, she tearfully asks him to not keep her waiting after he promises to get up early to see her.
After another day of training, Touta gets up early and finds Kitty waiting for him. Again, she is surprised to see him, but as she promised before, she has a feast waiting for him. Touta is very happy by this, but wonders what the cost to him will be. She says that she owed him since he is the one who caused her to stop wanting to die. She reveals that it has been ten years since they first met, due to them living in different times. Even if Touta gets up the next morning, for Kitty, it will likely be a 40 year period.
Touta is stunned by all this, especially since Kitty is saying goodbye. Kitty says she's prepared for this since Dana explained it all to her. As such, she has one final request — to be stroked on the head, something she finds soothing and something she hasn't experienced in eighteen years. As such, she puts her head on Touta's lap and he strokes her head.
Thoughts/Review:
Darn you, Akamatsu-sensei. I didn't want to care, but I felt for Eva in this chapter. Well played, sir; well played. (I still don't ship Touta x Eva though.)

As many of you know, Eva was a favorite character of mine from Negima. During the Eva arc in volume 3, Akamatsu-sensei only gave us some scant information regarding Eva's past. We saw that she encountered Nagi at some point, followed him around for a while (with Chachazero in tow), then Nagi ditched Eva, after which Eva tracked him down to Japan and ended up falling prey to a simple trap. This of course still leaves the big question of how she was able to spend any significant time (as was implied) with Ala Rubra since Eva never knew about Arika. But I digress…
I had thought that time for Eva was passing more quickly than it was for Touta, based on how she kept growing in power with every encounter, and she learned Japanese. As I said in my chapter 83 review,
I still say that a fair amount of time has passed for Eva in this castle. I say this because each time Touta encounters her, she's more powerful. (Well, that's how things have been presented to us, but of course, in two chapters from now, this could all be turned upside-down on its head.)
Well, it is two chapters later, although the way things were written, the implication is that ten total years have passed — eight years passed from Touta's previous visit to his last one, and two years passed for the time Touta was away a week. However, that doesn't account for all the days, weeks, and months from their other encounters. I don't understand the time skip pattern here, so I can't make sense of things properly. It seems like Eva has been trapped at the castle for longer than ten years, and that if the time gap was ten years for Touta's last two visits, then there has to be at least a combined total of several months to a year to account for all of Touta's other visits.
We still don't know why Dana actually pulled Eva into her realm. However, unlike with Touta's training, it seems that Eva has more of a run of the place, summoning dolls as her servants and such. In some ways, it seems odd that Eva would choose a replica of this castle as her resort home (which was called "Lebenschilt Castle" in Negima). Well, I say "replicate", but that's making assumptions. The assumption we all had in Negima was that Eva's powerful magic pulled this castle and surrounding lands from someplace on Earth and enclosed it in a diorama bottle.
I suppose this sub-arc will explain why Eva's dioramas had a time displacement affect — something she learned from Dana.
Anyway, if Eva was 16 when she first encountered Touta, she'd be 26-27 now, presuming only ten years have passed. For this entire period that she was trapped in the castle, Touta appears to have been her only friend (or so we are to imply).  So when Eva attempted to have tea with Touta, but was unable to do so since Dana was waking up, her tears had me sad.
Their last meeting nearly had me in tears when I saw the table of food. When Eva had promised that the next time they met, she'd have everything ready for his next visit, I immediately had the thought that for Eva to have such a feast ready for Touta, she had to have it ready in advance. She never knew when Touta was coming, so as I see it, Eva had her dolls make a feast every day for who knows how long, maybe even the entire eight years, just so she'd be sure to be ready for him once he arrived. Just that thought brought a massive lump into my throat as I could empathize with Eva's character and the loneliness she must have felt over the years, waiting for her friend to return, and the hope that today would be the day she'd get to see her friend.
When I saw the spoiler image showing Touta stroking Eva's head, I thought it was pushing the romantic angle further. However, in reading the chapter, I don't think it was a romantic thing on Eva's part. Again, the loneliness of Eva comes up as she mentions how it has been eighteen years since anyone did that for her. I would presume that Dana never did it, so that would account for the ten years since she met Touta. We still don't know how long Eva was there when Touta met her, but assuming it had only been a short time (since she still spoke her apparent native tongue), and assuming that she was sixteen when she met Touta, then that means she was eight when she last had her head stroked. I figure that was done by her parents, but there I ago assuming things again.
Still, if her mother or father used to stroke her head, then it would make sense as to why she'd enjoy having someone she cared for also do that for her. I found that to be very moving.
With Akamatsu-sensei apparently ending this thing with Touta going back and meeting up with Eva in the past, I guess this means I won't get my wish to see how she ensouled Chachazero, or how she got her first Chachamaru-prototype doll she summoned to politely address Touta as "Touta-sama" and be very formal, or how she learned about the pactio system, etc. That makes me sad because frankly, Eva's story is so much more compelling to me than Touta's. However, Sensei has surprised me by giving us a taste of Chachazero and more in UQ Holder, so maybe he'll do more in the future.
I'm still not looking forward to Touta reconnecting with Eva's Yukihime persona because of the potential awkward moment of their reunion.  I guess Dana could wipe Eva's memories of Touta, which explains her not seeming to know him when she encountered him initially, assuming Dana can do this at all. Of course, if Eva remembers, then there's no real explanation for her not seeming to know Touta initially, but it would explain why Eva decided to give up her life and raise this kid for two years.
Finally, Kirie puts a little humor into this chapter with her rightly suspecting that Touta's attitude change was due to a woman, but then her wrongly thinking that Kuroumaru may have chosen to become female without telling anyone. That made me laugh.
In the end, I found this chapter to be poignant, which is part of the emotional roller coaster UQ Holder puts one through (excitement, happiness, irritation, anger, frustration, and now poignancy).