ユーキューホルダー! Manga Review
UQ Holder Chapter 89
SPOILER Summary/Synopsis: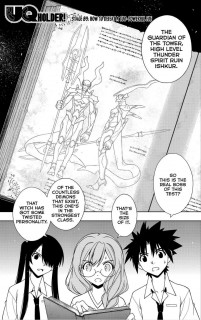 Kirie produces a book that explains the Ruin Ishkur and she informs the others about its incredible power and abilities. She tells Touta that Negi Springfield is just as powerful, and Kuroumaru tells him that Negi and Fate were evenly matched, so Touta realizes that if they beat Ruin Ishkur, they'll be able to beat Fate. The trio come up with a plan and return to the ruined castle.
Ruin Ishkur spots them, wondering if these are the ones Dana warned him about. Kuroumaru disappears and Kirie takes cover as Touta taunts Ruin Ishkur from a distance, using Kurobo (Gravity Blade) as a lightning rod for Ruin Ishkur's attack. Ruin Ishkur arrives at the spot, only to be surprised when Touta grabs it to punch it. The lightning spirit breaks apart to elude the attack, giving Kuroumaru an opening to attack as Touta grabs Kurobo, increasing its gravity weight by 500,000, and attacks with the sword.
Ruin Ishkur uses Thousand Lightning Bolts to thwart them, forcing Kuroumaru to completely regenerate. The powerful lightning spirit praises their sagacity for making him use Thousand Bolts when Touta prepares to attack again. He gets blasted, but uses his immortality to continue pushing forward. Ruin Ishkur gets annoyed and states that Touta's efforts are useless since the power difference between the two is just too great.
Touta finds himself in the country under a tree, where Kitty asks asks if they will be meeting the day after tomorrow. Touta says he doesn't think he can make it in time since he's not as powerful as Fate or Negi. She tells him that he can do anything and points to his arm, which is transforming into Magia Erebia and showing lightning.
Thoughts/Review:
So that's how this is going to work. Touta embraces Magia Erebea, adopts the lightning form of Ruin Ishkur, and defeats it.
Heh! I laughed out loud at Kitty's remark on Touta being able to do anything. That's pretty much what I've said from early on in this manga — Touta is designed to basically be able to do anything after seeing it done a few times.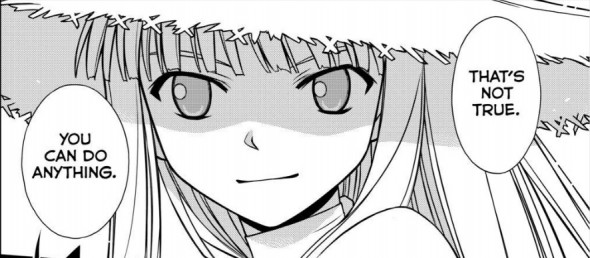 As to Ruin Ishkur being a single entity, or a rare type of high level lightning spirits that hang out in ruins, that is not laid out. However, I suspect that it is just a very rare type of ultra powerful entity that can show up in ruins for whatever reasons.  (I would compare Ruin Ishkur to something like a world with Ancient Red Dragons, who are the rarest and most powerful of all dragons, which is a type of Red Dragons, which might be uncommon, but not rare, which are then a type of dragon, which are common and have many varieties.)
When Touta dies, we've seen him appear in a realistic type of place where he sees people and things. Seeing him with Kitty, I'm wondering if he's creating his own kind of Cosmo Entelecheia in his mind, only it isn't a perfect world. Maybe I should more accurately call it a phantasmagoria he is creating in his mind. That's what appears to be happening.
Kurobo doesn't have much to do and seems to just get pulled out of thin air whenever Touta needs a weapon. It also seems to conveniently never say anything, except for a brief joke in this chapter.
Finally, I hear that this week's Weekly Shounen Magazine is a double issue, meaning there will be no magazine next week and thus no chapter. As such, I guess we'll have to wait a couple of weeks to discover what happens next.