ユーキューホルダー! Manga Review
UQ Holder Chapter 90
SPOILER Summary/Synopsis: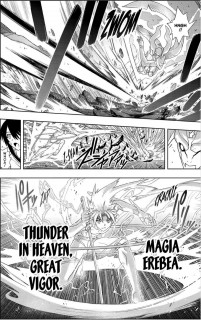 Touta speaks with Kitty in his mindscape, where a hint from her allows him to absorb the water and lightning of his hand via Magia Erebea, to her pleasant surprise. She identifies this Magia Erebea technique as Sinus Magnus, which is the power of his left arm. Touta is not excited by this, so when asked, he says he didn't earn this power as he's just copying his grandfather. She's bemused by this since in her time, only the nobility complain as he has done. However, she understands that in Touta's time, things are much different.
Kitty tells Touta that she'd be pleased if he mastered Magia Erebea because it is something she took from a curse and turned into a technique, although she doesn't know how Touta came by it.
Touta realizes this is the Kitty he's been meeting, so he asks why she's here. She says she left a bit of herself behind to check on him. She then states that her appearance in based on his tastes, which seems to delight her. She then tells him that greatness is not in the hand dealt, but in what one does with the hand dealt. With that, Touta's arm attacks him and he awakens on the battlefield with a partially dressed Kuroumaru.
Touta activates his Magia Erebea Sinus Magnus and has Kuroumaru hand him a hoop. Ruin Ishkur is amused by this, citing that he was once defeated by a human with a weird technique. Touta tells it to bring it on, so Ruin Ishkur attacks with his Thunder Spear. As Touta is canceling the spear, Ruin Ishkur gets behind him with a giant lightning sword, but Touta absorbs the power of Thunder Spear, flashes to where Kurobo was and grabs the Gravity Blade. He then counter attacks, slicing off Ruin Ishkur's hands, grabbing the lightning spirit's sword, then appears to defeat Ruin Ishkur.
Holding the Thunder Sword, Touta absorbs it into himself, knowing he now has some of his grandfather's power.
Thoughts/Review:
I'm REALLY ticked with Crunchyroll for their delay in putting out the chapter, but you can read that rant here (if you haven't already done so).
I've been troubled by calling Magia Erebea a spell when I believe it was referred to as a technique in Negima. Since Touta cannot use magic or spells, it made absolutely no sense that Magia Erebea should suddenly be classified as a spell.  As a technique, it made sense that Touta could use it because people like Asuna and Takahata in Negima could use the mana-chi combo technique kankaho even though neither could cast spells.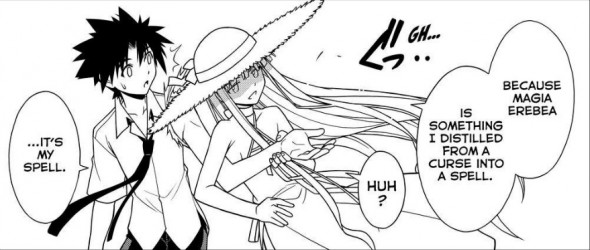 So out of curiosity, I checked the chapter's raw and Magia Erebea is referred to as "waza".
技 【わざ】 (waza)(n) technique; art; skill;
So Magia Erebea is being called a technique in the Japanese, and that makes sense. I think the Twins (and if they drop in, they can certainly correct me if I'm wrong) used the term "spell" because Eva derived Magia Erebea from noroi.
呪い 【のろい】 (noroi)(n) curse; spell; malediction;
As I see it, Eva took a curse-spell thing and turned it into a magical-like technique called Magia Erebea. To me, that is not a spell, which requires incantation and the like.
I will refrain from commenting on the ease at which Super Touta's learned and mastered an ability to defeat an entity that apparently only one person has ever defeated.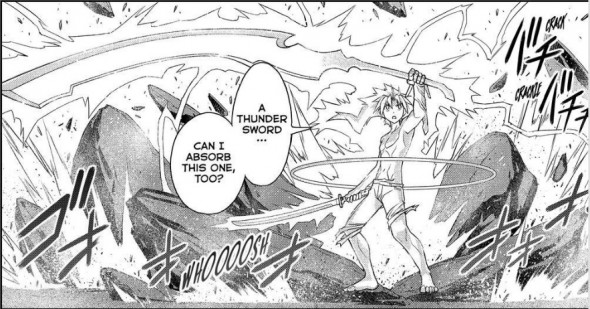 Touta is creating some kind of mindscape (or phantasmagoria) in his mind that he goes to when knocked out. The fact that Eva was there because she'd left a tiny piece of herself in his mind was very interesting. It really makes me think more than ever that Chachazero actually has a piece of Eva in it.
That being said, I get the feeling that we'll see this Eva in Touta's mind again. I have to believe that Touta, Kuroumaru, and Kirie will encounter some other trials on their way to obtaining the objective, to say nothing of hooking up with Santa again. Since Eva in Touta's mind warned him about the danger of Magia Erebea, I have to think she'll show him how to master Magia Erebea, which he'll do in rapid time.
As an aside, I will say that this Eva has never looked more cute to me as she did in this chapter. 😉  (Update: I see others agree as well.)
Finally, to those of you who were stating that Touta was using Kuroumaru for storage purposes, it would appear that you are correct since Touta had Kuroumaru produce the hoop for him to use in order to use his combo-power against Ruin Ishkur.
We'll see where Akamatsu-sensei takes this thing (and if Crunchyroll can screw up publishing the chapter again).