ユーキューホルダー! Manga Review
UQ Holder Chapter 91
SPOILER Summary/Synopsis: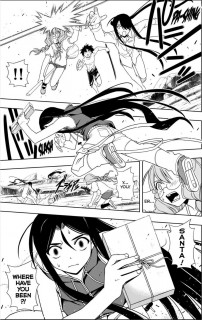 Kuroumaru and Kirie are amazed that Touta defeated Ruin Ishkur. He explains how he uses the hoops to control Magia Erebea, but unlike his grandfather, who could absorb his own spells, Touta has to absorb whatever is cast at him. As long as he keeps spinning the hoop, he can store the Lightning Sword he had absorbed earlier. However, he loses concentration and the electrical power escapes, shooting all over the place.
Ruin Ishkur returns, scolding Touta for lack of ambition, but praising him for defeating the Lightning Spirit. Ruin Ishkur assures them that he is not there to fight as he will need three days to regenerate. With that, he produces the package that Dana tossed down. Kuroumaru freaks out since it would let Touta know that Kuroumaru is neither male nor female. Kirie freaks out because she doesn't know what embarrassing secret would be revealed, and since her companions are immortal, they'll know it forever.
The amused Ruin Ishkur tosses the package, but before the three have a chance to grab it, Santa comes out of nowhere and snatches it. He apologizes for not helping in the fight and begs Touta to let him have it, after which he'll return it. Kirie scoffs that Santa believed that Dana actually has a message for Santa from Sayoko. Touta pleads, but Kirie won't listen and attempts to forcibly take it from him. Santa pleadingly yells that he wants to hear Sayoko's voice once more.
Touta stops Kirie and despite Kirie's loud objections, grants Santa the request. Touta states that he has someone waiting to see him, so he's not going to crush Santa's dream to hear from Sayoko. Kuroumaru makes Santa promise to listen to the message in private so that Kuroumaru's and Kirie's secrets aren't exposed. Kirie and Santa ask who's waiting for Touta, but he says it is hard to explain, other than that they'll be waiting at the castle.
Ruin Ishkur interrupts them to let them know that he is but one of four elemental guardian spirits of the Witch of the Rift's castle. As such, they still have to face the earth, fire, and water elemental. Since Ruin Ishkur was the strongest of the four, the remaining three attack. Somehow, Santa, Kuroumaru, Touta, and Kirie defeat their opponents and return to the castle, apparently in time for Touta to meet Kitty.
Thoughts/Review:
When the spoilers came out and there was talk about there being three more elemental guardians for Touta to fight, I figured that even though Santa had the book, we'd have a chapter showing them battling the other three spirits. Instead, Akamatsu-sensei seemed to go, "You know, I'm just tired of this already, so you know what? They won."
It isn't the first time Akamatsu-sensei seems to have given up on a storyline that previously would have gone on another chapter or two. I think back to the initial storyline with Eva (as Yukihime), Touta, and Kuroumaru taking their journey. Out of the blue, that story was terminated just to get them to UQ Holder HQ.  I've got no problem with a fast paced story, and I certainly don't need some dragged out fight that just goes on and on and on (like in Fairy Tail). However, there's a difference between fast paced and just throwing the towel in because, "enough already. "
The explanation of Touta's power is pretty much what people expected. Instead of him casting spells and absorbing them into himself, he's simply absorbing what others cast at him, then sending it back out at them. However, if Hula Hoop Boy drops the hoop before using the stored spell/attack, then he can't store it. Initially, I would have thought he would have simply canceled it inside himself, but then Asuna, who had Magic Cancel, didn't cancel magic within her.
Normally it is Touta that irritates me the most, but in this chapter, Touta is not the irritating one. Indeed, he's the noble one as Kirie irritated the crap out of me. I couldn't believe that she'd tell Santa that hearing from Sayoko was just a lie, yet had no trouble believing that her own dirty secrets would get out. Now I hope all of of the group gets to hear her secrets and while at it, somehow she gets a good punch in the face as well.
As to Santa, I hope he gets to hear Sayoko's message. I hope Akamatsu-sensei lets us in on that as well. During the Sayoko-Santa story, I would have liked it if Sayoko had been kept alive and joined UQ Holder. That didn't happen, so I would like an opportunity for us to see her again.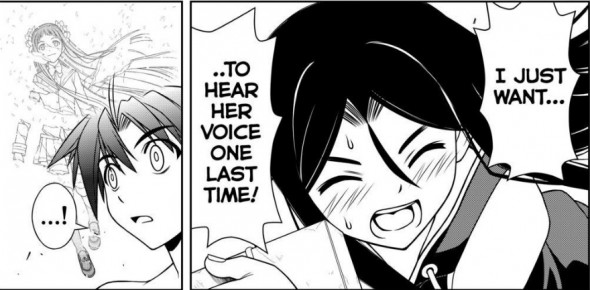 Considering where the group emerged at Dana's castle, and considering that they appear to have made it in the time frame mentioned by Eva, I'm going to go out on a limb and say that Eva, as Kitty, appears before them all. In this way, the others have their answers as to whom Touta was meeting, and it would provide Eva with a future motivation to found UQ Holder and bring in Touta's companions.
In the end, the chapter was an interesting and entertaining one, though things were unexpectedly cut off to move the story along.