ユーキューホルダー! Ch 93 Manga Review
UQ Holder Chapter 93
SPOILER Summary/Synopsis: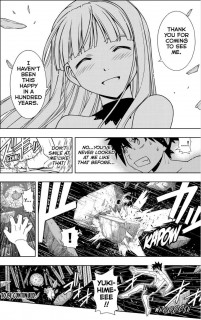 Touta sees and calls to Kitty as she comes under attack from someone with a blade. His blade hits cuts off her head as she slices him in half, turning him into ice. Before dying, the warrior says that they've avenged their brother, telling Kitty that the blade has been poisoned with a 10-year poison. Kitty puts her head back on and is slightly ill, but laments that someone so young threw their life away on revenge.  After dropping and coughing, Kitty gets up and walks away, laughing.
A frustrated Touta still pounds on the window, then asks Dana what happened. Dana explains that they called her the Demon Queen (魔王 Maou) at this time in her life and that she's killed a lot of people. It started when she destroyed a band of wizards that had a town under their thumb, which caused her to have a lot of enemies in the wizarding world. The more people she killed, the more enemies she made, leading to her having to kill more people.
Touta is angry, so Dana reminds him that in a few hundred years, she'll meet Nagi and then Negi and friends, which will save her. Touta isn't listening and uses his abilities to break through the time window. Kitty thinks she's under attack, but when Touta calls out the name Kitty, she stops and asks how he knows that name. When he reminds her, she remembers his name, then flees. Touta does a shundo to get in front of her, so she stops and turns away, not wanting to face him.
Dana marvels at Touta having recklessly invaded the past and notes how the seams of time will now start to crumble and vanish. Sure enough, the building Touta is in starts crumbling and the floor gives way. Touta makes a plea to Kitty, but she scoffs at him, citing how she got herself into this and she'll bear the burden herself. Kitty gives a fake smile to him, saying she hasn't been this happy in 100 years, so Touta is going to shundou to her, but his boulder gets his by more materials falling down, causing him to fall away.
Thoughts/Review:
Sadly, it doesn't appear we are going to get a lengthy look at Eva's life, just another glimpse of her dark period. But, at least Chachazero got a cameo in one of the fights Eva was in.
I've read the chapter a number of times, but for some reason, I'm having a hard time writing anything.
I did notice that Touta had his hula hoop without calling for it. As part of his Super Touta persona, it wouldn't surprise me if he now has the ability to get a hoop when he wants.
Furthering the Super Touta thing is his ability to break through the time window. Right now, he's falling away, possibly out of Dana's control and possibly somewhere outside of the normal time and space. Or he could be falling back to reality, where we might discover he's changed time somehow (à la Back to the Future).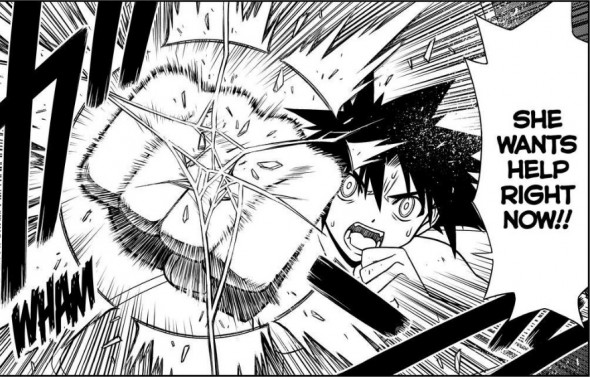 As to Eva, her being attacked constantly wasn't a surprise. I had figured that at some point, she decided she no longer cared about humanity and while she didn't declare war on humanity, she would slaughter them without mercy if anyone got in her way. Things didn't happen quite that way as even in her cold, merciless moment, she still lamented someone throwing away their life trying to attack her. I've got no problem with that, but how I had imagined Eva becoming would make her redemption story through Nagi and Negi more powerful.
I really wanted to see Eva hook up with Ala Rubra and stuff, but I strongly suspect we won't see that happen.
Finally, I noticed that the editing job from Crunchyroll wasn't so good. I can understand how those kinds of mistakes happen since I make them on the blog all the time. I don't think the Crunchyroll pages will ever be corrected, but hopefully, the printed versions will be fixed.
In the end, an interesting chapter, though I suspect that's the end of Eva's past (unless Eva's Yukihime form decides to speak more of it to Touta).