ハヤテのごとく!/Hayate no Gotoku Manga
Hayate the Combat Butler Chapter 507 Review
SPOILER Summary/Synopsis: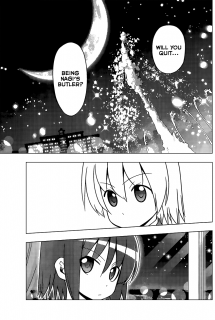 Hayate asks Sakuya the true reason why she has joined this trip. Sakuya acknowledges she has another reason other than being bored, then she asks Hayate if he would continue to be Nagi's butler if he wins the ¥150 million prize. He doesn't know, and though he's enjoyed the past nine months, he feels something is off between him and Nagi. Sakuya hears this and states her belief that Hayate does care for Nagi, which he agrees with.
Sakuya tells Hayate that Mikado is going to  hand out the Sanzenin inheritance and that HATSUSHIBA Hisui will get involved since she want the inheritance very badly. If Hisui wins, Nagi will be truly broke, but if Nagi wins, she'll be able to continue her life and Hayate can continue enjoying the fun days, providing Hayate remains her butler.
Elsewhere, Hina and Izumi are chatting about how there are only six contestants left. When asked what Hina will do with the money if she wins, she says she'll donate it to someone in need. Hina asks Izumi what she'd do with the money, so Izumi says she'll give it to Hayate. Hina says that if Hayate gets to pay off his debt, he'll stop being a butler and even leave Hakuou. Izumi doesn't think that will happen since she believes Hayate will never leave Nagi alone, thus he won't stop being her butler. Hina realizes that what Izumi says is true and is depressed, wondering what the point of winning would be.
Meanwhile, Kananiwa looks at pictures of the six surviving contestants (Kayura, Katsura, Hina, Hayate, Nagi, and Izumi) and wonders if one of them can produce the explosion of negative emotion to open the path. Hayate enters, having heard this, and having made his presence known, he asks her if they can begin the final orientation now.
Thoughts/Review:
I've been thinking of late that Hata-sensei might be growing weary of Hayate the Combat Butler because he's done a few plot dumps lately. This chapter continues that feeling with the characters talking of how they feel things are about to come to an end. (Plus, Hata-sensei is working on his new, weekly manga series.)  We'll see if things move at a much faster pace, or if Hata-sensei is just saying, "OK, we are winding down now."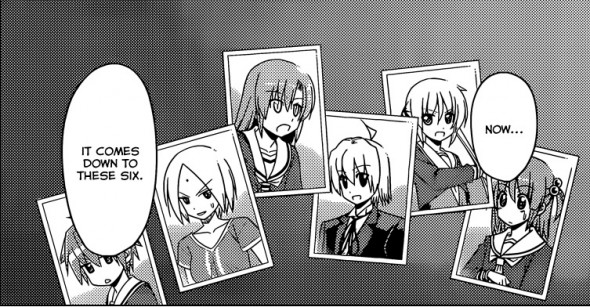 I like the fact that Hata-sensei is acknowledging that there's no romantic spark between Nagi and Hayate. Hayate has cared about Nagi ever since he was saved by her, but from early on, he's always shown no interest in her. Although I feel certain that Hata-sensei wanted Hayate and Nagi to be the pairing at the end of the manga, the story went into a direction where this cannot be done in a believable fashion.
I recently started rereading the volumes from the ultra slow Viz (*_*) and I was reminded that during the first attempt by someone (Gilbert) to get the inheritance, the goal was to make Nagi cry and apologize. While this doesn't come off as an explosion of negative emotion, I do think this was Hata-sensei's intent back then. As such, when it comes to this current competition, I can see Nagi winning the school trip, with Ruri assisting. I can see the explosion of negative energy coming from Nagi giving up Hayate, not only as her butler, but as her future husband. We'll see though.
Although I am growing doubtful this will happen, I'm really hoping Hata-sensei takes the time to introduce Nagi's father into the manga story. I think it would be a nice touch if somehow, Nagi is able to commune with both her father and mother again.
As to Hayate, if Nagi sets him free, I do hope he ends up with Athena. That's nothing against any of the other girls, but ever since Athena was introduced, then shown again as an adult, it has been the only really good pairing for Hayate.
That being said, I would feel badly for Hina and Ayumu, and even Nagi as well, should Hayate end up with Athena.
Well, we'll see what happens. In the meantime, this was an interesting chapter, especially since Hisui is being brought back into the mix.