ユーキューホルダー! Manga Review
UQ Holder Chapter 96
SPOILER Summary/Synopsis: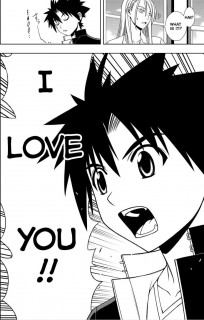 Touta races to the UQ Holder HQ at Senkyoukan, where he lands the boat, rushes past everyone, and makes it to Yukihime's office. Once there, he loudly proclaims his love for her, causing Santa, Kirie, and Kuroumaru who are outside the office to fall over shocked, and which causes Karin, who's elsewhere cleaning, to break her broom. Kirie, Santa, and Kuroumaru can't believe what is happening, nor can Yukihime, who thinks something must be wrong with Touta. Touta makes what sounds like a sexual pass at her, which causes Yukihime to punch him. He continues his full court press, asking her to marry him, which leads to her beating him fiercely.
Yukihime demands to know what's wrong with Touta, but he says he's serious in wanting to be there for her and support her. He reminds her of his words after he became immortal and saying with her. He fears that if he doesn't keep an eye on her, she'll disappear. She finds this amusing, then whacks him again. She tells him and the hiding Kirie, Santa, and Kuroumaru that they have important guests here and that all four of them are demoted. As such, they are to work as part of the Senkyoukan Inn's staff.
After having been firmly told "NO" in English, Touta is bummed out at having been rejected. Ikkuu is there with Santa, Kuroumaru, and Kirie as Touta is told he should have tried to find out if Yukihime remembered him from the past. Jinbee and Gengorou show up so that Jinbee can remind Touta that He's now got to work. Karin literally drops in, irritated over Touta's confession to Yukihime and attacks him. Jinbee grabs him as Karin attacks, sending him flying as a happy Yukihime remarks to herself that Touta was 500 years late.
Thoughts/Review:
Well, there was some doubt on whether the chapter would be dedicated to Touta confessing to Eva, but that was in fact how the chapter went.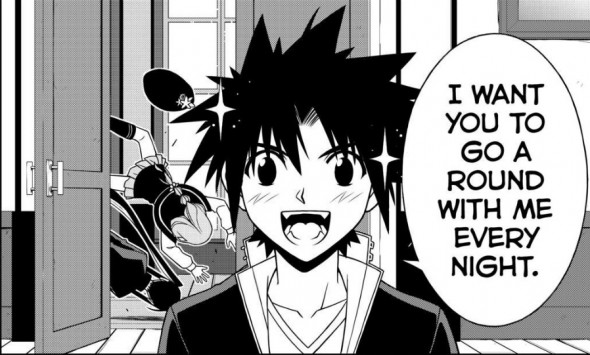 The chapter was fun, but while we saw the happy Yukihime at the end of the chapter, I don't think we'll see an Eva x Touta pairing. It makes sense too, considering her vast years (vs. Touta's roughly three years of memory) and the fact that she became motherly to Touta. She does care about Touta and is happy when he does little things for her, including this love confession and marriage proposal. But when push comes to shove, it will be Negi when they rescue her since I think that Nagi was an infatuation, but with Negi, she actually fell in love.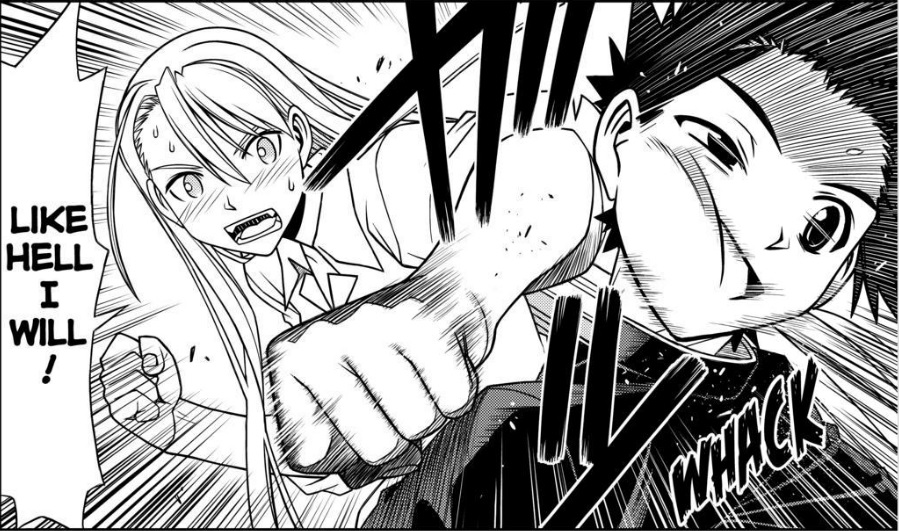 As for Touta, well, he's just confused, since this is the first time he's had such feelings. Soon, he'll have a harem though. 😉
Still, the chapter did confirm that she did remember Touta from the past. Whether or not there was some minor tweaking of the timeline due to what Touta did in the past remains to be seen, though I suspect Akamatsu-sensei may play this straight and the "retconned" events are that Eva knew Touta all along.
The return to Senkyoukan allowed us to see many of the old characters, both Numbers and the minions. As such, I liked seeing Jinbee and Gengorou again. I loved seeing Karin again (Useless-senpai indeed). (As an aside, now that the pactio system has officially been introduced into UQ Holder, I'd love for that mallet of Karin's to actually be a pactio artifact.)
While we didn't get to see Ayaka nor Chachamaru, Ayaka's granddaughter (or great granddaughter) did get a cameo, being escorted by Gengorou. Considering that these are no doubt the important visitors Eva spoke of, I suspect we'll see them next chapter. By demoting Touta and company, I suppose that insures that they don't go anywhere so that we can have whatever it is that Akamatsu-sensei has in store for setting up the Touta harem.
In the end, while there's not a great deal for me to discuss (and I keep shifting between trying to write this and help with an issue at work), this was still a very fun chapter.