ユーキューホルダー! Manga Review
UQ Holder Chapter 97
SPOILER Summary/Synopsis: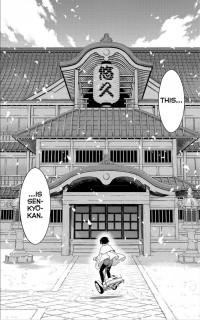 Kirie drags Kuroumaru with her and Karin to the open air onsen at Senkyoukan. As they clean themselves, Karin negatively remarks on how Touta proposed to Yukihime. Kirie remarks on how Touta coming right out and proposing improved her opinion of him, even if Yukihime dumped him. Kuroumaru wonders if Yukihime actually dumped Touta, to which Kirie says she did, which means there's a chance for Kuroumaru. Karin claims to not understand why anyone would be interested in Touta, leading Kirie to remark on how Touta might be a better fighter than her.
Yukihime shows up, so Kirie decides to press her on her feelings for Touta. Yukihime turns the tables on Kirie, pointing out she seems to have Touta on her mind. Kirie stutters and denies having feelings for Touta, so Yukihime presses her "attack" on Kirie regarding her denial. Kirie is still flustered, but remarks that Yukihime turning the tables on her is just as suspicious regarding Yukihime's feelings for Touta.
Yukihime comments on how immortals don't normally go for a quick proposal. Unlike humans who have finite lifespans, immortals have forever and thus procrastinate, usually out of fear of rejection. She then tells Karin, Kuroumaru, and Kirie that they need to get their act together or a human girl may steal him from them.
As if on cue, Shinobu has a message from Touta with his address at the Senkyoukan. However, folks indicate the area is haunted. Since Shinobu has no money, she decides to take her Segway and luggage and transports across the ocean to the island, where she find the inn. No one greets her at the front door and Shinobu wonders if they'll let her work here since she doesn't have much money. She sees a sign pointing to the onsen with its ¥80 cost, so she decides to take a bath and get clean.
While she's relaxing in the onsen, a huge oni joins her, then realizes that she's human and shouldn't be there. Shinobu fleets and runs into the naked Karin. The oni shows up, so Shinobu flees into more of the UQH staff. She eludes them and wonders if this place is really haunted. She's surrounded when Touta shows up, sending everyone, including Shinobu, into the air. He catches her, then realizes for the first time that she's a girl. Because she's naked and being held by Touta, she whacks him, causing others to laugh as Kirie and Kuroumaru observe from a distance.
Thoughts/Review:
Heh!heh!heh! It's Love Hina redux.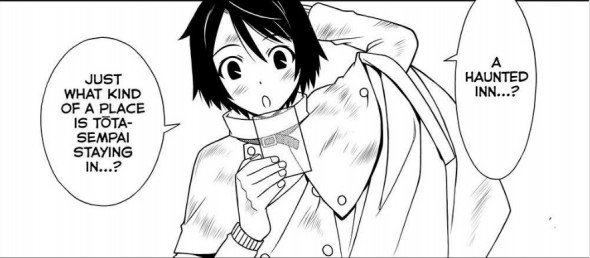 I think (and really hope) that this chapter starts Kuroumaru on the road to becoming the lovely girl. Kuroumaru may have protested some about being a boy (without a winkle), but in the end, came along with Kirie and Karin and bathed with them with no problem. (Well, other than Kirie groping Kuroumaru's chest, but that's another issue.) Kuroumaru does come off as more comfortable around the girls than the boys. And with Shinobu arriving and the discussion or Touta being taken by a human girl, this might be enough to get Kuroumaru to either outright choose female, or naturally become female. And that should be happening soon, by my reckoning.
I loved how Eva turned tables on Kirie to basically cause her to give up the fact that she does like Touta without admitting it. Eva also showed her superior skills in conversation by successfully ducking Kirie's attempt to learn her true feelings for Touta, despite having rejected his proposal.
I did find Eva's remarks on romance and immortals to be interesting. While this is done in part to help continue to lay the harem groundwork, it did make me think about some of the recent discussions on Eva and Negi and their possible relationship. We know from Negima that Eva liked Negi, especially in the ero department. I've believed that Eva might have been the one Negi liked. And certainly, we know that Eva went from being a passive member of Ala Alba to an active member, thanks to Negi. But as might be rightly pointed out, that doesn't mean they had any kind of romantic relationship.
That being said, when Eva spoke of how immortals mostly don't propose and even if they like someone, they put off saying something forever (or nearly so), it made me think that with Negi being immortal and Eva being immortal, even if Eva's feelings for Negi had increased on the all fronts (and I can see that happening as they would be close combat partners in arms), it is very doubtful that she'd confess her feelings for him. And Negi, with his battle harem, might not wish to confess to any one girl so as not to hurt anyone's feelings.
It is PURE speculation on my part, but if that's all correct, then I can see it giving Eva an added motivation to find and rescue Negi. Having been given a second chance, it is time for love confessions, courtesy of Chamo. 😉
At this point, I feel fairly confident that Shinobu will become a regular part of the UQ Holder cast and that Eva will give her a job at Senkyoukan. For one thing, it helps with the harem thing. For another, it gives us a character that could give us an outsider's perspective on immortals.
As to the rest of the chapter, everything about it felt like it was from Love Hina rather than Negima. When we first saw the Senkyoukan, a lot of folks remarks on how similar it was to Hinata-sou, the inn turned into a girls dorm in Love Hina.  This chapter really evoked the Love Hina feeling from Shinobu's arrival at the front door, then her entrance. Of course the onsen itself had a strong Love Hina feel to it. And of course Shinobu of UQ Holder looks very much like Shinobu of Love Hina.
The entire chapter was set up like a Love Hina chapter, starting with the girls bathing and talking about Touta. It could easily have been the girls of Love Hina talking about Keitaro. Poor Shinobu took the place of Keitaro from Love Hina in this chapter, first by helping herself to the onsen, then by being found out in the onsen as an intruder, then being chased while naked and running into another naked girl, then ultimately sent flying into the air. I actually enjoyed that quite a bit, but maybe it is just Love Hina nostalgia on my part.
Finally, while I often slam Crunchyroll for different things, I do appreciate the fact that for this chapter, they actually made an effort on the awesome 2-page spread to line it up properly. I won't comment on how the shading between the two pages doesn't match, but doing that would likely have been more work than Crunchyroll could afford. At least the page meshes up fairly well.
In the end, I liked this chapter, mainly because of the Love Hina vibes it gave off. I do hope that Shinobu becomes a regular part of the UQ Holder cast of characters, at least when they are at the Senkyoukan.