ハヤテのごとく!/Hayate no Gotoku Manga
Hayate the Combat Butler Chapter 509 Review
SPOILER Summary/Synopsis: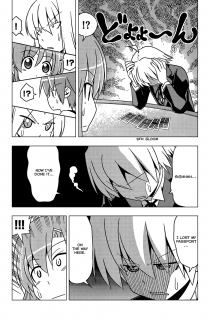 With Hina attempting to use luck against the unlucky Hayate, he smirks and reminds her that in normal Old Maid, the old maid (or joker) card is drawn by the unluckiest person. As such, he gloomily remarks on how he's lost his passport, then draws the joker. Hina is astonished and asks if he lost it on purpose. He says he didn't do it on purpose, but left it in his pocket in such a way that it might fall out, or not. The others are amazed at Hayate amplifying his bad luck to draw the joker.
Yukiji notices that along with the ¥150 million in cash, there's a jewel. Hayate informs her that it is supplied by Chairman Kananiwa and is a King's Jewel.
Kananiwa is up next and reminds Hayate that he's not the only one with bad luck. Her bad luck was to tell them that her boyfriend since high school just broke up with her, thus she draws the joker. Yukiji is up next and her bad luck is having her parents saddle her with an ¥80 million debt. Izumi is up next, but since she's a happy ojousama, there's no way she'll have bad luck and pull the joker. However, her bad luck is having Kotetsu as a brother, which allows her to draw the joker. Kayura doesn't have bad luck, but can easily read Izumi and so pulls the card. Hina cites Yukiji as her bad luck and gets the joker back.
Hayate ups the bad luck ante and pulls the joker. Kananiwa does as well. Eventually, the others start falling out and after four hours and twelve minutes, it was down to Hina and Hayate. Hina knows that if she loses, Hayate won't notice her feelings. She loses.
Thoughts/Review:
Har! I had a feeling that Hayate would win since he had success playing games. I didn't expect it to be like this though.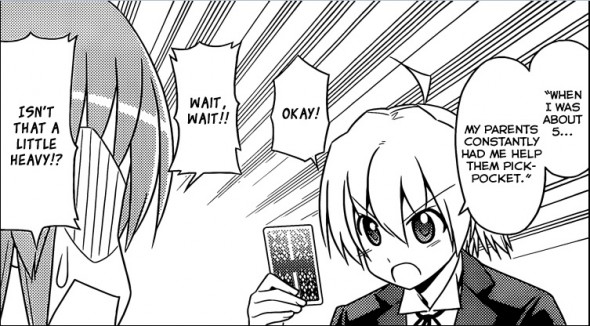 It was humorous hearing some of the bad luck tales. I think Izumi's had to be the funniest, since she cited having Kotetsu as a brother. Hina's was also pretty amusing, citing Yukiji as her sister.
Although this has seemed the case for a while, I guess it is safe to say that Kananiwa has no relation to Dolly from Can't Take My Eyes Off You, other than looks. I'd kinda hoped she might still be a Dryad.
So Hayate now has ¥150 million and a Kings Jewel. Now what?
I have this feeling that the manga will end fairly soon, possibly by end of year. I've remarked before on how this arc just doesn't have the same forethought feeling as other arcs have and it just seemed to meander without purpose for a long time. Now that Hayate has ¥150 million, he can pay off his debt. With the King's Jewel, he can open up the path for Nagi.
I hope I'm wrong, but the manga is on a three week break, no doubt so Hata-sensei can focus on his new manga. I think the new manga is going to be more interesting to Hata-sensei than Hayate the Combat Butler.  That adds to my feeling that Hata-sensei will just close things down.
Well, I guess we'll see what happens in three weeks.