ユーキューホルダー! Manga Review
UQ Holder Chapter 101
SPOILER Summary/Synopsis: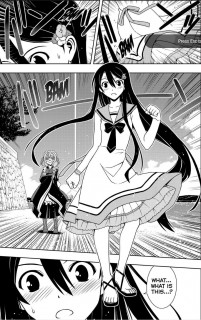 In the room she shares with Touta, Kuroumaru takes note of her growing breasts, as her body becomes female, when Touta busts in ready for bed. Kuroumaru finds she can no longer sleep in the same room as Touta, thus is exhausted the following day when she trains with him. During their training, Touta is able to block a sword hit with his arm without taking damage, showing how far he's advanced in his power. Kuroumaru is amazed since she can't do this, but Touta downplays things since he's still got so far to go to be the most powerful.
As the day goes on, Kuroumaru notes how Touta is able to do anything at a professional level after watching someone do that thing only once. Touta is well liked by the underlings at UQ Holder as well as the children there. Kuroumaru also notes how Touta considers her as a partner and she credits Touta with saving her. As such, she fears that if Touta learns the truth that she's a girl, he'll reject her.
Kirie hears Kuroumaru vocalizing her thoughts aloud and voices her support for Kuroumaru, denying she has feelings for Touta as well. In order to test Touta's feelings without ruining their friendship, Kirie gets a sailor suit dress for Kuroumaru to wear. In addition, she turns Kuroumaru's hair blonde. Kuroumaru shows up at the front door as a walk in guest of the inn and is greeted by Touta alone, after Kirie arranges for other staff members to be gone. As Touta takes Kuroumaru's bag, he looks back and apparently recognizes Kuroumaru through the disguise.
Thoughts/Review:
Ah, yes. Kuroumaru is a lovely girl at long last. 🙂
The one little piece of information here regarding Kuroumaru becoming a woman was the fact that she never thought she'd ever become male or female once she became immortal. That actually made her continued insistence on being male make more sense to me. As a gender-neuter individual who thought that they would never get to make a gender choice,  I can see Kuroumaru trying to act as butch as possible to avoid certain problems.
Now that Kuroumaru has become a lovely girl, I think her fears over Touta rejecting her in the cold manner she imagines are baseless. Touta may turn her down as a romantic partner, but I think that if Touta learned the truth of Kuroumaru's clan and such (when it comes to gender), I think he'd find that to be cool. He'd find no issue with Kuroumaru being a woman and a partner in battle since Kuroumaru has proved herself over and over.
Kirie putting Kuroumaru in disguise to make her appear to be a cute, blonde, Eva knockoff was not a story turn I would have expected. I wonder if Kuroumaru's hair was turned blonde 'cause that's how it seemed to me (rather than her wearing a blonde wig). That being said, Touta being able to apparently see through the disguise is not unexpected since this is Super Touta we are talking about. However, I do hope that this leads to them actually having a heart-to-heart and does not become just some new take on the Kuroumaru gender gags.  I want Kuroumaru to open up to Touta about her past so that we can witness some of these things and get to know Kuroumaru better.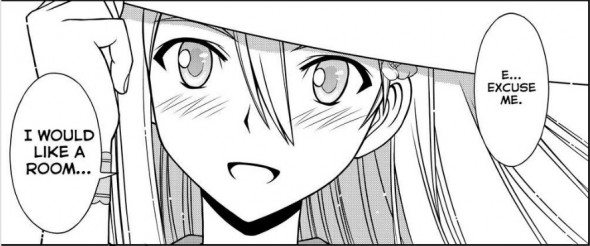 Speaking of Touta, I noted with some amusement how Kuroumaru's own thoughts about him are that he can do anything after seeing it done once. Well, it isn't like we didn't know that, but I took this more as Akamatsu-sensei acknowledging that Touta is that gifted to master things ultra quickly.
Still, Touta isn't the annoying idiot he was in that he doesn't get on my nerves like he used to. Indeed, I found the scene with him playing with Mizore and the little youkai girls (or whatever they officially are) to be quite touching and adorable.
In the end, this was a nice chapter featuring Kuroumaru becoming the lovely girl we all knew she would be.