ハヤテのごとく!/Hayate no Gotoku Manga
Hayate the Combat Butler Chapter 510 Review
SPOILER Summary/Synopsis: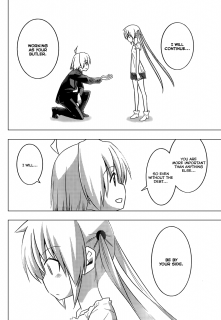 Isumi pays a visit to Sakuya regarding the end of the school trip while Nagi awakes from a contemplative dream regarding whether Hayate is with her because he loves her, or because he owes her over ¥150 million. She then notices that the completer counter has gone down to two.
Elsewhere, Hayate gives Kananiwa back her player and the King's Jewel. Kananiwa tells Hayate that her breakup with her boyfriend of ten years so devastated her, she decided to obtain the Royal Power in order to get him back. However, since she'd not been able to open a path, the game made her realize her feelings of despair must not have been real. As such, she gives Hayate the King's Jewel and look for a new love.
Nagi rushes in regarding the completer being at two, so Hina thinks that Hayate will give up to allow Nagi to win and have things go back to normal. Instead, to everyone's shock, Hayate presses Nagi's completer, meaning he's the winner of the ¥150 million prize.  With that, he announces that he'll use the money to pay off his debt to Nagi, save for the little that remains. However, he tells her he'll continue as her butler since she's more important to him than anyone else.
With that, Nagi becomes convinced that Hayate truly loves her and becomes very happy as a result.
Thoughts/Review:
This arc has to be the most disappointing arc in the entire Hayate the Combat Butler manga. I really don't think Hata-sensei had his heart in writing it. I think some of it might be because the Can't Take My Eyes Off You Vegas story, which was supposed to be canon, was reportedly made unavailable for Hata-sensei to use. Then there's also the fact that Hata-sensei decided to launch a second, major manga (Ad Astra Per Aspera). As such, I think he just didn't feel like doing much with the story since it wasn't part of the original plan to have to do this story.
Nothing in this arc had any real meaning. When Kananiwa was introduced, I was excited at the thought that this could be dryad Dolly, even if she had a new name. The introduction of Ruri seemed to cement that. However, it eventually became clear that Kananiwa was just a regular human (and convenient relative of Mikado). This chapter took the last of her teeth by shifting her from mysterious with a burning agenda to a simple MacGuffin to allow Hayate to pay off his debt and acquire a new King's Jewel.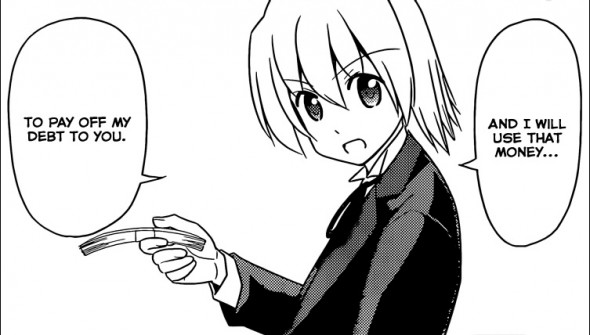 And as for Ruri, she had even less of a purpose, other than as a tease. If she had a purpose, Nagi would have won with Ruri's help.
Still, there was one tiny element of Kananiwa that caught my eye. When she was talking about the loss of her boyfriend being the motivation behind her opening the path to the Royal Garden, I thought about the very brief scene during the Shimoda arc, where Nagi references her grandfather not letting go of things (without saying his name) and we see a scene of Mikado standing at a giant portrait of Yukariko. It made me think that maybe Mikado's ultimate motivation isn't riches, but maybe finding a way to bring his daughter back. After all, part of the Midas myth has King Midas accidentally killing his daughter by turning her into gold. Some stories have his daughter restored to life, but only after Midas repents. I've long thought that Mikado was the symbolic Midas, so there may be something to this theory.
Of course, I'm probably reading too much into that moment in this chapter and in the moment with Mikado at Yukariko's portrait. After all, it really feels like Hata-sensei is desperate to be rid of Hayate the Combat Butler and is trying to bring it to as rapid of a conclusion as he can. If that's true, he's not going to bother too much with things and will do whatever he can to end the manga as soon as possible after tying up the major plot threads. (Hayate paying off his debt is one such thread.)
As to the end of the chapter, we are clearly setting up a situation for Nagi to be the one driven to despair so that the path to the Royal Garden opens again. That's not surprising, considering that Mikado's condition for allowing someone to inherit the Sanzenin fortune was to make Nagi cry. So I think Nagi is being set up for a terrible heartbreak that does open the path.
Anyway, I guess I can give up on Nagi's father having a meaningful story in the manga that we get to read. I sure was hoping that when the group went to Las Vegas, we'd get to see that, even if told in a completely different way from the anime.
In the end, this chapter is a very anti-climactic end for a disappointing arc who's only purpose was to allow Hayate to pay off his debt while giving him another King's Jewel.