ハヤテのごとく!/Hayate no Gotoku Manga
Hayate the Combat Butler Chapter 514 Review
SPOILER Summary/Synopsis: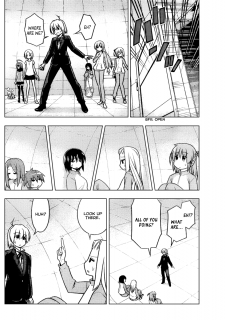 Maria tells Nagi she was bored, which is why she's here for this Leverage x100 Roulette game. Further, they can only use the ¥10 million gold coin to place their bet. She tells the five (Hayate, Nagi, Miki, Risa, and Izumi) that Kayura and Aika are already below to get the coin.
As they start to leave, Nagi warns Hayate that this is a bog game, in that with Maria playing second after the player, she will never lose. Yukiji arrives, stating that she has to try. Hina and Isumi also arrive and concur since ¥2 billion is at stake. When they arrive at the door to the next room, they find the entrance fee is ¥1 million. They are joined by Tsugumi and Chiharu, where Tsugumi borrows millions to get them in.
They enter a large, empty room with a dome roof, with the key hanging from a string and no way to reach it. Naturally, there's an ATM to borrow more money, and a dispenser to exchange bundles of cash for bricks of the same size. They figure they'll need to spend ¥1 billion to get enough bricks to reach the coin. Yukiji decides she has no choice but to borrow the money and take on all debts in order for them to get enough bricks to build a stairway to the coin.
After having borrowed ¥1.82 billion, Yukiji climbs the brick tower to get the coin. When Hayate asks her what her plan is, she reveals she has his passport. She says she will give the passport back, only if the roulette game is played by Nagi.
Thoughts/Review:
Ugh. As the catch phrase in Star Wars goes, "I've got a bad feeling about this."
So just what is Maria playing at? Kananiwa's original intent with this roulette game could not have been a positive one (even if Hata-sensei seems to have neutered her as a threatening character). Hata-sensei loves hiding things in jokes, but it seems hard to believe a bored Maria would go along with some game that could potentially saddle people with the massive debt shown here.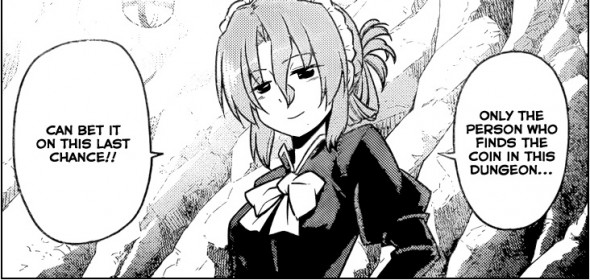 Still, from a purely comedy perspective, having Maria be the dealer at this roulette game is pretty humorous. Maria can be quite sadistic when it comes to games. When she first met Nagi, she destroyed Nagi at chess. She had no problems at whipping Hayate and Kotetsu at ping pong. She could have beaten Hayate at pool, but she purposefully lost.
I suppose it is possible that Maria could throw the game, but if she's facing Nagi, I just can't believe she'll back down.
Of course, that assumes Nagi is the one to actually face Maria. Yukiji is quite devious, so there's no telling what her ultimate aim is. She would willingly see Hayate saddled with a lot of debt to suit her ends. And she has Hayate's passport, so who knows what kind of mischief she could get into, beyond her demand that Nagi face Maria.
Man, I really hope Hata-sensei doesn't saddle Hayate with another large debt. I still can't shake the feeling that when all is said and done, Hayate will have at least ¥150 million in debt again. I hope not.
As an aside, Hayate and Nagi using the name "Katejina" seemed like a mistake in the name to me, but looking at the raw, it is "Katejina" and not "Kananiwa". Turns out, this is a reference to Katejina from Mobile Suit Victory Gundam.