ユーキューホルダー! Manga Review
UQ Holder Chapter 105
SPOILER Summary/Synopsis: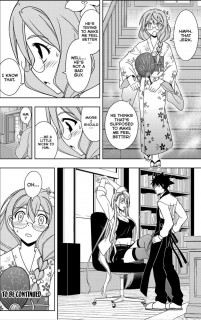 Touta is surprised that Mizore is stuck in midair, and her clothing won't even move. Kirie suddenly realizes this could be bad and goes around the Senkyoukan, were they see everything is frozen in time, from waves on the shore to birds to the buttons popping off of Yukihime's top. Touta now understands time is frozen and thinks this is awesome, believing that Kirie has unlocked a new power that would make her incredibly powerful.
As Touta lavishes on the praise, Kirie is forced to admit that this is likely a glitch in her powers since she tried to kill herself at the same time that Touta destroyed her save point. Touta becomes a little concerned, so they do some investigating. Sixteen hours later, Touta is doing some training when Kirie catches him and accuses him of playing. She's worried that they may be stuck in this timeless world for all eternity. Touta thinks she's wrong, so Kirie angrily responds that as immortals, they will be here forever.
Kirie races off and goes to the roof of the building where Santa is looking contemplatively. Touta arrives with the cake he'd bought earlier for her. He says he got it to thank her since without her time reset power, there were several times where they'd have been wiped out. She gets flustered, so he suggests a shower, citing how when they touch stuff, it can move for a while. As such, using small water tank with a pump, Kirie is able to take a shower. Touta is also able to take one, but when Kirie pulls a joke by lighting a fire under the tank, she gets an eye full of his junk.
They are outside eating when Touta remarks on how he can't sleep if it is always light. So Kirie casts a spell to make it dark. Kirie is now in a yukata as Touta produces fireworks for them to play with. Later, Kirie decides that maybe Touta's not so bad and that she should be nicer to him. As she walks through the building, she comes to Yukihime's office, where he finds Touta standing before the frozen Yukihime.
Thoughts/Review:
Well, there's really not a lot to say about this chapter, but I'll try to come up with something.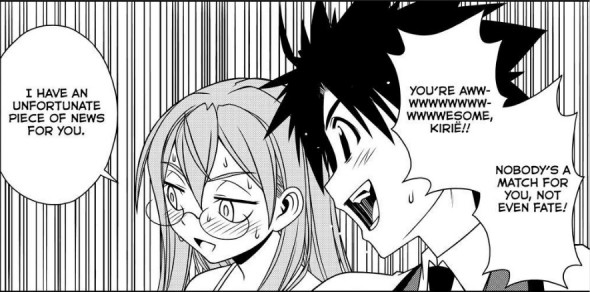 The thing about time being frozen stories is that while it is easy to come up with a believable situation where people are stuck here and nothing can move, it becomes a bit more wobbly when said people have to interact with this world where time is frozen, at least for me.
I think back to the Star Trek: The Next Generation episode Timescape, where the writers came up with a plausible (within the rules of the Star Trek universe) means for some characters to not be frozen in time. There's a moment when one of the characters turns a console to him and I immediately thought, "If time is frozen, how is that moving at all? Assuming that it somehow can move, with time being frozen, what kind of forces must be exerted on that console to have it "wrenched" from one position to another in 0.000000000000 seconds?" At least in that episode, the writers didn't have the characters moving anything else or doing anything else that took me out of the episode.
That was my problem with UQ Holder chapter 105; I was constantly being taken out of the chapter. You have Mizore in midair, complete with hair flying and clothing flapping. Touta touches her clothing and it won't move. So far, I'm good with this since this is how things should be in a time frozen world. Things don't move, and you certainly don't want to be touching or moving people because of the devastating affect that would have on the human body.
Sixteen hours later, Touta is interacting in this world through training. He's doing something that causes the water off the beach to splash and steam, the waves of said water were specifically pointed out to be frozen in time. With time being frozen, there should be no splashing and certainly no steaming. Time has CEASED! At best, I could see Touta's actions causing displacement in the water, the explosive effect of which would not be seen until time restarted, at which time the effect of actions taken while time stopped would seem to be far greater than normal.
Touta and Kirie having cake that had been frozen in time was something I probably would have passed on, had I not already been taken out of the chapter. But we have to have a moment for Kirie and Touta, which wasn't bad for what it was (Touta thanking Kirie). However, we went to the "shower" scene, and again, I'm out of the chapter. I just rolled my eyes at the, "Oh. Yeah, we touch stuff and it can move for a bit, even though when we touched Mizore's clothing, it didn't move." (Mizore should be thankful they didn't touch her as they'd likely kill her if they moved her.)
The last straw for me was the fire lighting to pull a prank on Touta, then the fireworks. How lucky that time is frozen, except when we need for the characters to be able to do normal stuff, so time is unfrozen for that.
Maybe I'm being too harsh, but when I lose the ability to suspend my disbelief, that's pretty much it for me.
Outside of that, the stuff between Kirie and Touta didn't quite go like I thought it might, meaning Kirie didn't look at her feelings for Touta to build on the harem stuff. She was pretty much the same as she always was, which was understandable, considering how she felt she'd just made the biggest mistake of her life.
I did like Karin's shampooing Shinobu's hair. It was a sweet moment since Karin has a smile and shows that she's accepted Shinobu as part of the staff, even though she's not immortal. I liked that.
As for Kuroumaru, well, her breasts are back, hence the taping scene there. How many times did we witness that kind of moment with Motoko in Love Hina? 😉
Considering how random Akamatsu-sensei is, there's no way of knowing what will happen next. However, I would like to see Kirie's observation of Touta's looking at the frozen Eva to have her (1) explore her feelings and (2) get her to have Touta expound more on his for Eva. That would be interesting character work as far as I'm concerned.
That being said, Eva and the button thing might not be all it seems to be on the surface. Nah, I'm overthinking it.
In the end, I was taken out of this chapter a lot, so I really couldn't get into it that much. I may be being overly harsh, but that's just me.