ユーキューホルダー! Manga Review
UQ Holder Chapter 106
SPOILER Summary/Synopsis: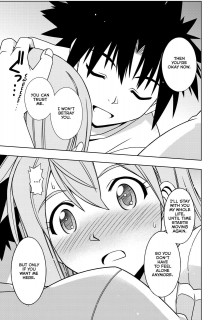 Kirie spots Touta gazing at Yukihime, who's shirt had just popped open when time stopped. She's touched when he covers her up and vows to catch up to her.
That night, Kirie can't sleep due to the utter silence and Touta sleeps on the roof since Kirie has barred him from entering the room he shares with Kuroumaru since she's changing.
For the next four months, Touta trains but time does not move. Kirie is depressed since this is her fault, which surprises Touta. He tells her he's heading to the tower to make one of his dreams come true, whereupon he'll see if he can get a ship working. Kirie tearfully pleads for Touta to not leave her, so he concedes to stay with the "cute" Kirie.
Some "night" later, Kirie asks to sleep with Touta, who's made a bed in the atrium. He's a little confused by her shifting attitudes, but he gives in to her tearful request. He remarks on how she normally doesn't want help from anyone. She concedes that this is normally how she is, leading Touta to tell her she can ask for help.
Kirie opens up, saying she doesn't trust people, thanks to all of the bad encounters she's experienced before coming to UQ Holder. She reveals that the first time she used her reset powers, she was four and she starved to death due to neglect from her parents, though she says she doesn't remember clearly, even though she had to repeat time many hundreds of times before she survived. She still can't trust people, even though UQH has been nice to hear, but she declines to elaborate further.
Touta embraces her, vowing to never betray her and that he won't leave her until time starts moving again, so she need not feel lonely. Kirie decides to accept the comfort of Touta's embrace. She asks him about Yukihime, but then finds he's already asleep.
The following "morning," Kirie is shocked to find she spent the night in Touta's arms. She recalls that she was kissing him when time stopped, so on a whim, she kisses him again to see if time will start. As she does, light appears and Mizore is there, asking why Kirie is suddenly in her pajamas, why Touta's asleep on a mattress in the middle of the floor, and why Kirie appeared to have just kissed him. With time having resumed and Mizore pestering her, Kirie is in a state of panic.
Thoughts/Review:
You know, I have to say that even though some of the time stop stuff (especially from the previous chapter) was bonk, this chapter was actually really good and Kirie got some character development.
I've never really had an affinity with Kirie's character, namely because she's the bratty character who's part Chisame from Negima (another character I didn't really care for initially). While it was clear that Kirie was joining the Touta harem, there wasn't a linchpin to shifting her feelings to a much higher stage.
With the this time stoppage mini-arc, Kirie gets that missing element to push her to the next level. It is easy to understand why Kirie's normally tight defenses crumbled. As someone who sleeps with white noise, I can totally understand how total silence (which is impossible to mimic, short of becoming deaf) would make it very difficult for her to sleep. The lack of sleep over time will bring down one's resistance.
Then there's the isolation. While Kirie may often sequester herself, there are things to distract her from being lonely. With time having stopped, it is just Touta and her. She has no escapes from the reality of the situation, and she certainly can't reset time to fix this problem. She can't run nor hide, thus her defenses are taken down further. Of course Touta's decision to leave for the tower breaks her.
Touta may be oblivious to things, but I liked how he handled the broken Kirie. He was there for her and she opened up as a result. It was a really, sweet, touching moment. No wonder when it comes to the ships sailing, Kirie x Touta is in the lead.
As for Kirie's past, although all we got were a couple of crumbs, it was better than nothing and about time too. It is tragic to learn that Kirie discovered her powers by starving to death. I've seen some speculation on this and how she's doing resets without a save point. I suspect that before she learned how to do save points, she was completely reliving her life (or at least, from a time where she could consciously do something about it, say starting at three years of age). Earlier in the manga, Kirie revealed that initially, she felt she was experiencing déjà vu when going through time loops for the first time. I can see that as a child, it would be even harder to understand what was happening to her, while at the same time, because she was a child, it would be easier for her to come up with a solution and accept her situation.
Unfortunately, I don't think we'll be seeing any more about Kirie's past for a very long time, if ever. Akamatsu-sensei seems very keen on giving us as little as possible about the character's past, no doubt so he does not feel fettered by having an extensive back history told.
Mizore was in the middle of falling down when time stopped, so I'm not sure how she got into this room so immediately when time restarted. It was done for humor, but it is almost as if to say, "Ignore the fact that I was in another room, in the closet, in the middle of a fall. I'm now in a room I wasn't in before." ^_^;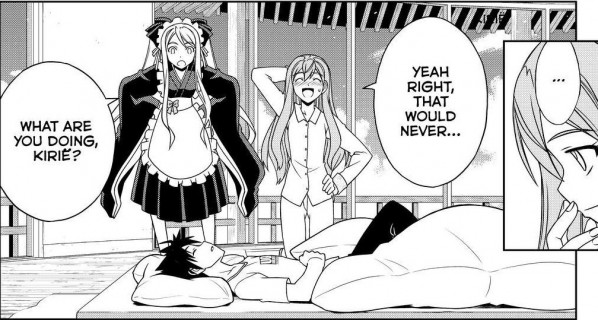 In the end, this was a really good Kirie chapter and caused her to move up a notch in my book. Now that the Kirie x Touta ship has set sail, bring on the Karin x Touta shipping mini-arc of the Touta harem saga. 😉