ユーキューホルダー! Manga Review
UQ Holder Chapter 108
SPOILER Summary/Synopsis: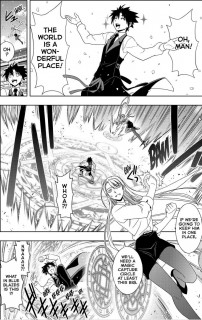 As Yukihime explains the truth drug, Karin begins speaking her thoughts about stealing snacks and a bit more.
Touta escapes and visits Shinobu, expressing his love and admiration for her. Karin arrives to nail him, but he easily eludes her, expressing that her ruthlessness is another thing he likes about her.
Kirie finds herself thinking about Touta, then tries to convince herself she doesn't like him. Touta shows up to chat with her. The pursuing Karin thinks everything will be OK, but Touta tells Kirie he deeply loves her. When she collapses in a blushing shock, he goes down with her and embraces her, expressing his concern for her and vowing to always protect and be there for her.
Karin attacks, but Touta has already vanished. Touta visits Kuroumaru, Santa, Ikkuu, and everyone else, expressing his love for all. Mizore shows up, asking Touta about his feelings for her, so he says she's tiny.
Yukihime rolls in with powerful magic to capture Touta and put him in isolation for a while. She puts Karin there as well, which is Yukihime's magical prison dimension. Touta comes to, finding himself in gym attire next to Karin, standing in the hall of his old school, holding two buckets of water and balancing one on his head. After Karin explains things, Touta starts to do the one thing Karin is most anxious not happen — he starts to have the conversation with her that he's been longing to have.
Thoughts/Review:
The Karin mini arc hasn't gone quite as expected, but so far, I'm enjoying it immensely. I'll love it if the arc goes on long enough for us to get some info on Karin's past.
I'd been thinking that the truth candies on Eva's desk had to be there on purpose. While this chapter does not specifically state this, there is a strong implication that Eva may have done it to nail people stealing her food. Early on, we learned the Jinbee got thrown underground for two years for stealing Eva's food.
That aside, as a McGuffin, the truth drug works to make Touta become humorous as he goes nuts expressing his love for everyone. While he has used "suki da" (like/love) for most of the girls, including Eva, I was surprised that Touta used the more intimate "aishiteru" form of "love" when talking to Kirie. I wasn't too surprised that he used it for Kuroumaru. I supposed technically, he used it on Santa and Ikkuu too since he included them as an "also" after expressing his feelings for Kuroumaru.
As an aside, Touta uses "daisuki" for all the hotel residents, guests and permanent.
I did feel a bit bad for Mizore. As folks have noticed, she's always around the action of whatever is happening. So when she presents herself, hoping to hear Touta express love for her, he simply tells her (without malice) that she's small (chibi). Mizore isn't the typical kind of girl, so I expect her to roll with this pretty well.
This chapter kinda mirrors the story in Negima were Negi was under the influence of the World Tree and thus could easily elude attacks. Here, Touta is able to easily elude the attacks by Karin while singing "The Sounds of Music."
Having Eva dump both Karin and Touta into her whatever prison (I guess "magical prison dimension" is a combination of phantasmagoria and diorama magic) sets the stage to force Karin to be fully in the Touta harem. The other girls are secure, but Karin is the hard nut to crack. I can't wait to see her fall.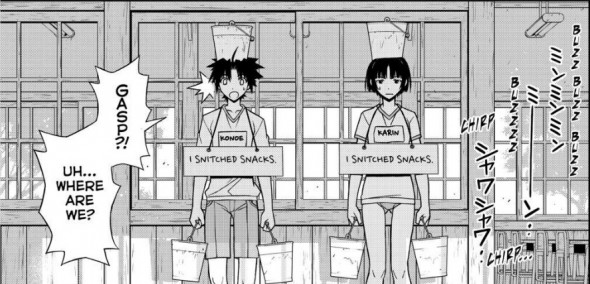 In the end, I found the chapter pretty enjoyable. I'm really hoping for some Karin substance in the next chapter.