Lupin the Third PART4 02 Review
Lupin the Third (2015) episode 02
Lupin III / ルパン三世
SPOILER Summary/Synopsis: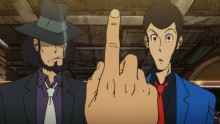 Lupin is watching soccer at his hideout with Goemon and Jigen when he loses his bet, thanks to Marlow Brozzi's play on the field. At the soccer stadium, Zenigata is there with a member of the Italian police when he notices Ricardo Mondini in the VIP seats, someone the Italian police have eyes on. Sometime later, Fujiko shows up with a drunk Brozzi at a pub Jigen and Lupin are at. Fujiko wants Lupin to take a job for Brozzi, who's under Mondini's thumb as Mondini has proof and medical records showing that Brozzi has been doping. As such, Brozzi has been told not to play in the championship game or have his secret exposed. Lupin isn't very interested, but after a discussion with Brozzi in the bathroom, where the soccer player barfs, Lupin has a change of heart. Helping Brozzi back to the table, he states his price for stealing the evidence.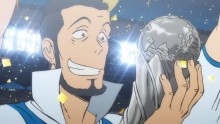 Sometime later at a cafe, Lupin and Jigen discuss the job over spaghetti carbonara. Lupin shows the information he has on Mondini, which he got by hacking MI6's computers. Since Mondini lives in San Marino, Lupin, Jigen, and Goemon stake out the mafia boss's place. Lupin knocks out Mondini's bodyguard Leo and assumes his identity. After gaining access to the safe, Lupin-Leo takes Brozzi's files, but it caught by Mondini. Lupin reveals himself and makes his escape. Mondini sends all his people in pursuit, but his new hire takes paperwork and leaves on a motorcycle after reporting in. Goemon removes most of their pursuit, leaving Mondini and Leo, whom Lupin deals with. Lupin shows up with the papers to the soccer field where Brozzi is practicing. Lupin knows the truth — Brozzi has a degenerate eye condition, which is why he's taking medication. After hearing Brozzi's reasons for wanting to play one last game, Lupin hands him the papers, providing Brozzi scores a hat trick, which Brozzi does in the game.
Thoughts/Review:
Well, this episode didn't go anywhere like I thought it would, and that put a negative air on what was otherwise an OK episode.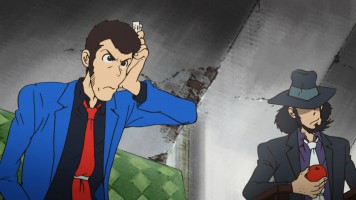 So what put me off? Well, after episode 1, we were left with a situation where Lupin and Rebecca were still married. For episode 2, Goemon notices Rebecca on TV and mentions her, but not by name. Lupin acknowledges her as someone they'd dealt with before, but again, he doesn't say her name, nor is there any reference that he was MARRIED to her. I mean really. The fact that Lupin was married to Rebecca should have been mentioned, especially since her cameo suggests that she will return at some point.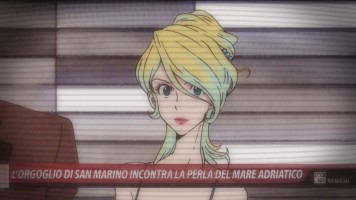 Now that I have that out of my system, what about the rest of the episode? It reminded me of an episode of older British series Lovejoy in that someone who has a problem comes to Lupin and hires him to do a job. I haven't seen all of the old Lupin III TV episodes, so I don't know if Lupin has ever done a job after being hired by someone rather than just doing a job for the challenge, but it seemed unusual and thus fresh. I liked that aspect of the episode because Lupin just had to steal papers. It gave the episode a bit more of a realistic tone.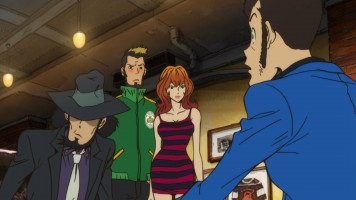 I also liked how Lupin was able to size up Brozzi and realize that the soccer player wasn't doping to gain an edge, but that there was something more to it. As such, when it is revealed that Brozzi is just trying to keep from going totally blind in order to win a championship and express his gratitude for being pulled out from a life of thuggery, it gave Lupin more depth as a character. I think that's the other element that reminded me of Lovejoy.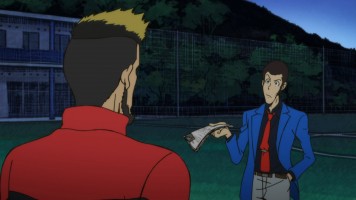 There was an odd theme running through the episode, that being the constant chess games. Lupin plays Jigen, Mondini plays Leo, Lupin plays online (against Mondini's new hire), etc. I'm not really sure what the deeper meaning of that is supposed to be beyond Lupin going up against others. Or maybe he knows he's up against MI6.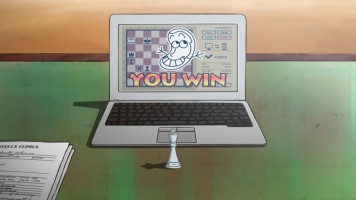 When Lupin and Jigen were served spaghetti carbonara, I actually laughed at how properly they ate their meal. Why? In episode 1, there were clear nods to the Lupin III: Castle of Cagliostro movie. One scene there is when Lupin and Jigen are in a cafe, they get served a big platter of spaghetti, and the two battle over who gets more. That scene is burned in my head, so seeing them eat spaghetti with manners just cracked me up.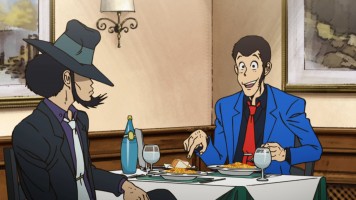 On the character front, Zenigata gets relegated to an extended cameo. Fujiko is basically a McGuffin to introduce Lupin to Brozzi (and without suggesting that she might be involved with him romantically). Goemon does his normal routine to help Lupin escape, and Jigen is Lupin's ever there sidekick. I'm not complaining, but I do like to note how the supporting cast is used.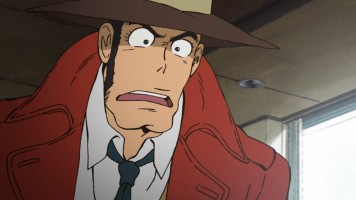 Another new element was the new hire by Mondini. He showed up at the end of episode 1, and plays a minor role here. It appears that he's with MI6, so I'm guessing he's part of a series arc, possibly along with Rebecca. What that arc entails, I've no clue yet.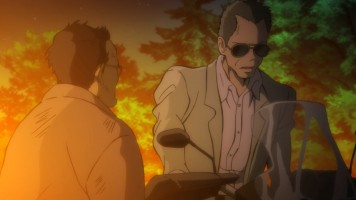 In the end, my disappointment with Rebecca clouded my initial viewing of Lupin the Third PART4 02 in a negative fashion. However, upon second viewing, I found I did enjoy it a fair amount, mainly because it wasn't a typical Lupin caper. I'm interested to see where things go from here.