ユーキューホルダー! Manga Review
UQ Holder Chapter 109
SPOILER Summary/Synopsis: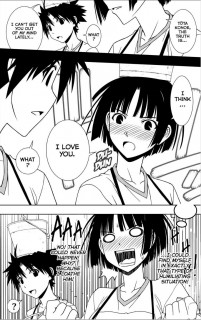 Karin is fretting over the very real possibility that she might confess her love for Touta. She tries to convince herself that she hates him, but ends up thinking about his good points. Touta interrupts her thoughts to spell out all of the things he loves about her, including that the real Karin is the one he saw smiling in the slums. Touta's words have great impact on her, but he ends his monologue by remarking on her huge chest.
Karin flees, realizing she nearly succumbed to Touta. However, when Touta gives chase, she transforms her clothing (thanks to the dimension they are in) to battle him, so Touta does the same and takes her on. Three hours and forty minutes later, Touta defeats her by vaporizing her clothing. She angrily tells him that his goal of saving the children and the world is impossible. She tells him that a very long time ago, she had a teacher she adored more than Yukihime, but she betrayed him and hanged herself. However, God would not allow her to die as punishment for turning against Him. As such, she sees her immortality as a curse.
Touta is happy to have heard what was on Karin's mind and tells her he still loves her. He now believes he loves her because she's walked the same path as Yukihime, which is why he believes Karin loves Yukihime. He gives her his jacket and asks her pointed questions on whether she's really giving up. He sternly tells her to not give up, saying that their immortality is not a curse, but an advantage. Touta vows that if this guy created immortality as a curse, which caused people like Kirie and Santa so much pain, then he'll beat up the guy that cursed Karin.
Karin finds her heart pounding and realizes she can't find her feelings any more. Just before she can confess her feelings to him, Yukihime appears as the illusion space disappears to announce their quarantine period is up. Further, she reveals that the chocolate Karin ate did not have the truth potion in it. This sends Karin into a tailspin because it means she was not under the influence when she was about to confess. She vows not to accept this and attacks Touta.
Thoughts/Review:
Well now, well now. I'm glad we got more info on Karin, but I'm not so sure I like the implication here.
The chapter left me with the strong feeling that Karin was a disciple of Jesus Christ. One cannot help but notice the little cross symbolism in one frame. Her story parallels that of Judas Iscariot in that Judas betrays Christ, then kills himself over the betrayal. If Akamatsu-sensei tries to say that Karin is Judas, but that history recorded her as male, that's not going to work for me at all. Yes, I know there's Saber, who was a female whom history recorded as male, but that's a different situation.
For starters, Judas was an evil person. He never loved Christ, but he did love carrying the money and being someone important. He skimmed money for his own purposes. Does that sound like Karin in the slightest? Absolutely not.
Now, if Akamatsu-sensei wants to have things so that Karin is tied to Christ, I don't have a problem with that per se. It might be interesting to have Karin be someone who followed Christ, but who assisted Judas in his betrayal of Christ, who then attempted to kill herself in a similar manner.
Touta vowing to go up against God makes me seriously want him to get his arse handed to him by God with a lesson attached. I think Touta is right in that their immortality isn't a curse in a normal sense, but that depends on what they do with it. They can do things that others cannot, and Touta sees it in an almost Biblical manner — to whom much is given, much is expected. But challenging God is too much, which is why I want God to smack him down. (If only Akamatsu-sensei understood the Bible, we'd get this.)
Still, we got a glimpse of Karin's history and with the girls falling in line, Touta is establishing a true battle harem. This chapter proves that Touta has strong feelings for Karin. That doesn't lessen his feeling for Eva, Kirie, nor Eva. It does show how this series is one where you have the harem ending (though I'd want Eva to end up with Negi in the end, but Touta could have the rest).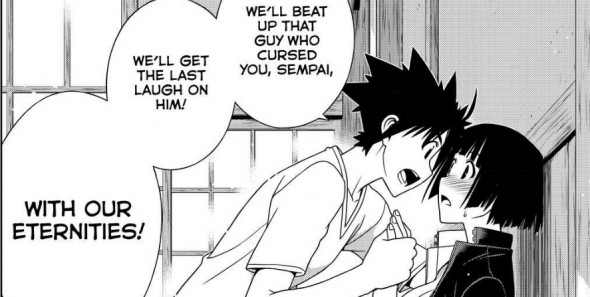 While contrived, the fact that Karin's chocolate didn't have a truth drug says more about her feelings for Touta than if she had. She was very close to confessing on a couple of occasions as I saw it. She really has done the Motoko arc here (Love Hina), only this time, Akamatsu-sensei has a chance to allow his Motoko character to have a real love, even if it is part of a (battle) harem. I just hope we don't get the constant, "I don't accept this" stuff, but instead get Karin accepting things and moving forward.
In the end, UQ Holder chapter 109 in an interesting chapter that would appear to conclude the Karin in the Harem arc. So what next? Shinobu? Mizore? I would love to learn more about Shinobu, and I'd LOVE for Touta to be taken by Mizore to see Ayaka and Chachamaru. We'll see what happens.