げんしけん: 二代目Chapter 119 Manga Review
Genshiken Nidaime chapter 119 Manga Review
SPOILER Summary/Synopsis: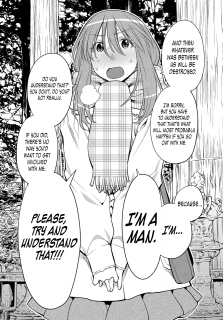 Hato and Madarame make their way around the temple ground, suspecting their are being tailed by the others. Madarame suggests they could hold hands since Hato looks like a girl. Hato doesn't think that's a good idea, but since Madarame is used to this with the actions of the other girls, he figures they should give it a try. Hato agrees to give it a try, and as they hold hands, both feel something is not good (taboo) about this.
They are discovered by the group as Sue and Keiko shoot Madarame daggers. After the group leaves, Angela remarks that Hato is the one in Madarame's heart.
Madarame and Hato are discussing things and how the aspect that they are doing something they shouldn't is adding kick to things. Hato spells out exactly why they should not get into a relationship. With that, Hato departs. Ogiue, having left the group and overheard the conversation between Hato and Madarame, says that Hato is in the same place she was years ago and in that situation, Sasahara had to come after her. As such, she tells Madarame to go after Hato.
Thoughts/Review:
Ugh. Kio-sensei is toying this Hato route, but I'm not believing it yet. Sue and Keiko pretty much summed up my feelings. 😉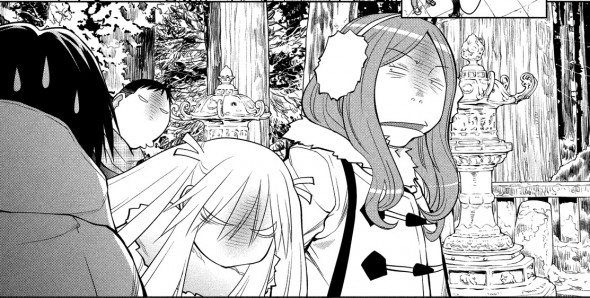 You know, I just don't understand Madarame. Yeah, I've said this a few times before, but it bears saying again. Throughout the original Genshiken manga, he was depicted as into 2D, loli girls, but he fell in love with Saki, the only "normal" within his circle of friends. There was never any indication that he could go "butter side down" when it comes to relationships, yet here, he has three real girls interested in him and one trap. If it is just about sex, for me, any of the three girls wins over a dude who's dressed as a girl. This doesn't seem to be just about sex though.
That leaves a real relationship. Why is Madarame giving Hato a chance? As mentioned before, he fell in love with Saki. One could argue that he fell for her because he knew he couldn't have her, but I don't think it was that shallow. However, I believed his feelings for Saki as they grew over time. Although she wasn't an otaku, Saki embodied the perfect girl for Madarame. Although she was beautiful and normal, she tolerated the otaku way of life. With Saki, he could be himself and not feel ashamed nor that he had to put on airs to impress her. That's why even though I ship Madarame x Sue, the Madarame x Saki ship is one I wouldn't mind seeing.
You know, when Rika talked to Madarame about the harem early on, her feeling was that Keiko was best suited for Madarame, simply because he was most at ease around her. So maybe his past experiences with Keiko put him off her. Fine.
With Angela, she was the scary gaijin he didn't get. If it were only about sex, I could see Madarame going down that road, but I guess she's still the scary gaijin.
With Sue, I'm not sure what the problem is, other than she doesn't talk normal. But if anything, their time together here showed that they could be good together.
Finally, there's Hato, and I cannot wrap my head around that. Kio-sensei keeps pushing this angle, having Angela say that Hato is the one in Madarame's hear. Why? The only thing that seems to come out to me is that this is forbidden love, therefore exciting, therefore Madarame wants to do it because hey, otaku don't do what society expects. (Or something stupid like that.) I don't sense anything deeper like I did with Madarame's feelings with Saki. If anything, this whole Hato thing feels forced.
Oddly enough, Hato was the sane voice here. Madarame is just (in a hick voice), "Duh, this exciting 'cause it wrong. I like wrong. Only thing that would make this more excitin' would be if Hato was my first cousin. Duhhhhh." Hato points out all the reasons they should not get together, and he's 100% right.
Things seemed resolved, but then Kio-sensei has Ogiue come in and insist that Madarame chase Hato down since that's what Sasahara had to do to her. I rolled my eyes.
Frankly at this point, I'm hoping that a newly single Saki just happens to show up by coincidence and throws Madarame into a tailspin. That way, we could at least have Genshiken Nidaime still on course for Spotted Flower.
In the end, this was a disappointing chapter for me. At least Hato became sane in this one.