ユーキューホルダー! Manga Review
UQ Holder Chapter 111
SPOILER Summary/Synopsis: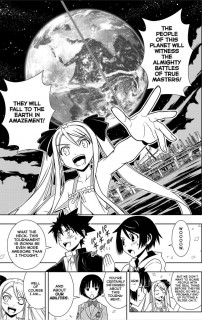 Mizore, Touta, and Shinobu are in Shin Tokyo due to the combination celebration of the Neo Olympics and the Mahora Festival. They are tailed by Kuroumaru, Kirie, Santa, Karin, and Ikkuu, with Kirie and Karin keeping a close eye on Touta, Mizore, and Shinobu. Mizore is explaining how that because Jakarta, the home of the Neo Olympics, has not acknowledged the lifting of the ban on magic in events, Shin Tokyo will have the Secret Neo Olympic events that will allow magic.
With all of the information Mizore has, Karin remarks on how knowledgeable she is, not only about the Neo Olympics, but also on the abilities of the so called Masters of the Underworld. To everyone's surprise, Mizore says she knows all this due to her family sponsoring the Mahora Martial Arts Tournament and coming up with the idea of the Secret Neo Olympics. Her knowledge about folks like Karin and company come from her grandmother, leading Karin to realize she needs to keep close tabs on Mizore.
Mizore then asks Touta what he will do. He takes her outstretched hand, so she starts to flip him. However, he turns tables on her so that she ends up in his arms in the "princess carry" position. With that, he vows to win all his matches and climb the tower.
When Kirie makes a fuss over how Touta is holding Mizore, which leads Mizore into baiting Kirie to vow to also sponsor the event. When Mizore decides to take Touta away for further chats, Kirie's protests causes Mizore to again tease Kirie on whether she likes Touta or not. When she denies it, Mizore thinks she has a win, but Touta reminds her that he's promised everyone to do things. A squabble breaks out between Mizore, Kirie, Shinobu, and Kuroumaru as Karin holds herself back.
The bickering stops when Yukihime arrives and summons Touta, who immediately rushes to her side. As Mizore, Kirie, Shinobu, and Kuroumaru watch them walk away and discuss how Touta goes to Yukihime like a puppy, above and behind them in the distance are KONOE Isana and KONOE Honoka, who've spotted Touta.
Thoughts/Review:
While this chapter brings together the Neo Olympic thread started at the beginning of the manga, and combines it with the almost forgotten Mahora Tournament thread, I note that Akamatsu-sensei has not abandoned the harem hijinks.
This.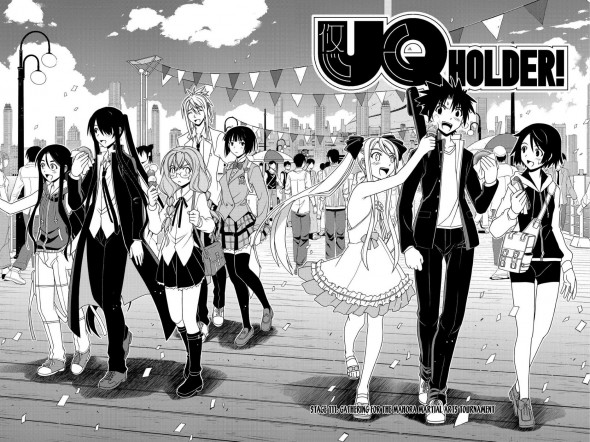 😆 I find it funny that Karin and Kirie are the ones all worried about Touta being with Shinobu and Mizore. I am a bit disappointed that Kuroumaru isn't looking that way too. I'd be a bit concerned that Akamatsu-sensei is going to put Kuroumaru's romantic feelings as a girl on the shelf, but he had Kuroumaru join in the scrum. So there's still hope for Kuroumaru. 😉
Mizore is awesomeness. Sorry for those of you who might disagree, but her introduction into the manga is actually proving quite enjoyable to me. I've mentioned this before, but I love the fact that she doesn't get jealous of Touta being around other girls. As far as she's concerned, Touta is her husband to be and these other girls, no matter how flirty, are no threat to her.
Add to this the fact that she stirs the harem element pot of the manga. I laughed out loud when Mizore grabs Touta to run and get some food stand foods (like a hot dog — something she's apparently never had before), which causes Kuroumaru, Kirie, and Karin to race after them. 😆
Speaking of Karin, she may have held back from that final scrum, but you could just see that there was a part of her that wanted get in there too. There's no need to hold back, Karin-chan. Go in there and show those younger girls how Onee-san does things. 😉
And then there's Isana and Honoka. I don't think it is a stretch to say they are probably pure clones of Setsuna and Konoka. I'm not sure how they will get to meet with Touta. It wouldn't surprise me if Mizore knows them, based on how much knowledge she seems to have. And I expect that they too will end up being in the harem. Bwah!ha!ha!ha! (It is one of those nights, so you'll have to forgive my silliness. 😛 )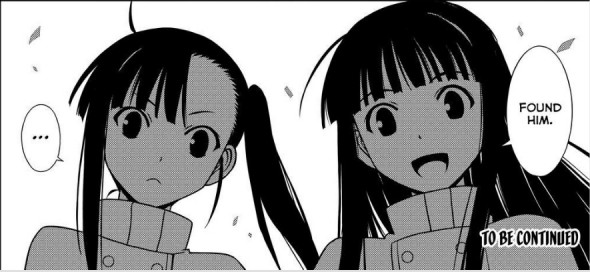 I wonder if Eva got told about Isana and Honoka coming to Earth to meet Touta (or otherwise became aware of the information). It would explain why she suddenly needed to talk to him. (Though to be fair, that's just sheer speculation on my part as there are any number of reasons for Eva to want to yack at Touta.)
As an aside, am I wrong, or is this the first time that Eva, as Yukihime, has worn an outfit other than that tight, short skirt with the tight, button down blouse? As Eva (including Kitty), we've seen her in lots of costumes, but as Yukihime, discounting the time she used ME to fight Fate, she's always worn the same outfit…I think.
Finally, it was interesting to learn that there are three space elevators going to the same to the same East Asia Geostationary Orbit Station. One coming from Jakarta, Shin Tokyo, and New Sydney. I'm not sure if that's something actually feasible. Having a space elevator in Japan is pushing it since space elevators need to be built near the equator.
In the end, Mizore stole the show on this chapter, allowing for some fun harem hijinks as well as laying out the groundwork for the combined Neo Olympic and Mahora Festival story threads.