ユーキューホルダー! Manga Review
UQ Holder Chapter 114
SPOILER Summary/Synopsis: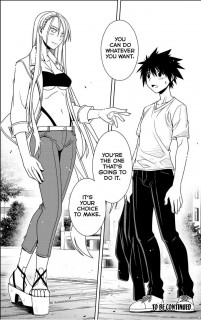 Touta gets angry at the notion that Fate is trying to save Negi while Yukihime is trying to kill Negi. Fate starts explaining Resonance. Touta demands more information, so Fate explains that the Mage of the Beginning has the power of infinite empathy. As such, she feels all of the pain of all people. Because she is indestructible, she remembers the pain and grief of the defeated for eternity. The power is a curse, and Fate is surprised MotB wasn't broken by the burden of it and she cannot stop until the screams and cries of the weak fade from existence.
Fate states that normal people can only last no more than two days when MotB does her mental possession, which gives her complete control. Negi has lasted for 20 years, but Fate cries, stating that since they've recently seen Negi, his persona is weakening. Once Negi breaks, her next victim will defeat her and take Negi's place. Otherwise, they'll have to spend a lot of effort sealing her away.
Fate tells Touta that Touta cannot save Negi. All he can do is erase Negi with her from the world, which is what he believes Yukihime will ask Touta to do. However, Fate claims to have a way to save Negi, but it requires Fate using Touta's power. As such, he wants Touta to join him.
A long ranged ice attack slams on and around the ship as a sniper bullet comes in, which Fate deflects with a barrier. Before Fate can do anything else,. Zazie attacks with a summoned shadow monster. Fate slips out of the monster's grasp and counters, but that is stopped by a barrier from the monster/Zazie. Fate opens a portal to leave and reminds Touta to join him to save Negi, something Fate suspects will happen. With that, Fate disappears with the ship, leaving Isana and Honoka behind in the water.
Zazie gets Touta to shore where Mana, Yukihime, Sayo, Chachamaru, and Ayaka join them. Touta demands to know if Yukihime is planning to kill Negi. She confirms it and states this was Negi's request. Yukihime promises to tell all, then leave the decision of what to do to Touta.
Thoughts/Review:
Well, this was certainly an interesting chapter on a number of fronts.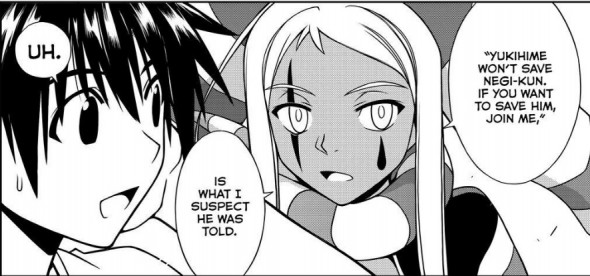 However, before I get started, I again have to ask Crunchyroll how difficult is it to do a little QC (that's quality control for the Crunchyroll management) before publishing a chapter online? Seriously, even the person putting text in the blank bubbles didn't go, "Wait a minute. I'm putting the identical same text into two speech bubbles. That can't be right." *_*
So, those who can read Japanese, what else did Fate say in the raw below?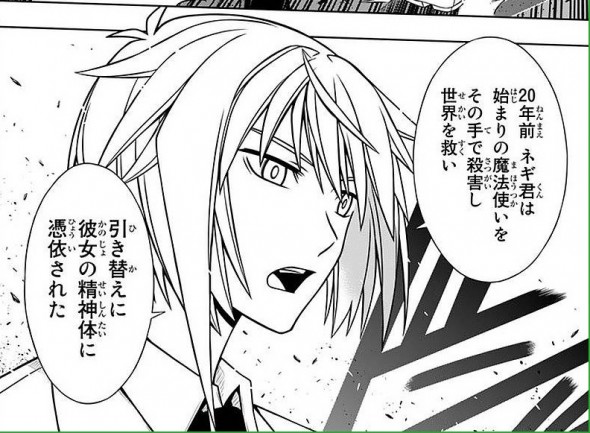 That aside, I strongly suspect that Fate's plan is to have Touta replace Negi, effectively sealing her within his immortal body and neutralizing her with his abilities. If I'm right, it will make Touta's choice on what to do more difficult and thus more interesting.
I believe Fate's arrogant presumption on Touta joining him is based on the fact that Touta loves Eva. Since Touta wants to make Eva happy, and Eva loves Negi, then saving Negi brings her happiness, even if it costs Touta his own existence.
Fate would know more about MotB than most since he used to serve her. As such, I found his exposition on Resonance most interesting. (As an aside, after Eva and company's discussions on the subject were interrupted, I had expected that we wouldn't get more information for a while. I'm glad I was wrong.) I note with interest that MotB appears to have wings, but also has some sort of chain as well, looking like some kind of chain weapon.
I do like that MotB comes of as not just some possession happy chick from 2600-2700 years ago. With her being cursed, combined with everything else we've learned, I get the feeling her possession ability is not by choice. It would be awesome if Akamatsu-sensei would explore this more, and Karin's "curse" as well.
I loved the incredibly long ranged attack by both Eva and Mana. As a sniper, Mana is obviously expected to be good, but that distance from where Mana took the shot and Eva cast her spell was just crazy.  While Mana's shot was more impressive than Eva's (Eva was the one who had to report on whether Mana's shot was effective), it is still incredibly impressive that Eva's area of effect ice magic attack hit the ship and the area immediately around the ship.
I think it is safe to say that Zazie has had more dialog in UQ Holder than all of Negima combined, and that's after only two UQH chapters. 😆  Further, I think the same can be said for her battle skills. I just loved that look on her face from having her barrier raised to stop his counterattack. As Fate prepared to bug out, I couldn't help but be reminded of when he first went up against Eva in the Kyoto arc and bugged out rather than get into a messy and uncertain fight. Eva and Mana were bad enough, but a full blooded mazoku to boot and well, exit Fate, stage left. 😉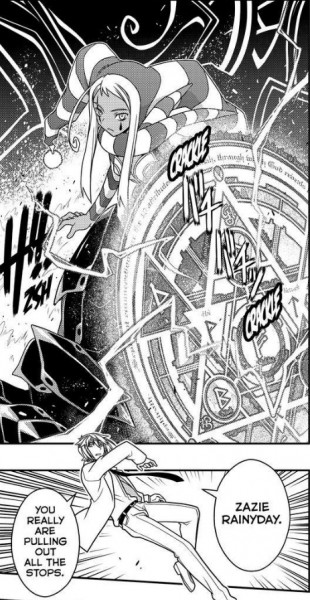 So, Eva did plan to kill Negi, but only because Negi requested it. I'm really looking forward to the next chapter and Eva laying out her side of things. That being said, I loved how she told Touta that the decision on what to do with Negi would be his.
Finally, with Fate leaving Isana and Honoka behind, and with Zazie not picking them up (at least, not that we saw), I wonder what these two will do now. They have their own gate/teleportation magic, so they might port back to wherever. However, there's a part of me wanting to see them hang around, show up at UQH HQ, and cause more harem hijinks. 😉
In the end, UQ Holder Chapter 114 was a really good chapter and one that seems give some credence to the notion that Akamatsu-sensei may be back on his game. I am really looking forward to the next chapter!