A Look At "Sailor Moon Crystal" Season 3
For the first two seasons of Sailor Moon Crystal, I forced myself to episode-blog them even though it was painful to do so. I don't feel like subjecting myself to that level of pain, but I do admit that I have a hideous curiosity to see what else is in store here. So I do plan to watch the series, but since I'm not going to episode-blog it, I'll write up a review after season 3 is over.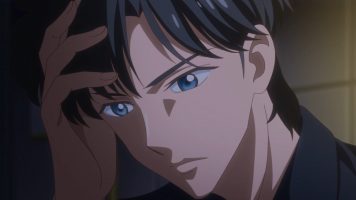 In the meantime, after watching episode 27 (interesting that this is the second anime series I've watched of late where the production team aren't making a new series for marketing purposes, but rather are just continuing the original), I quickly saw how things were going to go, which is why I made my decision to not episode-blog things. (Since starting this, I have also watched episode 28.)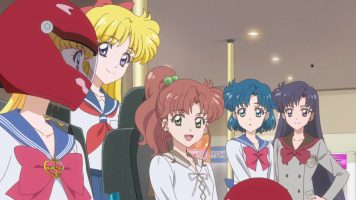 For starters, we are going to get a continuation of the monster of the week thing, where the new baddie babe sends out her baddie henchmen (whom are not going out one by one, but really aren't doing much for being five of them), whom will end up dead, after which the baddie babe is killed. Yay. I'm bored already.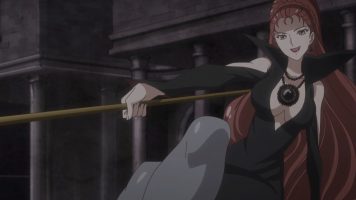 Further, while there were some apparent new powers by a couple of the girls, it was laughable how Sailor Mars (Rei) is still worthless and then the others are surprised by how worthless she is. I mean how can this be a surprise? All of the girls been 90% worthless for the past two seasons. Your vaunted attacks having no affect should not be surprising at this point. The only thing surprising is that the other two Sailor Babes managed to defeat the enemy, and without Tuxedo Mask's help.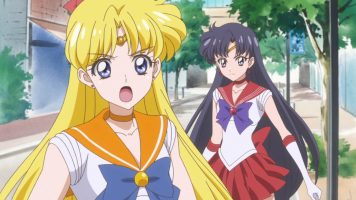 So basically, I see the girls having to come up with new powers to defeat their enemies, but then acting all surprised when a lot of their stuff doesn't work 'cause the story needs the bad guys to be invincible for a bit.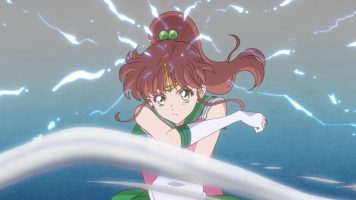 I was surprised to see what looked like Sailor Pluto in the OP credits. I guess this means that she didn't in fact die when she in fact died. Either that or there will be some retconning stuff about her abilities with time allowing her to go forward in time to help (ignoring the fact that she's supposed to hang out at that door).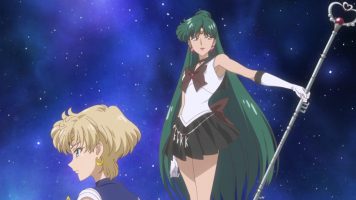 It was pretty obvious that the "racer dude" is a reverse trap, simply because of how the scenes with the character were played. The Sailor Moon franchise is known for its bishounen characters, but I just had that feeling when "racer dude" showed up that the character might not be a guy. As episode 27 played out, the feeling grew stronger until the ED credits confirmed it for me. The ED credits also let me know this chick in disguise is not only going to be a Sailor Bimbo, but she's also going to be on the quest for scissor time with the other Sailor Yuri being introduced (in a romantic way, mind you). This may have been a shoujo manga when things started, but I have a suspicion that the yuri stuff was added for the guys enjoyment.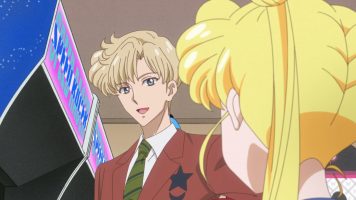 Having now watched episode 28, I was surprised to see a new loli babe being added to the mix. (Looking back, I somehow missed her in the OP, so she shouldn't have been a surprise.) Since she has healing powers, I'm guessing she's going to be a Sailor Loli along with Chibi-Usa.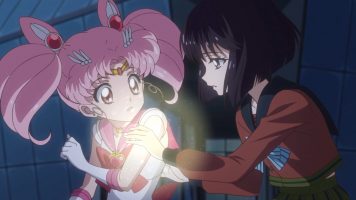 Man, these henshin sequences are getting longer and longer with the increased number of Sailor Broads that need to transform and show off the goods. By the time they add three (or four if Sailor Pluto is back) more of these girls into the mix, needing to transform, the henshin sequence could take half the episode.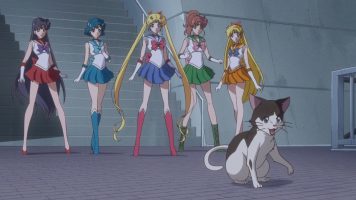 Anyway, I'm sure I'll lose more IQ points before is Sailor Moon Crystal season 3 over. But at least I'm sparing myself of by not episode-blogging it. 😉 I'll write a review when the season is over.