ユーキューホルダー! Manga Review
UQ Holder Chapter 120
SPOILER Summary/Synopsis: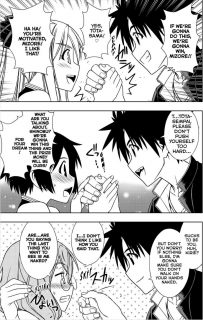 The three Touta's attach themselves to Mizore, Shinobu, and Kirie respectively and promise to help them in the race. The three Touta's accidentally walk in on their partners in the shower, causing various responses from the girls. That out of the way, the three Touta's are psyched for the upcoming race. Kirie asks Honoka about this magic. Honoka says that splitting Touta like this wouldn't make him useful in battle since it reduces his power level, but since all three are really Touta, when they combine, the memories of all three will be available to Touta.
Kirie discovers Kuroumaru asking for a copy of Touta, then discovers Honoka and Isana are in swimsuits to enter the race as well. The race starts with Kirie jumping out to a massive lead of the second pack to catch up to the leader pack, having used her ability to practice for 120 hours during the night.
A female pair in the leader pack are not happy to see a noob catching up to them, so the rider in the back casts a Flan Exarmatio spell. Touta deflects it, causing it to hit Shinobu's speeder. The Touta with Shinobu catches her, but since Kirie's Touta deflected the spell, the girls on the speeders ahead of them see him as the immediate threat and target him. Touta uses his ability and while standing on Kirie's speeder, captures the stripping spells and sends them back to the girls in front, causing the girls to be stripped and have accidents as Touta vows to protect Kirie.
Thoughts/Review:
So, this is a redux of the race at Ariadne Academy, only instead of brooms, we get pod racers and more ecchiness times three.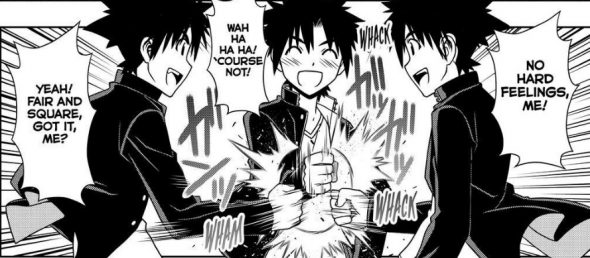 Unfortunately, there's not a lot to discuss about this chapter. That's mainly because the race is merely a vehicle (har!har!) for stripping young babes. First, the three loli babes in Touta's harem get their naked shower scene. Then Shinobu is stripped in the race. Then Touta strips all the girls (and the token dudes off in the background) after catching and throwing their spell back at them. Oooo.
I will admit to a bit of amusement at Kuroumaru suddenly wanting her own copy of Touta.
I wonder why Honoka and Isana decided to enter the race (beyond having another reason to get them naked). We saw them in their swimsuits ('cause fan service), but they weren't shown in the race.
I wonder if the race will end with the double issue next week (going into Golden Week) or if we'll end on some dramatic cliffhanger.
Well, I guess I'll just wrap this up. In the end, there's naught here but ecchi fan service.