げんしけん: 二代目Chapter 122 Manga Review
Genshiken Nidaime chapter 122 Manga Review
SPOILER Summary/Synopsis: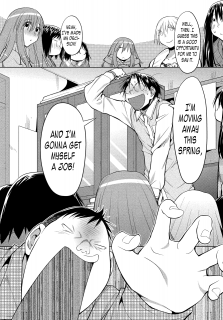 At Yajima's home that evening, Madarame makes his decision and decides he's not going to date any of the members of the harem. Rika is angry by this, especially after all this work that was put into setting up Madarame with someone. While he likes all of the members of the harem, he has specific reasons to not date them, which Rika wants to hear.
For Angela, his reason for not picking her is that she only comes to Japan twice a year. For Keiko, it is the fact that she often mentions Saki, which bothers him. For Sue, he finds her to be perfect except for when she blushes over him. He prefers Sue to be lovey on Ogiue, which pleases Sue, but annoys Ogiue. With Hato, Madarame recognizes the fact that Hato really isn't into dating another guy and suggests that Hato just be a fudanshi guy who likes cross-dressing. Hato agrees with this.
Having stated this, Madarame announces that he's moving away in the spring and get himself a job. This causes Kuchiki to grab Madarame and kiss him on the lips. With that, the rest of their trip continues without incident.
On the train trip home, everyone is asleep except for Hato and Yajima, who have a chat about things. Hato confesses to being relieved at being turned down because Madarame was right about him not wanting to date guys even though he still loves Madarame and probably will for a long while to come. Yajima notes that Hato's speech pattern shifts from the very polite, which Hato apologizes for, but which Yajima is fine with.
Thoughts/Review:
And so the harem arc comes to an end.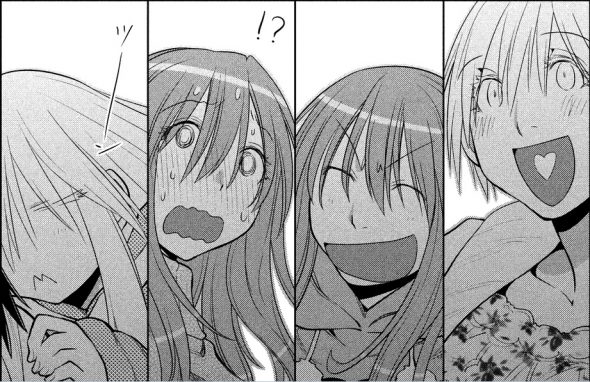 In order for my theory that Kio-sensei is going to arrange the story so that Madarame and Saki eventually become a couple and get married (making Spotted Flower canon), Madarame couldn't end up with any of the people in the harem, so I'm fine with the result.
Madarame's excuse for not dating Angela made the most sense. With her only being in Japan twice a year, their relationship would be very difficult, primarily on a physical level (sex), but also in terms of them always being an ocean apart and thus not getting to go on dates or just be together.
(As an aside, Angela's joke about killing Madarame made me think that it would be just the other way. I could see him using her as his release outlet and killing her. 😉 However, were she in Japan, one could see them being a good couple together on a physical level. Since both are into H doujinshi, I can see them reading this in breaks between their intimate sessions.)
For Keiko, things were more of a stretch. I understand how her talking about Saki would bother him (and it continues to show that Saki is whom he truly loves), but in my mind, I would think that the biggest strike against Keiko would be her willingness to cheat on a boyfriend because it suited her whim.
His reason for not dating Sue was the biggest stretch. By his own admission, she's the most perfect match. However, him preferring to see Sue clinging to Ogiue and being loving with her rather than being with him just made me roll my eyes. (I did get a kick out of Ogiue's irritation at Madarame over this.) He did mention he didn't like seeing Sue blush over him, but she'd get over that and eventually, they'd be normal together.
For Hato, I guess we learn that Madarame will boff anything that moves, but doesn't have the courage to actually do so (after rejecting the three girls). It also seems to finally establish what Hato has claimed all along — he's not a homosexual guy, but he does like BL and have a thing for Madarame.
The chapter seems to officially open the door for the Hato x Yajima relationship that has been shown in Spotted Flower. I hope this turns out to be the case and that we get this explored in Genshiken.
As for Madarame, it would seem that Kio-sensei is writing him out of Genshiken. I wouldn't be surprised if we still see him from time to time, especially during ComiFes, but otherwise, it would appear he will go the way of Tanaka, Sasahara, and Kugayama, making only cameo appearances from time to time.
I really do hope that Kio-sensei pulls off his Saki x Madarame pairing. Spotted Flower is too short and sporadic to effectively tell that story, so maybe we'll get that story in Genshiken.
In the meantime, with Madarame's departure in the spring, this also the start of the new school term. As such, I would like to see a new member or two show up in Genshiken's ranks. That would allow Rika, Hato, Yajima, and Sue to become senpai. Also, it would seem to me that we could be looking for a new president since Ohno and Kuchiki should be gone and Ogiue give up the reigns.
Regardless, I'm glad the harem arc is over and I'm hoping to see more fun in the manga in the upcoming chapters.