ユーキューホルダー! Manga Review
UQ Holder Chapter 125
SPOILER Summary/Synopsis: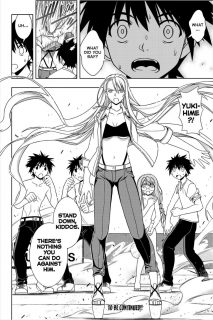 With Cutlass approaching, Touta is worried and asks her why she's coming after him now when she'd said to meet her at the tournament, which starts on the following day. Cutlass responds that the tournament is irrelevant as she just needs his body to be in this location a year after she laid out the challenge. She goes for the kill, so Touta activates Magia Erebia to block the attack.
Cutlass knocks Kirie away some distance, choosing not to kill her because of Kirie's reset ability. As Kirie desperately flies back to try to land a kiss on Touta and restart time, Cutlass gets the best of Touta, cutting off his Magia Erebia arm. Cutlass is gloating before going for the kill, allowing the other two Touta's to land blows on her and send her flying far away. The other Touta's explain how they weren't affected by time stop. Touta puts his arm back on, then Kirie kisses her Touta to restart time.
Karin and Kuroumaru immediately recognize something is wrong when time restarts as Custless resigns herself to the notion that the battle won't be easy. She calls herself the opening act as Negi descends and lands behind her. Cutlass remains on bended knee, welcoming Negi-sama. Touta is shocked, but then Yukihime drops him, ordering the Touta's to stay back as there's nothing they can do against Negi.
Thoughts/Review:
So, we get a heavy dose of naked Kirie, but the plot pushes forward now.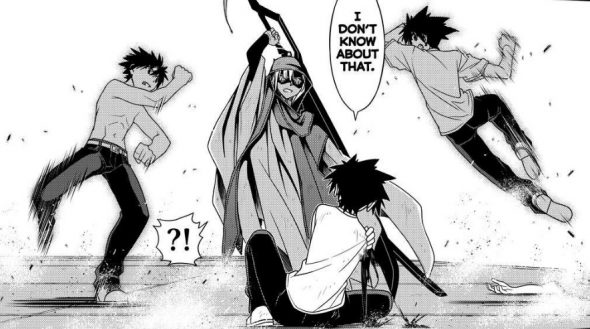 One of the plot elements from when Cutlass was introduced was why she was trying to kill Touta then, but then decided to just back off. Akamatsu-sensei blows that off as not important and he blows off Negi being in the tournament. Now, we just have the, "I need you in this spot" excuse. I almost have the feeling that Akamatsu-sensei was going to go one way, then changed his mind.
However, this chapter strongly suggests what I've long suspected — there won't be a tournament. It is clear that Cutlass isn't interested in the tournament, and Negi is not going to be in the tournament as Cutlass is going to get what she needs from Touta here and now.
Cutlass has to know that Negi is controlled by the Mage of the Beginning, but her taking a knee when he lands and addressing him as Negi-sama took me a bit by surprise. I would have thought she would have said something about MotB, or even addressed Negi as "Master," like MotB's other servants have done.
Eva's sudden arrival hopefully means that we'll get to see some interesting stuff next week. Also, Honoka needs to reintegrate the three Touta's if he's to even have a chance of defending himself. And, with Eva having jumped into the fray as she did, Karin, Kuroumaru, Ikkuu, and Santa should likely join in the fun as well. So I'm actually looking forward to the next chapter to see where things go.
In the end, UQ Holder chapter 125 was an interesting chapter, but mainly serves as setting the table for the events in the next chapter.