ユーキューホルダー! Manga Review
UQ Holder Chapter 126
SPOILER Summary/Synopsis: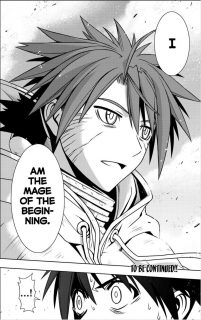 Yukihime confirms to Touta that this is Negi, his grandfather. As Kirie is announced as the winner, Cutlass takes a knee in front of Negi. Negi reveals his dark power, causing everyone to have panic attacks, including the members of UQ Holder. Shinobu passes out from fear.
Negi sneezes, which strips everyone in front of him, including the crowds in the stands, save for the three Touta's and Santa. Cutlass looks put out as she pulls out a cloak from a magic storage as Negi laughs and apologizes sheepishly. Yukihime starts to ask Negi something as Karin is stunned by the sheer power Negi has, including the power to change the atmosphere from one of death to one of a relaxed environment.
An amused Jack Rakan lands, causing massive destruction on the ground. Karin is stunned to see him. Al softly lands next, followed by Yue and Nodoka, who take position in front of Negi. Negi greets Yukihime as "Master," then introduces himself as the Mage of the Beginning.
Thoughts/Review:
You know, for a table setting chapter, this one kicks all kinds of butt. Then again, like most of the strong UQ Holder chapters, it has a heavy Negima influence on it.
First up is Cutlass. She takes a subservient role before Negi, not only in addressing him as "Negi-sama," but also in taking a knee when he descends. I was amused by her long-suffering look when she was stripped by him and simply muttered "Negi-sama" and pulled out a robe to cover herself. But then she stands, battle ready when Negi puts out his greeting.
It appears Cutlass has an artificial leg. I hope we get some backstory on her to explain some things.
For Al, there's nothing really for me to comment on. He certainly looks and acts like Al.
For Yue and Nodoka, I'm asking myself if there's a clue in the fact that Yue is wearing her "Witch Detective" outfit while Nodoka is wearing a space suit with the helmet back. There's no other information to draw reasoned speculation about the two, so I'll just say that I do like seeing them, even if in a villain role, complete with their artifact books.
As to Jack, he actually gets to speak, and he sounds very much like the Jack I remember. He looks very much like the Jack I remember, and he may have an artifact sword in hand. If so, that would strongly suggest Nagi is still alive. But alas, that is sheer speculation on my part.
So, are these four illusions with physical form, artificial constructs, clones of their original selves, or even the real McCoy, preserved via magic akin to Cosmo Entelecheia? Only time will tell.
As to Negi, it is interesting that he is both his old self, and a massively sinister and evil force. Clearly, Akamatsu-sensei was evoking memories of Sayoko, and I liked how Santa recognized this, only a times 10,000 more strength in power on Negi's side. I felt Akamatsu-sensei did a great job reflecting the fear everyone felt in that instant when Dark Negi-MotB gave everyone a taste of what he could do. Heck, he even made the people in the stands look Japanese. 😆

The Light Negi-MotB was like the Negi of old, complete with sneeze, embarrassed laugh, an apology. It was enough to shake Eva into wondering if this was the true Negi or not. I found it interesting that Karin was so suspicious of this sudden change of mood.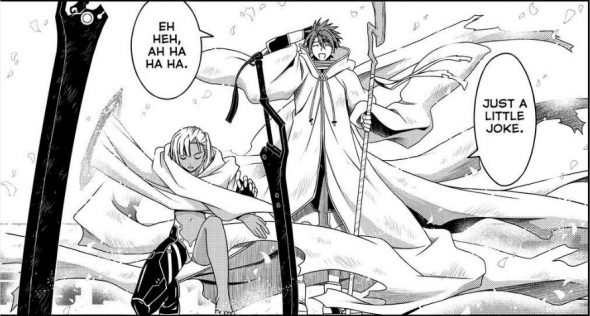 I do wonder though. For starters, I have a difficult time believing that Akamatsu-sensei will kill Nagi. Now, if this is some whacked timeline, then he could do it here, but then have Touta-Kirie do some incredible time reset that goes beyond her normal time manipulation powers so that they can go back into the past and save Nagi.
Putting that theory aside, we did see Nagi with Negi when MotB first appeared. However, we've also been told that Negi had to kill Nagi to be possessed. But I have never liked that thought. I know Negi killed an MotB that was revealed to be Nagi (at the end of the Magic World arc in Negima), but there, it was as if Negi never believed that was truly his father.
Negi tends to opt for a non-battle solution with possible. I cite Fate, where this was Negi's nemesis for all of Negima, then Negi decides to be friends with Fate, and eventually, Fate agrees to go along with Negi's scheme, reserving the right to change his mind should Negi start failing. As such, I can see Negi offering MotB some kind of deal that doesn't involve the death of his father, whereby she gets to use his body, but the Negi persona is still there.
That's kinda how I saw Negi in this chapter. On one hand, he's most certainly the MotB, who could wipe out all life in a flash. On the other hand, he's still Negi.
So, is there a battle next chapter? To be honest, I can see there not being one. I can see Negi-MotB making Touta some kind of offer to come with him for whatever plan MotB ultimately has. I can even see Touta accepting (or at least one of the Touta's). Since Akamatsu-sensei has structured UQ Holder so that 99% of the action has to take place around Touta, with three Touta's, he can now follow three story paths if he so chooses. That could be quite interesting, should it happen.
Regardless of my speculation, UQ Holder chapter 126 does a nice job of setting the table for whatever events may come in the next chapter. I for one am really looking forward to it.