Cardcaptor Sakura Clear Card Arc 01
カードキャプターさくら クリアカード編 chapter 01
SPOILER Summary/Synopsis: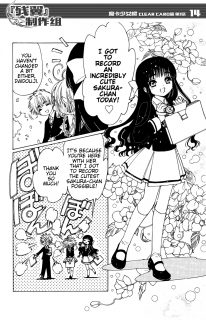 KINOMOTO Sakura puts on her Tomoeda Junior High School uniform for her first day as a first year student. After the usual teasing by her college age brother Touya, she races off to school, enjoying the view of the sakura blossoms, but missing Syaoran. To her delight, she encounters Syaoran, wearing the male version of her school's uniform and holding the teddy bear she'd given him when he'd returned to Hong Kong. She races into his arms, both happy to be reunited, but then Sakura realizes they are being recorded by her best friend Tomoya. Syaoran does seem a little put out when Sakura and Tomoya race on to school ahead of him.
After school, Sakura uses her smart phone to call Eriol in England, to report about Syaoran's return, though he's not in her class. She is with Naoko and Yamazaki, but her friends Tomoyo and Chiharu are in another class as well. And Rika is in another school. Mizuki-sensei says hello to Sakura before returning the phone to Eriol. After Sakura finishes her conversation, Kero-chan celebrates a video game achievement.
The next afternoon, Syaoran walks Sakura home, even though he lives in the same apartment as before, which is in the other direction. They talk about the bears they made for each other, then decide to exchange bears again to allow their creators time with their creations. Touya returns home with a present for Sakura from Yuki. It is a wing-shaped broach with a star attached. Sakura takes out her star-key pendant, which she hasn't transformed into its magic girl staff form in quite some time. She puts the two items into a treasure box, next to her book of Sakura Cards.
That night, Sakura has her first dream in a while, where she sees a bunch of transparent cards, and some being hidden in clothing. When Sakura wakes up, she races to her Sakura Card book that contains her cards and makes a discovery.
Thoughts/Review:
And so Cardcaptor Sakura, which is way better than either Tsubasa series with its whacked version of Syaoran and Sakura, returns to us. (Which reminds me, I never did finish reviewing the Cardcaptor Sakura volumes released by Dark Horse.)
I like that this first chapter picks up shortly after the Cardcaptor Sakura series ended. Basically, CLAMP just uses this first chapter to reintroduce us to the main and supporting characters from Cardcaptor Sakura and set the table for the adventure(s) to come.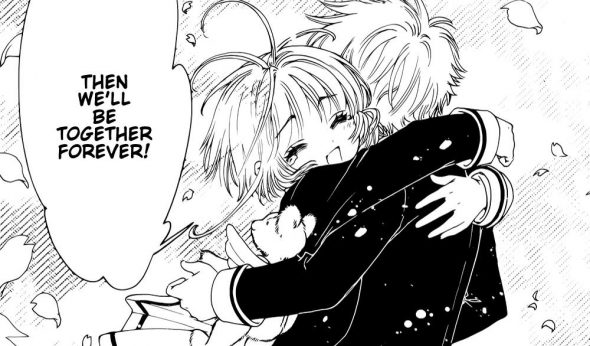 Interestingly, CLAMP decides not to go the easy route and have Sakura in the same class as all of her friends from elementary school, including Syaoran. Yamazaki and Chiharu are also in separate classrooms, so no lovers allowed in the same class. 😉
With Rika being put into another school, I guess we won't see much of her. If that's true, it will be a convenient way for CLAMP to avoid discussing that sticky relationship that Rika had with their homeroom teacher in elementary school. One of the things about Cardcaptor Sakura is an underlying theme of the manga was as long as there's love involved, there's no such thing as a wrong relationship, including illegal relationships.
While Cardcaptor Sakura was set in the mid-90s, Cardcaptor Sakura Clear Card Arc doesn't know where it is set. I'm laughing because on one hand, Tomoyo-chan has her iconic video camera at the ready, which was quite high tech and expensive in the 90s. On the other hand, Sakura and Eriol are using smart phones, which did not exist in the 90s. Go figure.
It is almost weird not seeing Sakura wearing skates to get to school in the morning. I guess this is a way for CLAMP to show she's gotten a bit older now.
Having reunited our young lovers (Sakura and Syaoran) and having connected us with the other characters, CLAMP gets us to whatever "shocking" discover Sakura makes about her cards. I'm thinking, "If CLAMP treads out the 'Eriol is forcing you to grow as a mage by making you collect the transparent versions of your cards' plot element, I'm not going to be happy." But, it is too early to just to any conclusions. I just don't trust CLAMP.
So, here are some questions I have. First, when do we see crossover characters from other CLAMP titles like Tsubasa, xxxHOLiC, Gate 7, etc.? 😉 Secondly, when will CLAMP put on Cardcaptor Sakura Clear Card Arc hiatus? After all, they are the hiatus masters. 😆
In the end, Cardcaptor Sakura Clear Card Arc 01 gave me a warm, fuzzy feeling (Hoeeeee!) in spite of this being CLAMP returning yet again to an old work of theirs.