e Fate/kaleid liner PRISMA☆ILLYA 3rei!! Episode 01 REVIEW
Fate/kaleid liner プリズマ☆イリヤ 3rei!!
Fate/kaleid liner Prisma Illya 3rei!! 01

SPOILER Summary/Synopsis: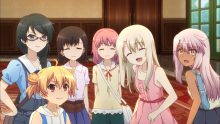 After completing their homework at Miyu's house, Ilya and friends return home. Miyu joins Ilya and Kuro at their home, where she's invited to stay for dinner. As the trio relax in Ilya's room, Rin and Luvia burst in, reporting a emergency. Luvia's butler drives them back to the site of their battle. The crater is gone and everything restored to normal. Even as powerful as the Church is, they could not have done this, especially so quickly. Arriving at the site, they discover Bazett is there. The restored ground comes from another world and is unstable.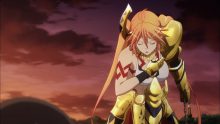 With that, the ground changes and two female figures appear, both of whom Miyu appears to recognize. Miyu attacks, but it quickly separated from Sapphire and captured. The girls attack, but are beaten back. The tall girl in golden armored leggings and a bikini top bows to "Miyu-sama," saying they are to take her back. Miyu doesn't want to go and gets stepped on by the short, red haired girl. The two take Miyu off, but as Ilya gives chase, she finds it is now snowing and no longer summer. Not understanding and not seeing her companions, Ilya races to town to discover a massive crater in the center and her home not there.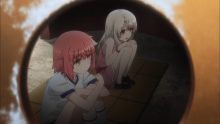 Ilya runs into a girl wearing gym clothing named Tanaka. Tanaka doesn't seem to know anything, including why there's a crater in town. Further, she's not cold despite wearing summer gym clothing. The two take shelter in a kid's park, where upon hearing Miyu's name, Tanaka states Miyu is held captive by the Ainsworth after having previously gone to a parallel world. Tanaka doesn't know why she said that and she doesn't know more with that. It is then that the short red haired girl from earlier reveals herself to Ilya with a sinister grin.
Thoughts/Review:
And so we return to the world of Fate/kaleid liner Prisma Illya. Based on this first episode, it looks like this series of the franchise could be the best yet.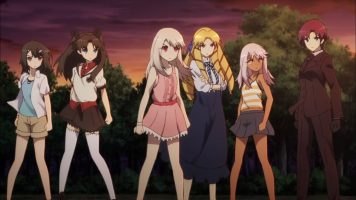 I like how this first episode picks right up where the last episode of the Fate/kaleid liner Prisma Illya 2wei Herz! series ended. It is fun seeing all of Ilya's friends right from the start. However, based on how this episode went, I seriously wonder when we'll see them again.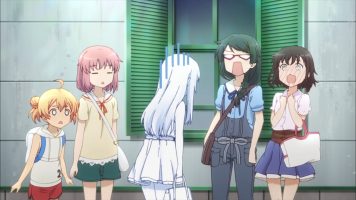 Because the first half of the episode was basically comedic fluff with a mildly ecchi overtone, I'll pass on making any further comments on that. It is the story that I'm interested in here. (Though feel free to comment on the fluff if you want.)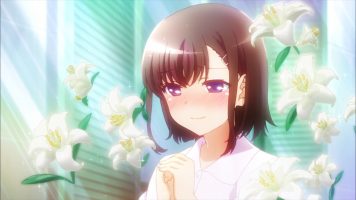 This episode really does a good job of setting up things to get the viewer into the plot quickly. One doesn't need to know about the battle they'd gone through with the kid Gilgamesh. It is enough to know there was a battle, the evidence of the massive battle was gone, there are Class Cards, and there are magic girls involved.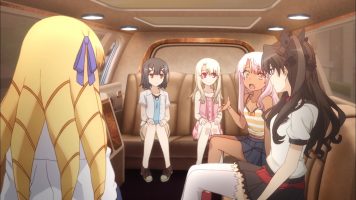 I dislike how easily Miyu was defeated in this episode. Her wand gets batted away like nothing and that's that. I felt badly for her as she begged Ilya to save her.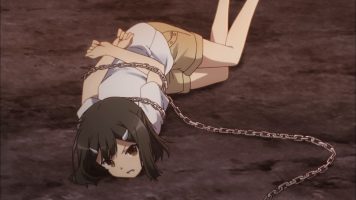 The two villain girls are interesting. The tall girl that looks like Asuna from Negima! looks to be wearing part of Gilgamesh's armor and necklace. She can't be a version Gilgamesh because there's no way that Gilgamesh would bow to Miyu and address Miyu as Miyu-sama. And even though she stepped on the Gilgamesh Archer card and appeared to absorb stuff from it, she already had her golden armor on before that. It will be interesting to learn more about her.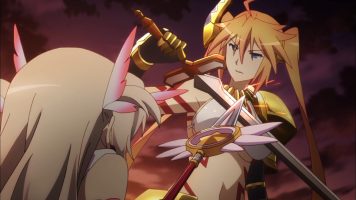 As to her psycho companion with the massive arm and even larger war hammer (reminding me of Thor's Mjolnir), she comes off as cliched a bit. But giant arm and war hammer gives her a pass for me. 😛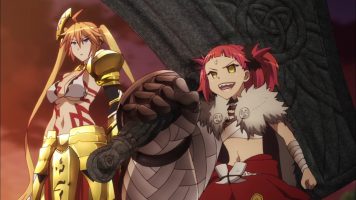 Anyway, what really got my attention about this episode is the fact that Ilya is by herself in the parallel world. We know Miyu is around somewhere, but where are the others? Also, what the heck happened to Ruby? Initially, Ilya is in magic girl garb and holding Ruby in wand form. Then she's back in civilian form with no Ruby. That's something that made no sense to me.  I suspect it was to put Ilya at a disadvantage and thus give more drama to her situation.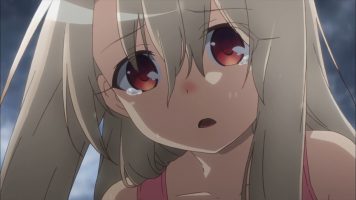 Since none of Ilya's comic relief friends are here, I guess Tanaka gets to take their place. Having Ilya make snappy comebacks at some of the things Tanaka says made me think of the delightful D-Frag manga series (which I've slowly been reviewing).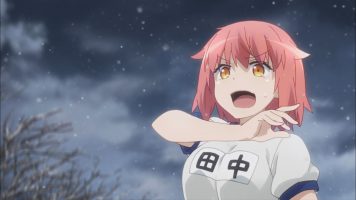 Unlike Ilya's old friends, Tanaka actually appears to serve a purpose beyond comedy. Is she an android of some kind? Is she a Class Card of some kind? She's certainly different if she radiates body heat, is not susceptible to the cold, and she has no memories except when needed by the plot. OK, I'll buy her. 😉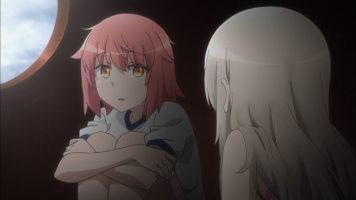 Finally, I don't know if it will end up meaning anything, but Rin has jewel pendent from the Fate/stay night franchise. She not only had it, but the episode wanted to make sure we saw that she had it. Notice this, people!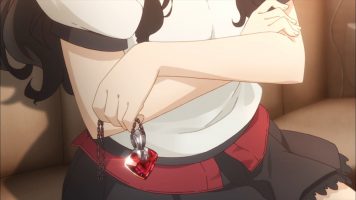 In the end, Fate/kaleid liner Prisma Illya 3rei!! 01 was quick to get me back into the plot of things. I've heard the stuff gets really good in the source manga, so I have high hopes for more plot, less ecchi.