Fate/kaleid liner PRISMA☆ILLYA 3rei!! Episode 08 REVIEW
Fate/kaleid liner プリズマ☆イリヤ 3rei!!
Fate/kaleid liner Prisma Illya 3rei!! 08

SPOILER Summary/Synopsis: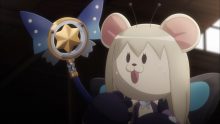 As Darius uses a bird to observe the changes outside his protective magic dome, magic teddy bear Ilya attempts to elude the controlled Luvia and Rin. Ilya's attacks have very little power. Making matters worse is that Rin and Luvia have nameless Class Cards to use shadow weapons and shields. As the battle rages above, Erika decides that she wants to change the clothing on Ilya's physical body and starts cutting off her clothing. Meanwhile, Rin and Luvia blast a hole that causes Ilya-bear to fall into Erika's room. Rin and Luvia follow as Angelica enters the room to see what is going on. Angelica is surprised that Ilya-bear can move, so she threatens Ilya's body with physical harm.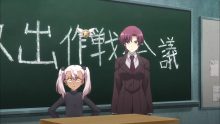 Eventually, Angelica destroys the teddy bear body, but Ilya manages to get the head to target a seal on her physical body, allowing her soul to return. Ilya transforms to a magic girl, but is quickly expelled from Erika's room thanks to the Ainsworth Flash Air magic, which displaces things magically. As Kuro and Bazett get a reluctant Gil-kun to help them plan a rescue for Ilya, Angelica schools Ilya on how Flash Air works, allowing Angelica to choke Ilya with her hand from a distance. Angelica explains to Ilya that they are trying to save a dying world, thus they must sacrifice Miyu in order to do this. Gil-kun gives this same explanation to Kuro and Bazett, asking them if they are willing to become evil to save Ilya.
Thoughts/Review:
Well, Fate/kaleid liner Prisma Illya 3rei!! 08 certainly had an interesting twist on things. I like it.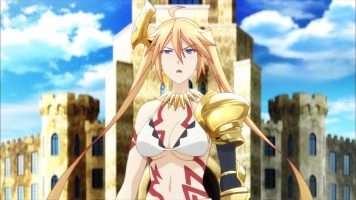 Darius using a bird to scout the coastline is a nifty skill. It isn't a new skill in terms of the fantasy genre. I've been (slowly) reading the Lord of the Rings books again for the first time in years, and there are passages regarding birds being used as spies. But here, Darius isn't simply using the bird as a spy, it appears he's seeing things through the eyes of the bird.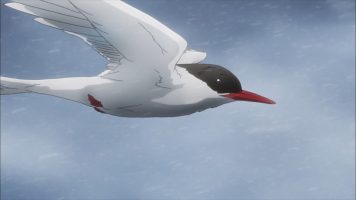 Finally, we get some explanation about Miyu's Earth. All of the mana is drying up and the Earth has tilted off its axis. Thus the reason it is snowing in Japan during summer.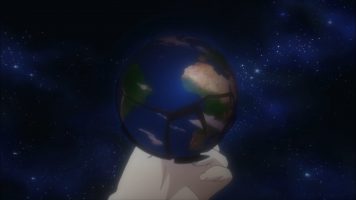 Thus, we get a shift of perspective on the Ainsworth. Instead of being some kind of power mad clan, Darius is trying to save the world that is on the verge of dying. Thus for him, Angelica, and the others of the Ainsworth family, sacrificing Miyu is acceptable. The needs of the many outweigh the needs of the few, or the one.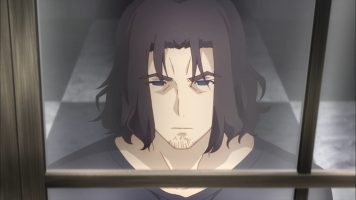 That being said, I have not forgotten the rape-like experience Darius is putting Miyu through. The world being at stake or not, I don't see any justification for putting her through what she's being put through. She or her brother Shirou, who's been imprisoned.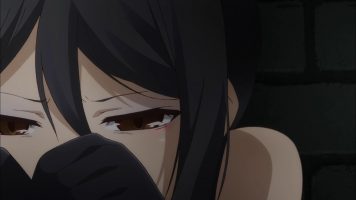 But Ilya doesn't know about how Miyu is being treated. Miyu is basically the princess locked in the tower on top of everything else. So I can understand how Ilya learning this news of the world's imminent death from Angelica would cause Ilya to question things. Ilya isn't that old and it is easy to be conned by emotional but seemingly logical reasoning.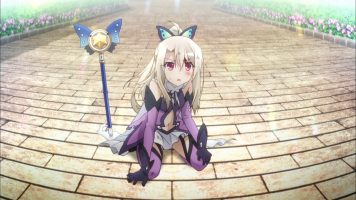 I don't believe that Darius is right though. For starters, I suspect that the Ainsworth might be the cause of the planetary destruction they claim to be trying to fix. Whether I'm right or wrong there, the Ainsworth solution is likely not the only solution. I'm guessing sacrificing Miyu is the easiest path to the solution since Miyu is a version of the Holy Grail.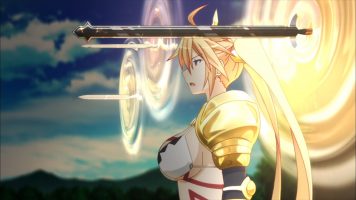 One thing I like about Fate/kaleid liner Prisma Illya 3rei!! is that there is a logical, story-specific reason for the villains to keep Ilya alive. Ilya is another Holy Grail, so I can understand why Darius wouldn't want her harmed. I can understand why he (and thus Angelica) will tolerate a certain amount of flack from Ilya. At the moment, Ilya isn't strong enough to defeat the Ainsworth.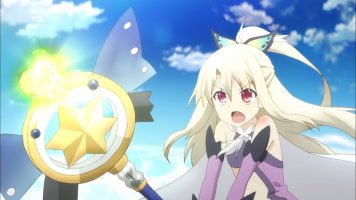 I like how Gil-kun understood the situation with Ilya, even though he frustrated Kuro and Bazett in the process. 😆 Gil-kun is hilarious. I certainly like him better than Gilgamesh. Gil-kun may be a punk, but he doesn't have that element that makes me dislike him.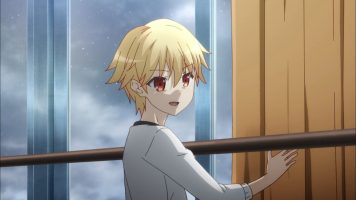 I have to admit, I am a little disappointed that Ilya's magic plushie form wasn't that powerful. OK, I concede this lack of power isn't unexpected. Indeed, the primary purpose for the lack of power is to add to the comedic elements of Ilya attempting to elude Rin and Luvia. That said, I had hoped that Ilya's magic giving her the power to make her plushie form move would be strong enough to make her more formidable once she used Sapphire.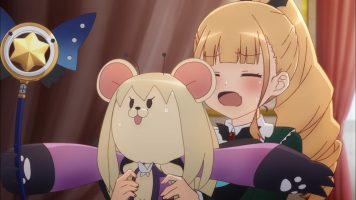 Another explanation this episode gave us is the Cards that Angelica has been using. Once Rin and Luvia started using them, we learned that these aren't Class Cards in the sense that there is a Heroic Spirit with said spirit's Noble Phantasms and such. Instead, there's no Heroic Spirit attached to the card, but some kind of pseudo Noble Phantasm in the form of weapons or shields.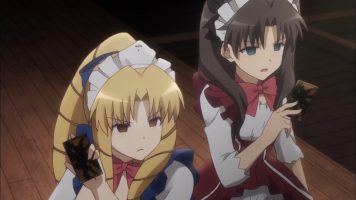 Ilya's getting her own body back is a good thing. I'm glad that didn't go on for a long time. It gives the loli fanservice done to Ilya's body a justification so that Ilya could see the seal and target it. 🙄 Oh well. All's well that ends well.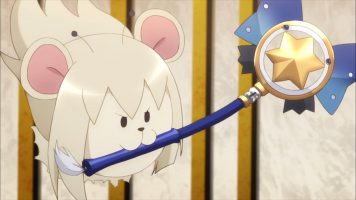 Another explanation given in this information packed episode is the Ainsworth magic. I'm surprised that Sapphire seemed so disdainful of this Flash Air magic technique. She called it low-level magic, yet the Ainsworth use it to massive effect. It is used as teleportation magic. That's a major ability to come from such low level magic. As Angela showed, there's no place that someone can go to get away from her.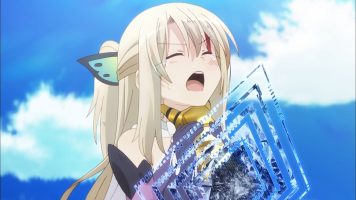 Plus, unless I misunderstood, this Flash Air displacement magic is used for the Ainsworth to take control over folks, removing their souls and implanting subservient personas. That's another incredible use of low level magic.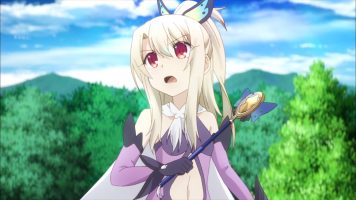 This is why I'm surprised at Sapphire's attitude. Why wouldn't the mages from Ilya's world be using this kind of displacement magic to the same effect as the Ainsworth? Or maybe they didn't see the possibilities that the Ainsworth did.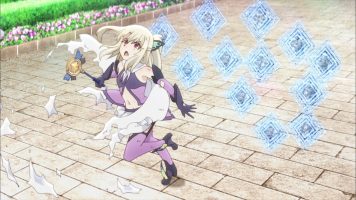 When do we get Rin and Luvia back on the good guy's side?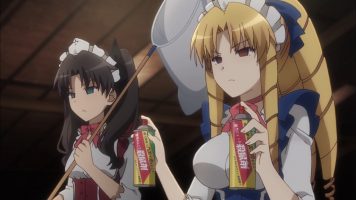 Finally, Gil-kun had an interesting proposal for Kuro and Bazett – become the villains to save Ilya. His devious look means he's up to something, but in a sense, he's right. I still think the Ainsworth are wrong, but that means stopping the Ainsworth plan to save the world.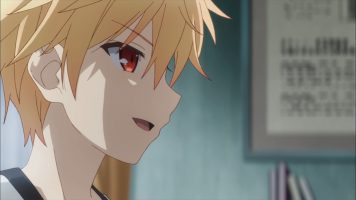 In the end, Fate/kaleid liner Prisma Illya 3rei!! 08 is an excellent episode, providing some humor, but also providing some exposition in a good way. The twist on whether the Ainsworth are truly evil or not and whether the ends justify the means is another interesting development in the story.