境界のRINNE ep 46
Kyoukai no RINNE 46

SPOILER Summary/Synopsis: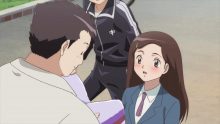 Rumors are going around campus about a muffler/scarf that strangles guys when a girl attempts to give them a muffler. Sakura decides to make Rinne one to lure the Strangler Muffler out. She visits the Crafts Club, where the president, IGAWA Haruka agrees to teach Sakura how to knit a muffler. Since Sakura and Rinne come to believe Haruka knows the truth of the Tsukumogami muffler, she tells them that she knitted the muffler for a senpai, but didn't give it to him because he received one from another girl.  She threw it out, but it wants to be given to someone. Haruka gives it to Rinne, but it strangles him. After fleeing, it ends up in the hands of a large, martial arts guy, whom Haruka gives the muffler to. Sakura finishes her muffler for Rinne and gives it to him.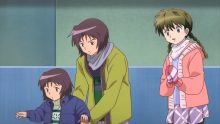 Sakura witnesses a young, female child ghost at the ice skating rink, so at school she enlists Rinne's help. When Rinne hears the ghost is looking for someone named Shizuka, he takes Sakura to the next floor or the school where a Shizuka has a case for Rinne. He's been getting yearly letters from his deceased, childhood friend named Yukina, who wants him to meet her at the skating rink. Since the two cases appear connected, Rinne and Sakura have Shizuka come to the rink. There, they are able to uncover what keeps Yukina bound to the rink and allow her to pass on.
Thoughts/Review:
And so we continue with the two stories for the price of one episode plan.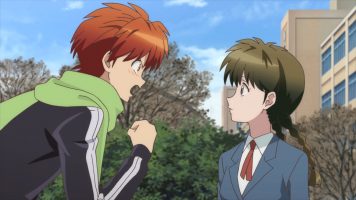 For the first story, I seem to vaguely remember this story from the manga. There's not a whole lot to the story itself and this sinister muffler.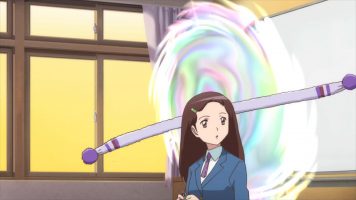 The only element here of interest is Sakura offering to make one for Rinne. So it brings back that hint of romance between Sakura and Rinne.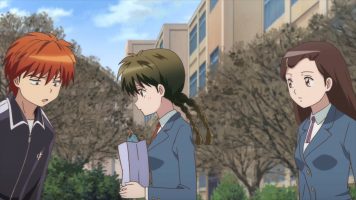 For the second story, here too, there's not a lot to discuss. The writers go for the cliched male-female childhood friends who are in love with each other in that fashion that kids fall in love. Then one of them has to leave when their parent is transferred for job reasons.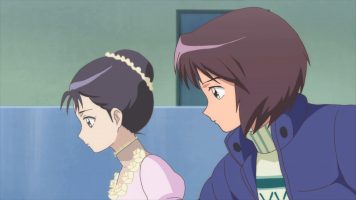 The difference here is that we have the melodrama of Yukina being stood up by the sick Shizuka, only for her to die shortly thereafter in an accident. 🙁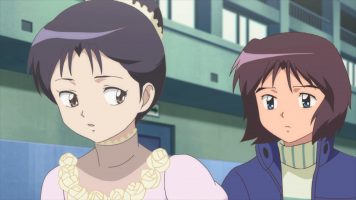 The only item of humor here was when the skating rink person billed Shizuka for the damage Yukina's ghost caused and Rinne bailed.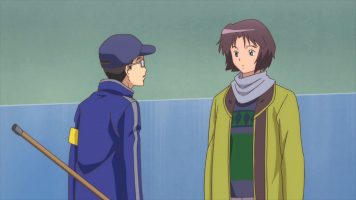 I did notice that the second story of this episode had a lot of cost saving moves to limit the amount of animation done.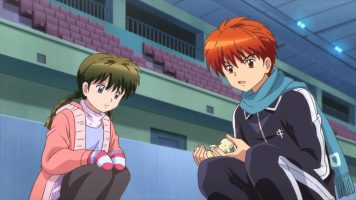 In the end, Kyoukai no RINNE 46 just goes through the paces of stories that feel a lot like "been there, done that."