Sweetness and Lightning 09
Amaama to Inazuma episode 09
SPOILER Summary/Synopsis: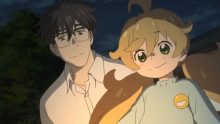 Tsumugi's class has a sleepover event where the kids make curry for themselves and their parents. Afterward, the kids play with sparklers with their parents before going to bed. Kouhei leaves Tsumugi with her friends and returns to an empty home to do some cleaning and such. Yagi calls Kouhei with a drink invitation, but Kouhei declines. The next day when Kouhei returns home with Tsumugi, she happily announces her return to different objects. Because Tsumugi wants the curry her mom used to make, Kouhei finds the recipe and texts Kotori about it.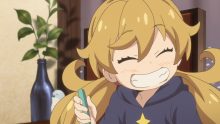 Sometime later, Kouhei and Tsumugi arrive at Kotori's mother's restaurant, were Kotori has the ingredients ready. Kouhei allows Tsumugi to cut carrots for a bit until she's tired of doing it. Kotori and Kouhei make the rest of the curry. Before making it spicy, Kotori dishes out some for Tsumugi. Kouhei and Tsumugi are reminded of their deceased wife/mother because of the curry. Kotori has never had curry with raisins in it, but likes what they've made. When Kouhei and Tsumugi go home, they take about Tsumugi's mom. Tsumugi cries as she misses her mom, but wants her dad to continue making the curry.
Thoughts/Review:
Man, this anime makes me hungry while at the same time, gets the emotions going big time.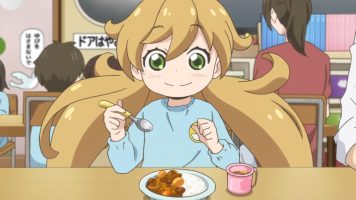 The school event of having kindergarten kids (and their moms) make curry as part of a sleepover at school is a new thing to me. I've never seen this kind of event portrayed in any anime I've ever watched or manga I've read. Granted, I haven't read/watched that many titles with kids this young. However, it just seems unusual to me, especially the sleepover part.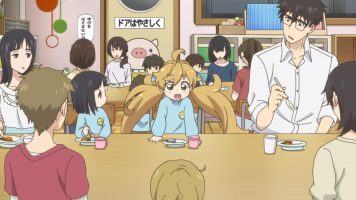 Seeing Kouhei alone in his apartment was both amusing and poignant at the same time. I get the feeling that this is the first time he's been alone in a while. I had hoped that he might reach out to Kotori, but that's probably too much to ask for at that time.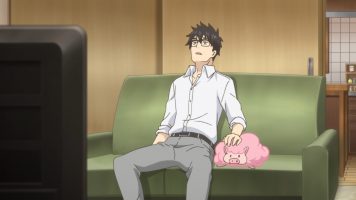 I'm glad that Yagi is a good friend in reaching out to Kouhei. I was hoping that Yagi might mention Kotori too, but that didn't happen.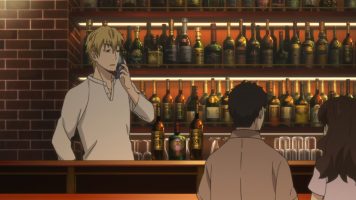 Still, Kotori did come into the mix once Tsumugi came home. The story of them making the dry curry is the usual fun when Kotori and Kouhei are cooking together.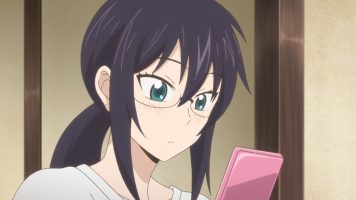 Tsumugi is her normal, adorably cute self throughout this. I loved her "weariness" after cutting up some carrots, as well as the weariness of Kotori and Kouhei after she was done.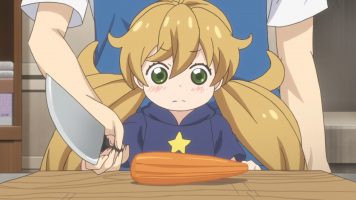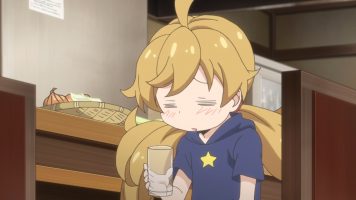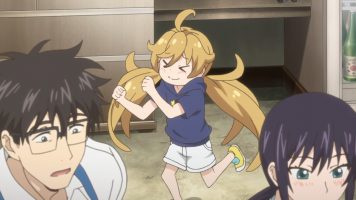 This episode ended up being more emotional as Kouhei's wife and Tsumugi's mother gets more time via flashback. I like how that even though Tsumugi started missing her mom and cried this episode, she wanted her dad to continue making this same curry that her mom used to make.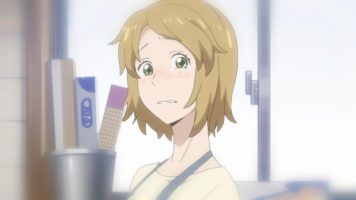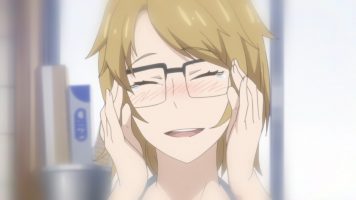 While I enjoyed this episode, there's something just not quite right about it. I can't quite put my finger on it. If I had to relate this to food, I'd say that all of the ingredients are here, but they aren't mixed quite right or aren't cooked quite enough. However, I am unable to point to a specific element in the episode that makes me feel this way. Weird.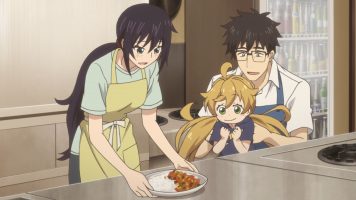 In the end, Sweetness and Lightning 09 is just another good episode, but it doesn't quite get to the high marks of previous episodes.