境界のRINNE ep 50
Kyoukai no RINNE 50

SPOILER Summary/Synopsis: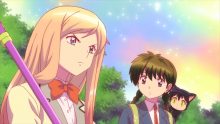 A somewhat depressed Sakura and Anju go after Rinne and Matsugo. They run into Kuromitsu by the lake, where Sakura notices ghosts in the water. Anju tries to purify them, but causes problems. Rinne comes to rescue Sakura, pleasing her, but he's reluctant to part with his free charm to purify the spirits. This displeases Sakura. With a relationship charm on the line, Rinne grabs Sakura to get one, but Sakura leaves Rinne. She loses her backpack and gets trapped in a Reidou.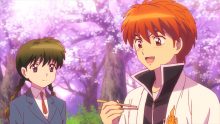 Anju finds her and helps her understand her feelings. Meanwhile, Rinne abandons trying to get the charm when he finds Sakura's backpack. Rinne clears the air with Sakura by saying he wants to eat lunch with her. This pleases Sakura since this is what she wanted. They set up a picnic and are joined by Rokumon, Kuromitsu, Anju, and Matsugo. Anju is pleased that Matsugo starts a conversation with her. Meanwhile, Sakura is happy seeing how much Rinne enjoys the bento she put so much effort into making.
Thoughts/Review:
And so season 2 comes to an end. I honestly thought that this would be the end, but apparently, the series is generating some kind of revenue. As such, we are getting a third season.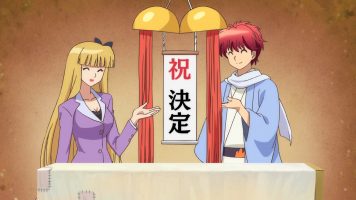 The Sakura x Rinne Ship
The primary purpose of this episode is to explore the relationship between Sakura and Rinne. Until the previous episode, there was very little done to explore Sakura's feelings for Rinne. We had a very clear understanding of Rinne's feelings for Sakura.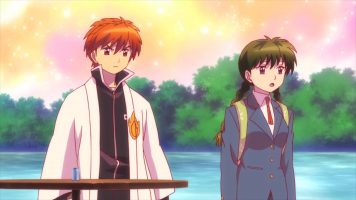 With Kyoukai no RINNE 50, Sakura finally starts to explore her feelings for Rinne. I guess up until now, she'd merely seen Rinne as a friend and someone she liked hanging out with while sharing adventures with him. Apparently, she never thought about Rinne in romantic terms.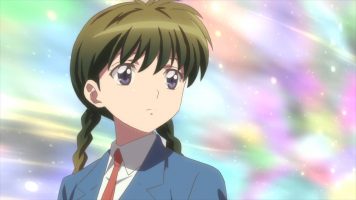 However, after hearing Rinne say how much he liked her, but also citing how much she feeds him and lends him money, she has her own feelings of insecurity. Maybe she likes Rinne more than he likes her. Because Rinne is so easily swayed by free, maybe he likes those things more than her.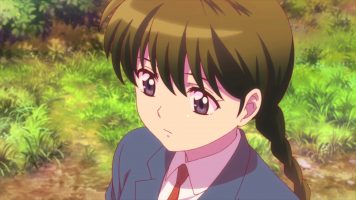 Still, I'm glad they were able to resolve things in the end.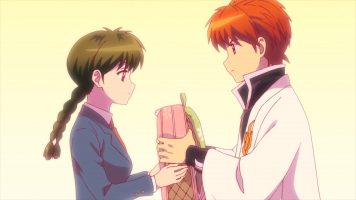 Will There Be Character Growth?
While I'm glad that Sakura had this time to discover her feelings for Rinne, I have zero confidence that there will be any additional character growth as a result of this episode. I base this on Takahashi-sensei's penchant for wanting to keep characters in a status quo until the manga is about to end.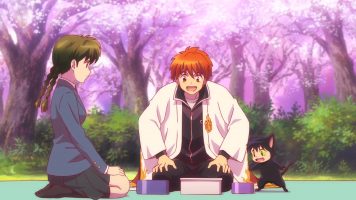 Still, it would be nice if Brain's Base went on their own and allowed Rinne, Sakura, and others to develop more as characters. I'd enjoy it if Sakura and Rinne became a sweet, wholesome boyfriend and girlfriend. It doesn't have to be overly romantic, just somewhat romantic at times. Let Rinne learn from his mistakes, but do the same for Sakura as well. 🙂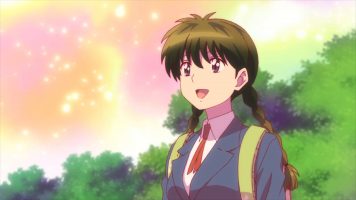 To that end, it would also be fun for Anju and Matsugo to become a couple. Well, a guy can dream, can't he? 😉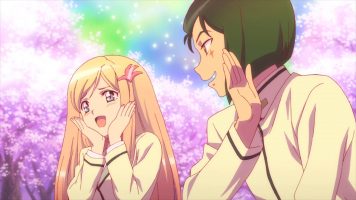 Final Thoughts and Conclusions
While I'd love for the third season to really wow me, I don't think that's likely to happen. In fact, I predict that we'll get more of the same. (As an aside, I did peek at some random, more recent chapters, and I'm right.) I'm pretty sure I'll watch the third season, but I won't be as enthused since I found the second season to not be as good as the first.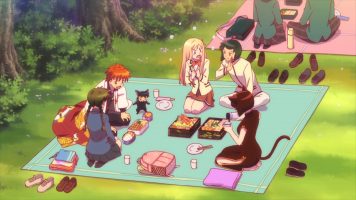 Finally, for you Ranma 1/2 fans, is it me, or did Kuromitsu in a bikini remind you of Nabiki? 😉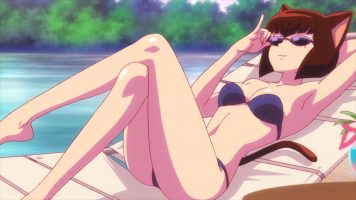 In the end, Kyoukai no RINNE 50 is a nice episode to end the second season of the anime. This is due to the long overdue exploration of Sakura's feelings for Rinne. Sadly, it won't go any further than this.