境界のRINNE ep 49
Kyoukai no RINNE 49

SPOILER Summary/Synopsis: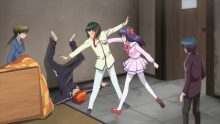 Ageha buys a choker for Rinne. However, it is a voyeur device that Rinne won't wear. Matsugo arrives with his black cat, Kuromitsu. Matsugo expels Ageha to enhance his friendship with Rinne. Ageha returns to rain bombs on Matsugo. The two battle for a bit before Ageha is ultimately expelled. Then Matsugo gives Rinne a gift, which happens to be the same kind of choker that Ageha purchased. Matsugo is disappointed to find that the collar has been put on a neighbor dog.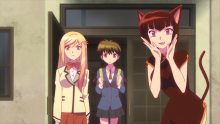 Matsugo invites Rinne to a school mixer. Rinne plans to decline, but when Sakura arrives and volunteers to be his girlfriend, Rinne changes his mind. By pretending to be his girlfriend, Sakura hope that Rinne can put Matsugo off. On the day of the mixer, Matsugo is disappointed over Sakura's arrival. Sakura notices an ojousama type girl named Anju. Anju has a crush on Matsugo, but can't come to talk to him. Anju and Sakura overhear Rinne speak well of Sakura, but also mention the money she lends him. When Rinne learns they heard this, he's unable to explain things to Sakura. Matsugo is pleased and drags Rinne off.
Thoughts/Review:
Here's a weird concept. We get a two part episode, the first part containing two stories. Fortunately, they were OK for what they were.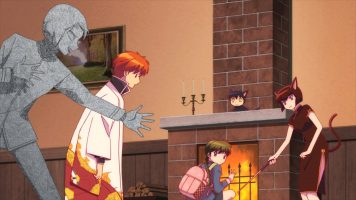 Story 1: Ageha vs. Matsugo
For the first story, I have to admit that I found the rivalry between Ageha and Matsugo to be rather humorous. Yeah, there are cliched elements there. However, I just get a kick out of Matsugo kicking Ageha out of the way, or Ageha returning to bomb Matsugo. I can be simple like that sometimes. 😉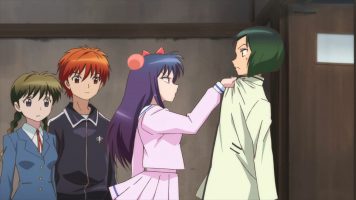 That said, all that happens here is that the thread of Ageha's infatuation with Rinne is picked up as is Matsugo's infatuation with Rinne. Pick up those threads and let them clash for cheap, instant humor. It works for what it is.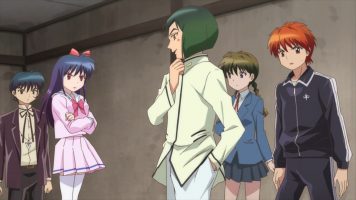 Story 2: Love is in the Air
The second story also picks up two story threads and puts them together to see how they will clash. Matsugo's thread is just pick up again, but this time, instead of Ageha, we get the Sakura thread picked up.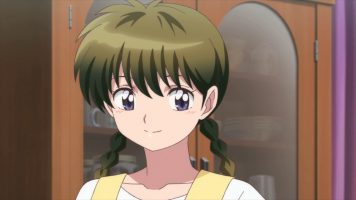 I have to say that I liked Sakura wanting to play the role of Rinne's girlfriend in order to dissuade Matsugo. This is where she understands Rinne's discomfort with Matsugo's overtures and wants to help Rinne out. It is all sweet and lovely.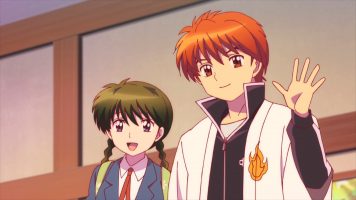 Where it gets frustrating is when Sakura becomes purposefully obtuse because the story demands it. Sure, I can understand how she'd be insulted when she overhears Rinne espousing her lending him money as one of the reasons he likes her. However, when he tries to explain things to her, she doesn't hear. Further, even though Rinne is being drug off by Matsugo, Sakura chooses to see it as Rinne going off on his own. I don't like that kind of storytelling.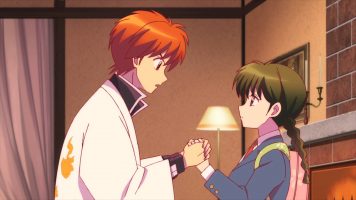 As such, even though we know Sakura has some kind of feelings for Rinne, and Rinne has romantic feelings for Sakura, the status quo between them must never change. That frustrates me to no end.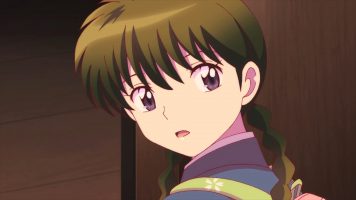 New Girl, Anju
Having the second story be just between Sakura, Rinne, and Matsugo wouldn't really work. As such, we get introduced to the haughty, ojousama type girl named Anju. Her haughty laugh wasn't done in the traditional style, which was kind of a bummer for me.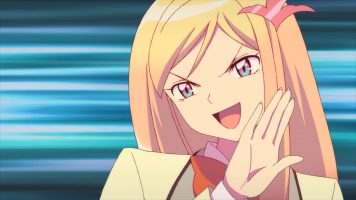 Anju is rather odd as a character. She's designed as an attractive girl. So it is difficult to see why she'd be attracted to Matsugo. It is even harder to see how she'd be shy in talking to him since she had no problem voicing her strong opinions to Rinne and to Sakura. Not that I expect anything, but we'll see where all this goes in the final episode.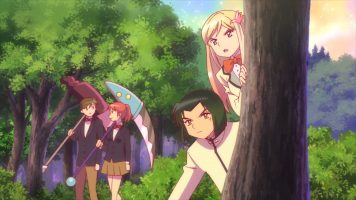 Conclusion
In the end, Kyoukai no RINNE 49 has some humorous moments. It also touches on the Rinne x Sakura ship. While nothing special, it was entertaining for what it was. And it will continue in the final episode.