Sweetness and Lightning 12
Amaama to Inazuma episode 12
SPOILER Summary/Synopsis: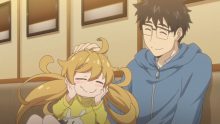 Kotori and Shinobu are out and about when Kotori sees Kouhei and Tsumugi dressed in black at the train station. That evening, Kouhei takes Tsumugi to Okonomiyaki Yocchan for okonomiyaki. However, Tsumugi is disappointed that they don't get to make the food, merely take it from the griddle at the table. Because she makes a fuss, Kouhei ends up leaving with her. Tsumugi is still depressed the next day, so after Kouhei talks with Kotori, he agrees to come over to her mom's restaurant (Megumi) to make okonomiyaki. Further, Kotori's mom will be there. However, when they come by, Kotori's mom isn't there, but Shinobu and Yagi are.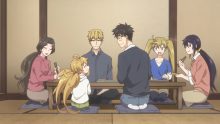 Kotori and Kouhei make their okonomiyaki mix while Shinobu and Yagi make theirs. Tsumugi is watching Shinobu and Yagi, but accidentally knocks over a bowl of cabbage. She gives a weak apology after her dad prompts her. Since Tsumugi doesn't like being scolded, she's surprised to learn that her dad doesn't like scolding her. However, after he explains things to her and apologizes to her, she apologizes back. She then makes a proper apology to Yagi. Tsumugi helps make okonomiyaki. Kotori's mom shows up, so Kouhei and Tsumugi formally introduce themselves. After that, they all enjoy the okonomiyaki, where Tsumugi is taught that the food tastes good because of affection and love.
Thoughts/Review:
Man, am I hungry again! 😆 That's the one terrible thing about this anime. It makes me hungry every time I watch an episode.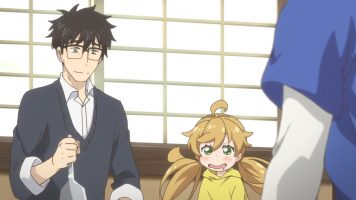 By the way, Sweetness and Lightning 12 adapts chapter 19 of the manga.
Spoiled Tsumugi
Tsumugi is often a very adorable, cute little girl. Lately, in addition to seeing this lovely side of Tsumugi, we also see the spoiled side of her. In this regard, Tsumugi comes off more like a real kid. I mean, how many times have any of us been someplace and someone's kid is crying and acting spoiled?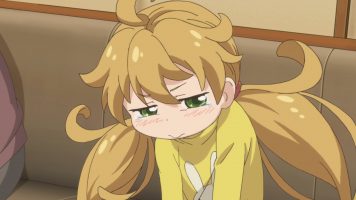 The episode highlights the difficulties of being a single parent. While Tsumugi is often a good child, Kouhei has had difficulty dealing with her spoiled side.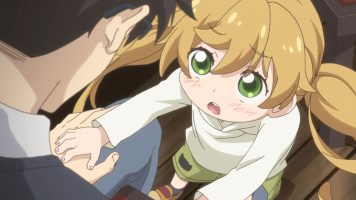 The resolution to this part of the story almost plays off in a simplistic fashion. However, I recall how as a child around Tsumugi's age, my parents would often talk to me after a punishment. I remember feeling better afterward, so I can believe Tsumugi would feel the same after the talk she has with Kouhei.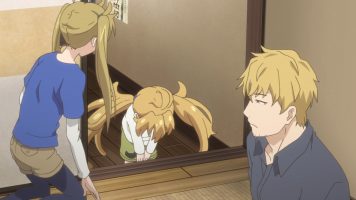 Manga vs. Anime: Subtle Story Differences
I'm hoping to write a review of the first manga volume of Sweetness and Lighting in the near future. However, I wanted to take a moment to cite some of the differences between the manga chapter and this episode. I'm ignoring small changes being made sheerly for adaptation purposes.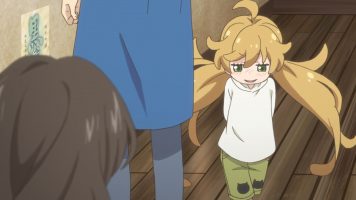 For starters, when Kotori invites Kouhei over to have a meal with her mom, in the manga, this comes off a bit differently than it does in the anime. In the anime, it is more of a casual inquiry. In the manga, Kotori looks like a nervous girl, asking the boy she likes to meet her mom. 😀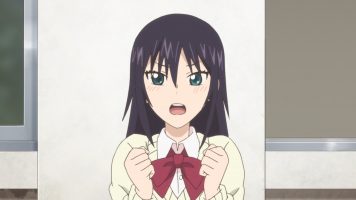 Further, the manga has Kotori remember remembering seeing Kouhei and Tsumugi coming back from the grave site visit. So she thinks Kouhei's spacing out is due to remembering his departed wife. I think that moment gives a tiny bit more insight into Kotori's feelings.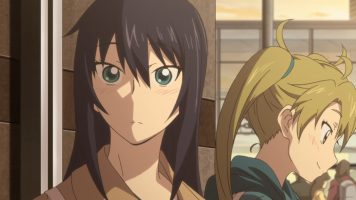 Kotori's Mom
The biggest difference between the manga and the anime is the loss of the scene between Kotori and her Mom on the day of Kouhei's and Tsumugi's visit. I'm kinda disappointed this moment was dropped. Also, Kouhei didn't introduce himself to her in the manga. Outside of volume one and the two chapters the last two episodes came from, I don't know if they were introduced earlier. The manga has skipped several chapters for unknown reasons.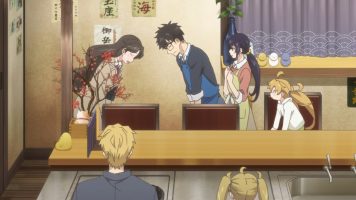 I'm glad Kotori's mom does finally show up though. I guess her name is Megumi, which would explain the name of the restaurant being Megumi. 😉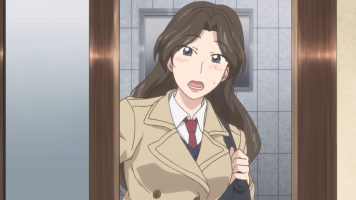 I loved the explanation that Megumi gave to Tsumugi on why the food Kouhei cooks is so delicious. Of course it is filled with love. 😉 However, it is a shame the anime dropped Tsumugi's hilarious conclusion that nasty food has no love in it.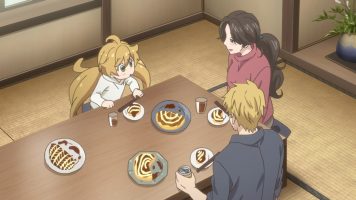 Final Thoughts and Conclusion
Yeah, Tsumugi goes through her usual cute stuff to raise one's blood sugar levels to dangerous levels. I laughed out loud at her clump dance.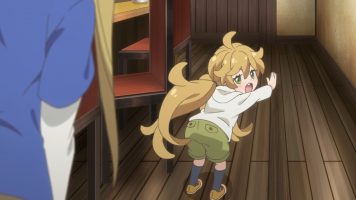 In the end, Sweetness and Lightning 12 is yet another enjoyable foray into food, sweetness, and fun.