Here is some SPOILER info and images for the upcoming UQ Holder Chapter 132, courtesy of 2CAT.  (My review of UQ Holder Chapter 132 should come out as soon as they appear on Crunchyroll, depending on when Crunchyroll publishes the chapter.)
UQ HOLDER Chapter 132 SPOILERS
The UQ Holder Chapter 132 goodness begins. Here are the spoiler images. ^_^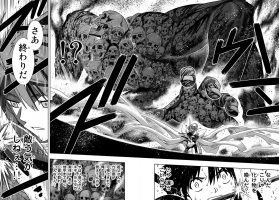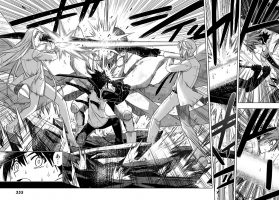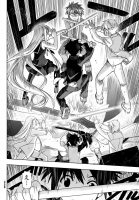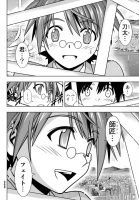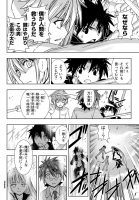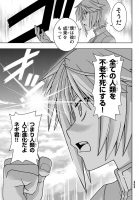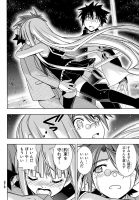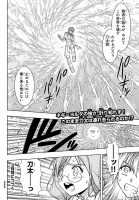 From Hata:
a very early and limited spoiler just reveals the secret of Negi, he never dies, the first ever NORMAL human to be able to live forever through transplant, strange enough, the story is still about the fight for Tota in the end,
Also, there are these two color, promo images. The first features Saati (or Thirty) from A.I. Love You, Naru from Love Hina, Asuna from Negima, and Yukihime (or Eva) from UQ Holder.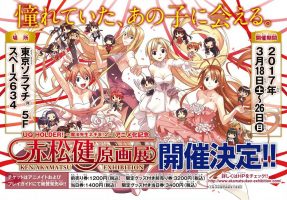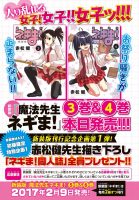 If there are any more images, I'll make updates as needed.
Update #1: A Korean scanlation has shown up. I'm not linking to it for various reasons, including that it might have bad stuff inside. However, here are some bullet points on what happens. Since I can't read Korean, there won't be many details.
ME-Touta battles MotB-Negi.
Eva battles Jack and gets sucker punched away.
Santa battles Al, who summons undead for Santa to have to fight off.
Kuroumaru manages to snare Yue and Nodoka in a trap similar to the trap Negi used to snare Eva and Chachamaru back in volume 3 of Negima.
Yukihime and adult Fate join ME-Touta and lock blades with MotB-Negi. It appears this causes their true selves (child Negi, Eva, child Fate, and Touta without ME) to emerge and rise above the city.
Negi introduces himself to Touta. Fate and Eva have angry words with Negi. Negi explains some things. Fate is near tears. Touta has sheepish words with Negi, who turns earnest and apparently discusses his own quest of going after Nagi. Eva looks sad and hugs Negi.
Battle resumes. Fate and Yukihime seal MotB-Negi in ice. He quickly escapes. In .01 seconds, MotB-Negi defeats Fate. In .03 seconds, MotB-Negi defeats Yukihime.
MotB-Negi goes to finish Touta, but ME-Touta has now mastered Negi's lightning form. The two have a lightning form battle, but MotB-Negi's experience is superior and he prepares to finish off Touta with a massive spell.
Update #2: A few more spoiler images from different places.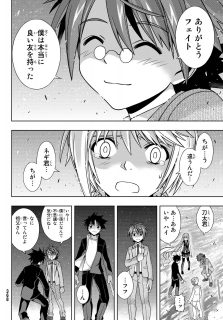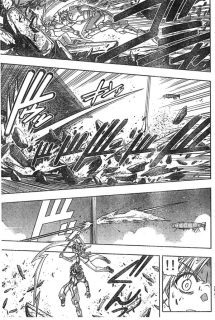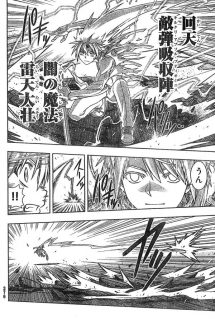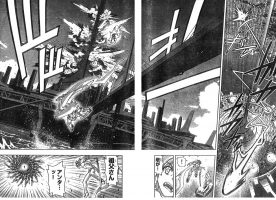 More updates if needed.