ViVid Strike! 11

SPOILER Summary/Synopsis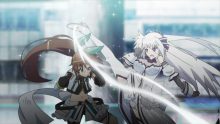 As Rinne and Fuuka continue to fight, Jill recalls training the girl. Jill feels like a failure for not understanding Rinne's heart. Rinne sees Fuuka crying, then when Fuuka nails her, Rinne remembers the harsh training of Jill and uses that to hammer Fuuka. Fuuka is sent flying across the training city. She spits out a couple of teeth, then she and Rinne resume fighting. Rinne remembers her farewell with Fuuka. After coming to an understanding of herself, she has a vision of her adoptive grandfather. This causes her to tear up, which Fuuka sees. Rinne misses with her punch, but Fuuka nails Rinne with a finishing blow, catching Rinne so the unconscious girl doesn't hit the ground.
Thoughts/Review
And now the Fuuka vs. Rinne fight is finally over. Now to the aftermath where Rinne and Fuuka are best friends for life.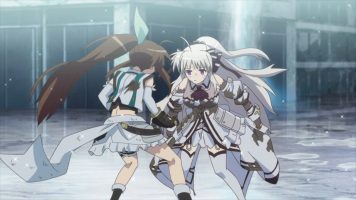 More Melodrama
This series has really been thick on the melodrama and ViVid Strike! 11 was no exception to this. First up was Jill. She has her flashback of training Rinne and regretting not understanding Rinne's heart. She wants Rinne to truly recover from what troubles her and return to Jill for more training.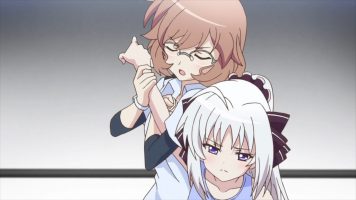 Then there's Rinne again. She got the most melodrama elements and the rest of the flashbacks. We got to see the harsh training with Jill, which made Rinne stronger. Then we got to see Rinne telling Fuuka goodbye at the orphanage. This memory is what naturally causes Rinne to start coming around and allow Fuuka to see Rinne tearing up.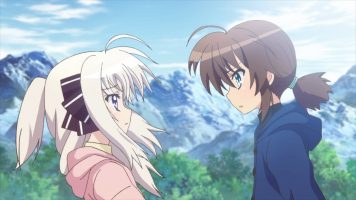 Finally, Rinne has a vision of her adoptive grandfather smiling at her. Naturally, Rinne now sees that while she can't change the past, she can move forward and it is OK to smile. Yay, Rinne! You've come full circle.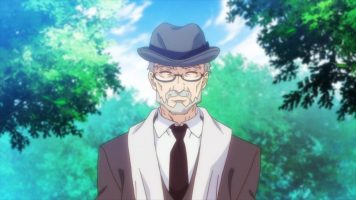 Final Thoughts and Conclusion
Not much else to talk about here, but here are some additional thoughts of mine.
It isn't supposed to be funny, but I couldn't help but laugh as the writers had to give lines to the entire peanut gallery watching the fight. And, the peanut gallery helped add to the melodrama with their melodramatic reactions to things.
As I said in the previous episode review, I think that King Records would love to have Fuuka, and possibly Rinne, have their own franchise and leave Nanoha and company behind.
I still miss Nanoha, Fate, and even Hayate with her clan.
For that matter, I miss Vivio, though she got her cameo lines as part of the peanut gallery.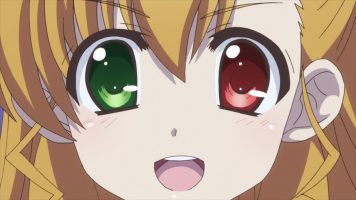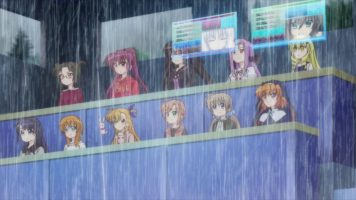 In the end, ViVid Strike! 11 is more mindless battle action with a massive helping of melodrama.