ハヤテのごとく!/Hayate no Gotoku Manga
Hayate the Combat Butler Chapter 554 Review
SPOILER Summary/Synopsis: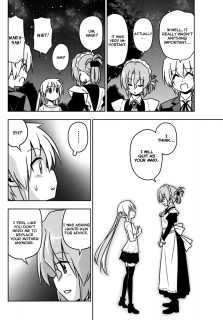 Hayate tells a shocked Chiharu the truth about how he came into Nagi's life. As a result, she angrily slaps him. Hayate ends up telling her that though he has no feelings for Nagi, his purpose now is to defeat Hisui and secure the inheritance for Nagi. After that, he'll quit as her butler. Chiharu storms off in a huff, returning home alone.
Hayate returns to the mansion and meets with Maria. He requests that she reconsider quitting her job. Maria understands that Hayate's request is because he's learned of Nagi's true feelings from when they first met. Further, Marina is keenly aware of Hayate's concerns for Nagi's welfare in light of his learning the truth.
Before Hayate can plead his case, Nagi shows up. She wants to know what Hayate is yelling for after his reaction to her appearance. When Nagi inquires as to the nature of Hayate's and Maria's discussion, Hayate lies and says it was about breakfast. Maria denies this, so Hayate tries again. Maria again cuts him off and tells Nagi that she wants to quit being Nagi's maid. As such, she was asking Hayate for advice. After Nagi's 14th birthday, Maria plans to leave.
At Yukari-chan House, Chiharu ponders the situation when a visitor arrives. This person is in charge of redeveloping the area and asks when the apartment is scheduled for demolition.
Thoughts/Review:
I'm way behind on writing a review for Hayate the Combat Butler chapter 554. Still, this was good in that it paves the way for things to come.
Chiharu's Response
I can understand Chiharu's rage at learning the truth of Hayate's feelings. At heart, Chiharu is a romantic. Having heard the story of Hayate's and Nagi's meeting from Nagi's perspective, it was a beautiful, romantic moment. However, when Chiharu learned the truth, her illusion of a beautiful romance between two of her friends is shattered.
Adding to this is that Chiharu understands how devastated Nagi will be if she learns that Hayate is not in love with her. It is a hard thing to see one of your friends in an unrequited love situation. That's where Nagi is. Obviously, Chiharu doesn't want Nagi to go through this pain. If that means slapping Hayate, sobeit.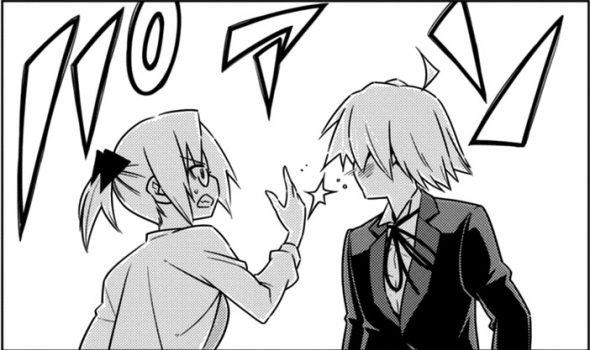 On the other hand, Chiharu doesn't want Hayate to continue to lie to Nagi now that he knows the truth. So this puts her into a bind. Nagi deserves to know her feelings are unrequited. On the other hand, having this revealed to Nagi would interfere with Hayate's plans to secure Nagi's financial future.
Regardless, this chapter made me like Chiharu a bit more as a character. She really is a true friend to Nagi.
Maria
Then there's Maria the wise. Her ability to realize what's going on is obviously a way for Hata-sensei to keep things moving forward quickly. On the other hand, it also shows that there's more to Maria than meets the eye. I think this is why so many folks wonder about Maria's ultimate role in the manga.
I find it interesting that Maria had no qualms about cutting Hayate off to tell Nagi of her plans to resign as Nagi's maid. Yet she always hesitated in trying to defuse the misunderstanding between Nagi and Hayate from the beginning. Obviously if she'd done that earlier, we wouldn't have a manga. I half expected her to tell Nagi the truth about the "bomb" between Nagi and Hayate.
There's a chance that Maria could force the situation though.  Nagi's just received the shocking news that Maria is going to leave her service. If Maria then forces Hayate to confess that he never had romantic feelings for Nagi, that combination of hits all at once would likely cause the explosion of negative emotion that would open up the path to the Royal Garden.
Final Thoughts and Conclusion
Since the new chapter hits the market soon, let's wrap up this chapter's review.
The demolition of Yukari-chan House came out of left field. There's no reason Nagi, Maria, or Klaus shouldn't have known about it. Could Hata-sensei be using this to further heap coals on Nagi's shoulders?
What happens to the residents of Yukari-chan House. Hina could move back home. Kayura would need a place to stay. I think Chiharu would need a place to stay. Ayumu could return home. In the back of my mind, I like this idea of a harem ending where all the girls move into Nagi's mansion. After all, she has plenty of room. Further, she'd get to be close to her friends again.
I can't help but wonder if Nagi ends up getting trapped in the Royal Garden in a similar fashion to Athena. This would lead to Hayate leading a quest to rescue her. We'll see where things go.
In the end, Hayate the Combat Butler chapter 554 continues to pave the way for what appears to be Nagi opening up the path to the Royal Garden. I'm looking forward to seeing what happens next.