ユーキューホルダー! 魔法先生 ネギま!2 Manga Review
UQ Holder! Mahou Sensei Negima 2
UQ Holder!: Magister Negi Magi! 2 Chapter 133
UQ Holder Chapter 133

SPOILER Summary/Synopsis: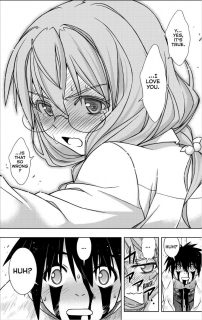 Nodoka and Yue free themselves from Kuroumaru's sealing spell. Kuroumaru attacks, but the duo easily evade or block the attacks. They then turn tables on Kuroumaru, leading to Kuroumaru's defeat. Santa is in a losing battle with Al, so he attempts to posses the gravity mage. The horrors of death he sees causes Santa to evacuate and be defeated.
Karen manages to slice of Jack's arm without a blade. Jack shrugs it off and puts the arm back on before punching Karen across the city. Karen uses magic to slow herself down, allowing her to land on the side of a skyscraper. Jack instantly appears, punching her through the skyscraper and taking her out of action.
Negi and Touta battle each other, neither getting the advantage of the other though Touta keeps being torn apart. Touta considers how powerful Negi is as a hero that saved the world. Touta then rejects this hero notion since Negi is killing innocent people even now. As such, Touta angrily counterattacks, vowing to save Negi and Yukihime. However, Touta is stopped when Jack sends a massive blade into him and Al uses gravity magic to slam him into the ground.
Before Negi-MotB can put on a finishing blow, Kirie stands in the way.  She dares them to kill her since this would just cause a reset. Negi-MotB becomes charming and thanks Kirie for loving the bloodied Touta. Kirie denies loving him, so Nodoka provides the proof from her artifact diary. Touta is surprised by this, more so when Kirie concedes she loves him.
As Kirie turns to face Touta, she's stabbed by Cutlass. Kirie attempts to kill herself with a cyanide capsule, but Cutlass stops her by removing several of Kirie's teeth. The pinned Touta becomes enraged and activates his Magia Erebea over this as Cutlass brags that Negi Ialda-sama will save everyone, unlike UQ Holder. Touta's rage grows, causing Kirie to remind him of the plan — 37 seconds have passed. With that, a large, magic mandala appears and Asuna appears to be dropping in.
Thoughts/Review:
Forty pages of manga, but not a ton to discuss. Still, I did enjoy the chapter for what is was. In that vein, I'll get my review going.
The Battles
The fights all ended as expected with UQ Holder losing. That's how it should be. That said, I loved seeing Yue and Nodoka in action. Seriously, Akamatsu-sensei needs to do a manga, even if a single volume, where Yue and Nodoka are the heroes. They've been awesome so far. It is just a shame that they are the villains.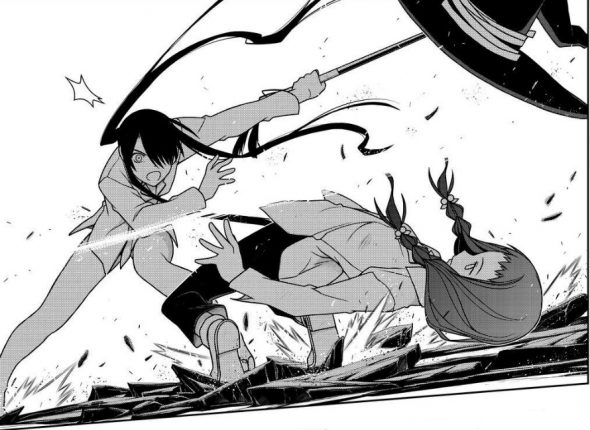 As to Santa's fight, I'm glad Akamatsu-sensei remembered Santa can possess people. Santa was surprised that Al isn't human after seeing the horrors in Al's mind. We already knew Al wasn't human since Nagi and Arika used to carry him around in book form. It is just that over the years, Al has added necromancy to his magical arts repertoire.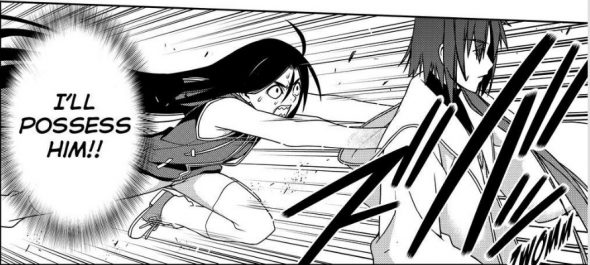 I laughed at Karen using magic to create something to slow her down lest she slam into a skyscraper after being punched across the city by Jack. The way Jack punches Karen down the length of the skyscraper reminds me of the Superman movie or the Avengers: Age of Ultron movie.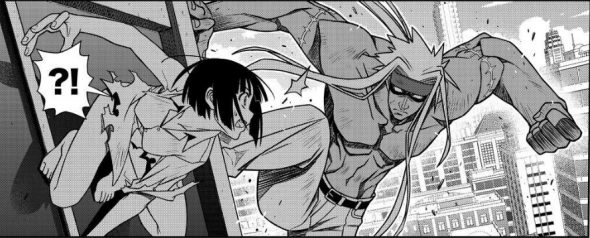 Negi's fight with Touta contained no real surprises. Super Touta is nearly on par with Negi, only lacking experience. Thus Jack and Al have to step in to put an end to the fight. This part of the manga was the least interesting to me.
Kirie and the Chamo Love Chart
Thanks to Nodoka, we get a nod back to the classic Chamo Love Chart. I had to go look up what the different numbers meant. The chart measures on a scale of 1 – 20 for each type of feeling.
Friend (tomo): 10
Familiarity (oya): 9
Love/Desire (koi): 13
Pure Love (ai): 9
Lust (iro/"ero"): 12
Total (not stated in the chapter): 53
As a point of reference, Nodoka scored 57. Yue and Asuna scored 56, while Ayaka scored 52 in their feelings for Negi. So when Nodoka says Kirie scored quite high, she wasn't lying.
I liked that Kirie did admit her feelings to Touta, though her loss of composure cost her.
The Return of Cutlass
Cutlass returns to make Kirie pay for turning her back on Team Negi-MotB to go off on Touta. Kirie has a major stab wound in the shoulder, and she had several molars forcibly removed by Cutlass. It makes me wonder if Kirie's jaw was broken in the process. Denied resetting time, what happens to Kirie now? Does she have to recover like a normal human (with the aide of healing magic)? Or does she have some regenerative abilities? I guess we'll find out.
Funny how Cutlass knew what Kirie was going to do. I wonder if she was communing with Nodoka somehow. Otherwise, it doesn't make sense how easily she found the three teeth with cyanide in them.
Final Thoughts and Conclusion
Time to wrap this sucker up.
UQ Holder held out for 37 seconds. So now what's Asuna's move. Asuna is OP, so I can't help but wonder how things will turn out. It would seem to be "game over" time for Team Negi-MotB, but that smacks as too easy. I'm having a hard time believing Akamatsu-sensei would allow things to go so well for the good guys.
I had lost track of Eva and Fate. So I looked back at the previous chapter and remembered that Akamatsu-sensei had to remove the two most powerful players from the good guys in 0.03 seconds. 😆
I got a kick out of Al and Jack remembering how all the girls loved Nagi and Negi and wondering if Touta inherited that from them.
In the end, UQ Holder chapter 133 is mostly action-based. Kirie gets a little bit of character work, which is nice. Now to see what fun Asuna has in store for us next month.