Valentine's Day 2017
Hey gang. For those of you celebrating, I hope you have a very good Valentine's Day 2017. 🙂
I was looking to see when the next A Certain Scientific Railgun manga volume is coming out (volume 12 is currently scheduled for release on July 25, 2017) and then I stumbled upon this image of Mikoto, Kuroko, Saten, and Uiharu making chocolates. Since girls making chocolates for Valentine's Day is a big thing in Japan, I figured I'd share it.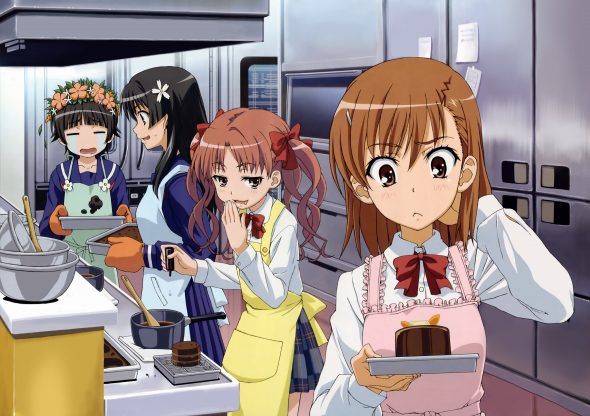 Ha!ha! This makes me want to go back and rewatch the anime series. Not that I have time to do such a thing.
On the housekeeping side, I'm sorry I haven't been posting as much. Work has kept me very busy and there's not much sign of it getting better. It often seems that when I have some free time, I don't have any gas left in me to write. Still, I'm thankful to have a job.
I did finally manage to get the blog set up with signed SSL certs. Google has been punishing me for some time because all I had been using were self-signed certs. I really didn't want the expense of paying for certs on what is merely an anime blog. Thankfully, my hosting company KnownHost came through and provided me certs that meet Google's standards. So now when people come in through the main page, everything should be cool.
Some pages will flag as mixed content due to how they were converted from Blogger. At some point, I'll try to fix that, but considering how I still have a couple of years of blog posts with jacked up or missing images, who knows when I'll get around to that. At least everything from when I started on WordPress is fine.
Bottom line, I'm hoping that browsers and Google no longer act like the site might be some dangerous pit from who knows where. Traffic has been ticking up slowly since I did the shift, indicating Google's punishment may be lifted, at least somewhat.
Hopefully this week, I can get a couple of manga reviews in, one for the latest Cardcaptor Sakura: Clear Card Arc and one for last week's Hayate the Combat Butler.
Before the month is out, I'm going to try to get a review of Flying Witch (anime) up. When I had the flu a few weeks ago, I watched about half of it from Crunchyroll. I still have to watch the other half. I'm not really sure what prompted me to start watching, but I like what I've seen so far. I've just got to find time to finish it.
That's it for now.