ユーキューホルダー! 魔法先生 ネギま!2 Manga Review
UQ Holder! Mahou Sensei Negima 2
UQ Holder!: Magister Negi Magi! 2 Chapter 135
UQ Holder Chapter 135

SPOILER Summary/Synopsis: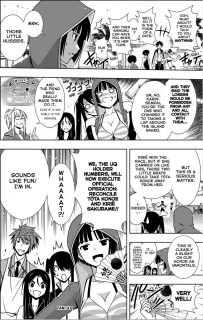 Kirie has an erotic dream about herself and Touta. When she wakes, the experience has her flustered, causing her to attack Touta when he enters her room.
Life at Senkyoukan returns to normal as Karin and Touta greet the large influx of guests. Afro and Ray come by the inn for a visit and stay. Afro mentions that the MotB incident is being blamed on terrorists, so Karin warns him not to let it out that MotB was involved after the problems she caused 30 years earlier. Karin makes note that Kirie runs away when Touta attempts to talk to her.
Because of their work, Gengorou notifies Touta and company that Yukihime has given them two days off, which they spend on the new island facility, which has a pool. Santa and Kuroumaru lament their weakness in the latest battle, leading Karin to state that they just need to train harder. The discussion turns to Touta and Kirie apparently fighting. They, along with Yukihime in another location, observe Kirie flee from Touta when he tries to talk to her.
Touta is talking to Afro and Ray when Shinobu and Mizore show up. This causes Karin to get jealous, but she then decides that they have to do something to get Kirie and Touta together. Jinbee decides to join in the fun.
Touta briefs Mizore on everything that transpired. Mizore is honored by this and pleased that Touta considers her to be cute. She's about to tell him her plan to save the world when Jinbee uses his "switcheroo" magic to cause a pantless Kirie to show up in Mizore's place. Kirie attacks Touta as a result. Meanwhile, Touta moves on to Shinobu, briefing her on things. As Touta is complementing her, Jinbee causes Kirie to show up in Shinobu's place. This results in Touta being attacked again.
Touta is talking with Ray and Afro as he gives Afro a massage. Jinbee causes a naked Kirie to switch places with Afro, leading to Kirie attacking Touta again. A frustrated Jinbee uses his magic to send both Touta and Kirie to a small, private sauna and places a powerful magical seal on it. Jinbee pushes this further by removing their swimsuits. Kirie freaks, then breaks down because Touta had called her chest size small and she knows they'll never grow.
Jinbee puts their clothing back on as Kirie finally allows Touta to talk to her. However, she doesn't think she can help Touta with the MotB issue. Touta compliments her, pleasing her, but then she passes out from the heat. Yukihime teleports in and uses her ice magic to cool Kirie down. Yukihime gets Touta to confess that he likes Kirie and that he's always want to be there for her and protect her. Kirie is awake to hear this, so Yukihime teases her about this, then encourages the two to start dating. Yukihime's continued teasing causes Kirie to go nuts, whereby she destroys the sauna.
Thoughts/Review:
Well, Akamatsu-sensei and Kodansha must be very desperate to increase the sales of UQ Holder.  The ecchi factor certainly has been ramped in UQ Holder chapter 135. On the other hand, we did learn a few interesting things.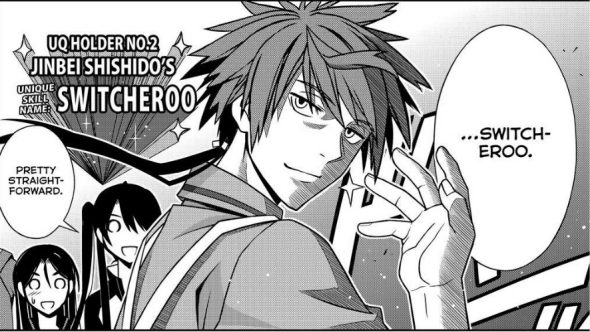 Working the Harem
I'll talk about Kirie in a moment, but first, lets discuss Touta's harem. You have Mizore, the self-proclaimed betrothed of Touta's. She gets some work with Touta telling her everything that transpired with Negi-MotB. She's not only pleased by this, but she's very happy that the Touta that had been with her in the race and who'd subsequently gotten "killed" still remembered everything that happened. And of course, she's delighted when Touta tells her she's cute. Since Jinbee interrupted her, we'll see what her response to saving the world it.
For Shinobu, she's also glad to be briefed. She's stunned that Touta thinks so highly of her. He loves her goal to be a crew member of the interstellar spaceship. While this flusters her, we don't find out more because of Jinbee. Still, Touta affirmed his ties with Shinobu.
Then there's Karin. She instigated all of the troubles for Touta and Kirie after getting jealous upon seeing Shinobu and Mizore with Touta. I really want Akamatsu-sensei to work on Karin and her role in the harem. Karin is merely using Kirie to hide her own feelings for Touta.
Kirie
I'm going to mostly skip over Kirie's erotic dream because I don't care about that. However, I will say that I got a chuckle out of Akamatsu-sensei's breaking of the fourth wall in acknowledging wasting five pages on this.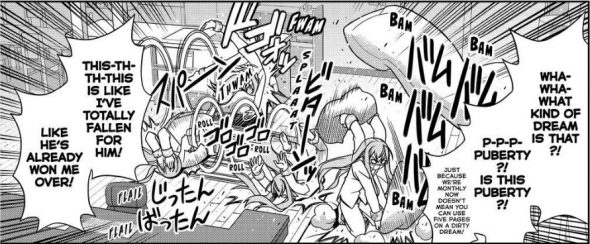 Kirie is following a character trope by constantly denying her feelings for Touta. While I'd love for her to actually grow as a character and accept this, especially in light of what Eva told her, it seems clear to me that Akamatsu-sensei would rather use her as comedy fodder and someone who can be Naru from Love Hina, punching the MC into orbit.
Still, it is interesting to see how Touta has genuine feelings for Kirie. As Eva pointed out, they do have a mutual, romantic love, and it is certainly better established than the supposed mutual, romantic love in a certain other manga series that ended on April 11 in Japan. Touta's feelings, combined with his actions with Shinobu and Mizore, give me the impression that Akamatsu-sensei is going for a harem end. Frankly, I'm OK with that.
Finally, there's Kirie's immortality. This chapter strongly implies that Kirie will never age nor grow beyond her current size. With her reset ability, her immortality has been in question. If she lives normally, but when she dies, she just goes back to a save point, then as she gets older, that's going to have to suck massively. But Kirie's words suggest she'll remain in a child form. Further, Eva remarked that though Kirie looks like a kid, she's an adult on the inside.
Final Thoughts and Conclusion
I wanted to have this done days ago. 🙁 I'm going to wrap this sucker with some final thoughts.
I hated seeing that we are apparently going to get a tournament after all. When I saw that, I wanted to scream since Tournaments are just awful.
Eva teasing as Yukihime made Yukihime finally seem like Eva, if that makes sense. Most of the time, Yukihime never feels like Eva to me, even though she is Eva. Yukihime feels like another character, separate from her true, Eva persona.
I can't remember if Jinbee has shown this "switcharoo" power or not. It does explain how they were able to get civilians to safety so quickly.
The new facility is "new," meaning retcon. Seriously, it has never been there before. Now all of the sudden, it is there. I'd love to speculate that this is a sign that we've switched timelines again, but I rather suspect it is just retconning and "don't ask any questions." After all, Akamatsu-sensei needed a new place to get his characters into swimsuits and less.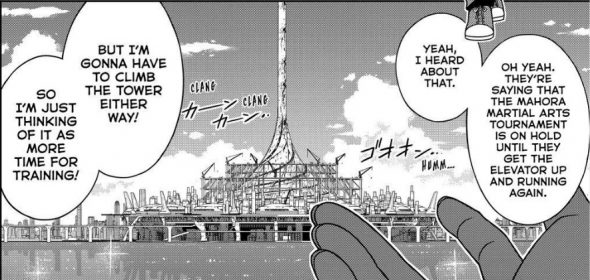 In the end, UQ Holder chapter 135 has WAY too much ecchi fanservice for my tastes. However, there were a few points of interest for me, so I'll let it pass.