Tenchi Muyo! Ryo-ohki OVA 4 Episode 3
天地無用! 魎皇鬼 OVA 4 Ep. 3
Spoilers Summary/Synopsis: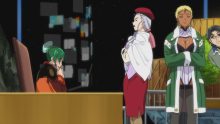 Airi laments that Tennyo is headed to Earth, leaving her behind. On Earth, after breakfast, Minaho has a meeting with Washu in Washu's lab. Aeka, Sasami, and Minaho leave for Rea's version of a bridal shower, where the Masaki women of the Masaki Village are there to officially welcome Rea into the Masaki family and village council. At Tenchi's home, Nobuyuki has his version of a bachelor party, with Tenchi, Katsuhito, and the few other Masaki men present. Tennyo's boyfriend Hakuryou is also in attendance and Tenchi learns that his grandfather became a father (Minaho) while he was still a teen.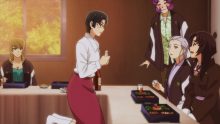 Outside Washu's lab, Ryoko, Washu, Ryo-ohki, and Noike have their own, quite celebration. Ryoko thinks everyone should have celebrated together. Back at Rea's party, Rea pours Tennyo some sake. Tennyo wants to know what Rea sees in her father. It is revealed by the others that when Nobuyuki proposed to Kiyone, it caused quite a stir since folks thought Kiyone wasn't good enough for Nobuyuki. Nobuyuki lost his parents when he was young and Kiyone befriended him, making him her plaything. As it turns out, he was serious about Kiyone.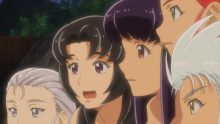 On her ship, Airi finishes her work and tries to use the teleporter to get to Earth. However, Washu has the gate closed. thwarting her. That night after the parties are over and Sasami has gone to bed, Washu, Ryoko, Aeka, Minaho, Tennyo, Noike, Mihoshi, Rea, Fuuka, Otoka, and Mizune are in the floating onsen for a soak and sake. Tennyo reveals she'd learned a lot about her father that she never knew. Minaho informs Rea that Seto has tasked her with learning more of Rea's origins. Rea lets the others know she came from Geminar, a planet no one knows of. Rea is surprised Kiyone never let anyone know that Rea is from another universe.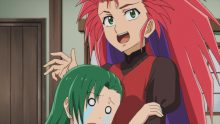 The following day, Airi arrives on Earth, crying to Washu about being denied arrival the night before. Washu promises to make it up to her by letting her in on some information. She's annoyed that Minaho isn't around, but Tsukiko calms her down somewhat. After they finish getting Airi ready, she heads to the Masaki Shrine, where Tenchi, Tennyo, Minaho, Noike, Aeka, and Sasami are one one side while Ryo-ohki, Ryoko, Mihoshi, and Washu are on the other. Airi enters, giving Minaho and Katsuhito a dirty look before taking her place next to Washu with dignity. With that, Nobuyuki and Rea enter and are married.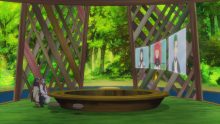 Sometime after the wedding, Washu, Minaho, and Airi brief Emperor Azusa and Seto-sama on their findings regarding Rea. They start with Rea's arrival, when Kiyone found her and brought her to the Masaki home. The parallel universe Rea comes from has a one-way path, meaning they cannot contact people on Geminar. They explain what they learned of Geminar, the Seikishi Gaia, and the fact that Tokimi is keeping an eye on the place. Rea told Kiyone things, including how Rea needed to have a child and send it back to battle Gaia should Gaia arise again. Kiyone's sudden death kept folks in the dark longer. Azusa doesn't like the idea of a Masaki being sent over, but he's overruled as they will discuss things if Rea has a son.
Thoughts/Review:
For the first two episodes of Tenchi Muyo! Ryo-ohki OVA 4, the view was expected to be pretty versed in the GXP novels. For the third episode of the series,  the series shifts focus from GXP to Tenchi Muyo! War on Geminar. However, unlike the random discussions revolving around GXP without any context, at least the War on Geminar discussions were done in a way to answer questions not answered by the War on Geminar anime.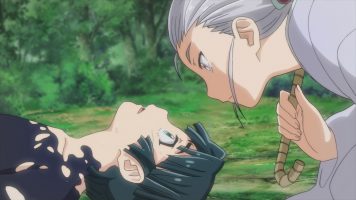 Pre-Wedding Parties
For the bridal shower party,  it was interesting to see how the women are organized, with Tennyo as their head. I was amused that Tennyo was curious to know what Rea saw in her father, Nobuyuki.  While this question was amusing, things became interesting when we learned that not only did Rea see Nobuyuki as more reliable than Kiyone, but so did the rest of Masaki Village. Granted, OVA 3 revealed that Kiyone wasn't the person Tenchi remembered in OVA 1 and OVA 2. However, getting greater details about their courtship was interesting, if all too brief.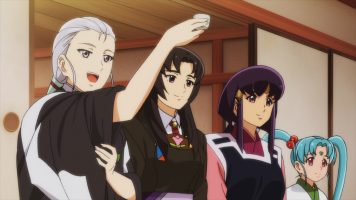 Some of the girls having the soak in the onsen also provided the gateway for Rea's backstory to finally get examined. I'll speak more about that later. What really struck me about the onsen scene is that all of the members of the Masaki family were in towels, as was Noike. Ryoko, Washu, Rea, and Mihoshi were nude, which is the first time we've seen full on nudity (sans the very naughty bits indeed). Kajishima-sensei does love his ecchi fanservice, but here, he's showing the difference between those from Jurai and those not from Jurai. The Juraians are shown as refined and modest while the "gaijin" are shown as immodest and not refined. 😆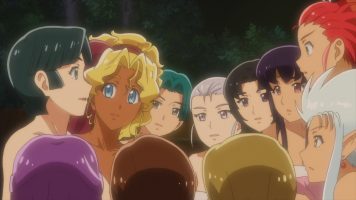 For the bachelor party, there wasn't much to that. However, we did learn that Tennyo has a Masaki boyfriend. Tenchi learned how old Yosho/Katsuhito was when Minaho was conceived.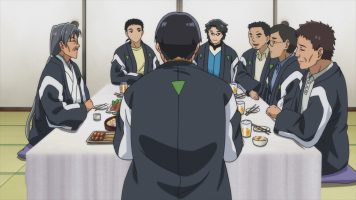 The party with Noike, Ryoko, Ryo-ohki, and Washu held some interest to me as well. For starters, we see just how mature Ryoko has become as part of the Tenchi harem. There was a time when she would have given the middle finger to being told not to bother the other parties. She would have gone up to go see Tenchi. In that vein, Ryoko remarked on how it would have been so much better if there'd been one party rather than multiple parties. I tend to agree with her.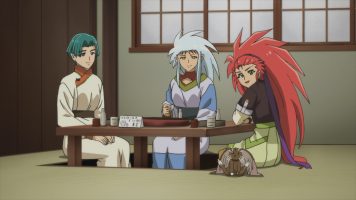 Family Issues
One thing that's somewhat frustrating is that Kajishima-sensei drops more questions than questions he answers. For Tenchi Muyo! Ryo-ohki OVA 4 episode 3, we continue to see the family issues between Yosho (Katsuhito), Airi, and Minaho. We know Airi did horrible things for science to Minaho. Minaho seemingly is OK with her past. Yet she didn't want to talk to her father when she arrived. Airi was blocked from coming, probably to keep her from raping her grandson from what the series has suggested so far.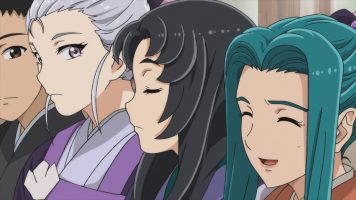 When Airi arrives at the wedding, she glares at Minaho, who simply ignores her mother. Then she glares at Katsuhito, who simply looks away. Airi gains her composure and takes her place for the wedding. However, from OVA 3, we know that Airi and Katsuhito confronted Minaho, which we assumed was about her being single still. I just wish Kajishima-sensei had explored more about the family rather than constantly have folks speak randomly about Seina and company from GXP, to include having a married woman try to go after him. 🙄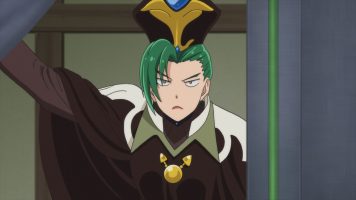 From GXP to War on Geminar
One of the frustrating aspects of Tenchi Muyo! Ryo-ohki OVA 4 is its demands that the viewer be versed in the early GXP novels. I've not cared for this as it makes all of the random conversations about things in GXP meaningless dribble to those who haven't watched the GXP anime or read the GXP novels. Indeed, Tenchi Muyo! Ryo-ohki OVA 4 episode 3 continues this tendency with the married women Airi and Tsukiko placed with the proposition of being in a sexual relationship with Seina. This is where Kajishima-sensei fails for me in his push for this kind of sexual fetish.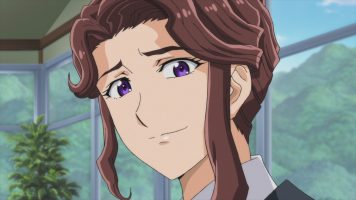 Kajishima-sensei decided to add the War on Geminar series to the Tenchi Muyo! discussions. However, unlike with the GXP discussions, the War on Geminar talks do have direct relevance to the canon Tenchi Muyo! series through Rea. So while having watched War on Geminar would have helped a ton, it wasn't totally necessary.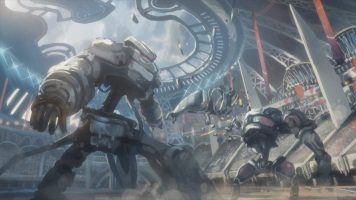 As one who did watch War on Geminar, the exploration of Rea's past did provide some answers to questions left by War on Geminar. We now have a greater understanding of why everyone was on board with helping train Kenshi to send him to Geminar. We also got the humorous reason why Tokimi-sama isn't doing anything about the situation on Geminar.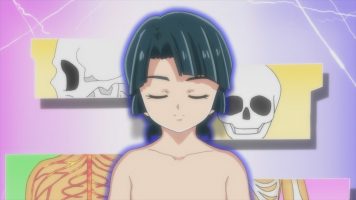 I liked how Emperor Azusa and Seto-sama were briefed on the Geminar situation. I was disappointed that Misaki and Funaho weren't present. I felt they should have been as part of the Holy Council. That said, since Kenshi would be part of House Masaki as soon as Yosho's status was revealed to be alive, this is the subtle way of showing how the Yosho announcement would impact Tenchi's family.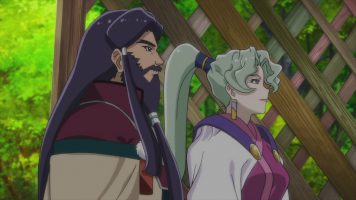 Final Thoughts and Conclusion
I wanted to have this done days ago, but as usual, things push getting stuff done aside. And yes, it doesn't help that I spend what little free time playing Fate/Grand Order. But so I can finally get this review done, I'll wrap it up with some final thoughts.
While it was amusing to show Mihoshi was out on patrol, I did note that she didn't have a speaking part in this episode.
In that same vein, neither Sasami nor Aeka had anything to say.
I've kinda mentioned this before, but I'm weary of the heavy incestuous element of Airi apparently lusting after her grandson.
In that same light, I'm also tired of Tsukiko's friends trying to push her to leave her husband so she can start boffing the underage Seina. During GXP, I was OK with girls older than Seina lusting after him. After all, that's part of the canon Tenchi Muyo! franchise tradition. But it becomes too much when we are talking about adult women pushing their friend to boff a boy whom she's known since he was born. And yeah, I'm rehashing what I wrote earlier, but it annoys me.
I felt that in this episode, we saw both the nutty side of Kiyone that we were introduced to in OVA 3, but at the same time there was the caring, motherly elements we knew from OVA 1 and OVA 2.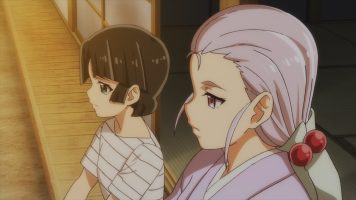 In the end, Tenchi Muyo! Ryo-ohki OVA 4 episode 3 allows us to see Rea and Nobuyuki get married. It also allowed us to explore Rea's character more. Unfortunately, it still requires the viewers to know the contents of the GXP novels and preferably the War on Geminar anime series.