Here is some SPOILER info for the upcoming UQ Holder Chapter 138, courtesy of 2CAT.  (My review of UQ Holder Chapter 138 should come out as soon as they appear on Crunchyroll, depending on when Crunchyroll publishes the chapter.)
UQ HOLDER Chapter 138 SPOILERS
The UQ Holder Chapter 138 goodness begins with the images shared thus far.
As expected, it does appear that Chisame turned him down, then when the rest of the class appeared, Asuna bailed him out of the situation to do her oneesan thing. I'll talk more about this when I have the whole chapter in context, but I do think that initially, Akamatsu-sensei was setting up the Asuna x Negi pairing, then when we got to the Magic World, he shifted it to Negi x Chisame.
Anyway, more updates as warranted.
Update #1: Here are a few more images. First up, Judge Asuna comes in to lay down the law.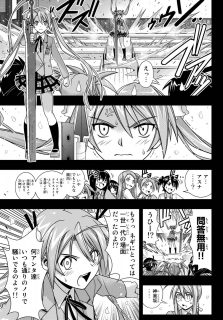 There's some heartbreaking stuff with Yue and Nodoka in the chapter. And I strongly suspect that this event of Chisame turning Negi down impacted him greatly. But we'll see. Here's the surprise stuff.
I think this is the first chapter without ANY UQ Holder folks showing up in any form. Akamatsu-sensei really is looking to resolve the biggest plot thread from Negima (which in Negima was given the, "good guys won, but that's all the details you get" treatment). I'd love it if my theory about Negi not actually killing his father comes true.