ユーキューホルダー! 魔法先生 ネギま!2 Manga Review
UQ Holder! Mahou Sensei Negima 2
UQ Holder!: Magister Negi Magi! 2 Chapter 139
UQ Holder Chapter 139

SPOILER Summary/Synopsis: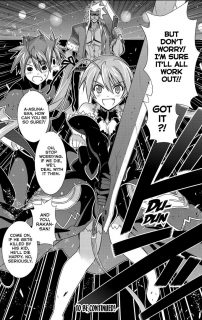 Ayaka and Chizuru join Kotaro and Natsumi on the asteroid surface to observe the battle. Fate goes to handle the 78,000 demons that have been summoned. Negi uses a new spell on Nagi-MotB, which doesn't work. Nagi-MotB acts more like Nagi as he battles Negi. Elsewhere, Asuna presses Paru to make the Great Paru-sama Mark II fly faster so they can make it to the battle.
Five hours later, Fate is still battling demons and Negi is still battling Nagi-MotB. Kotaro explains how Negi is keeping his magic going for so long. Nagi-MotB manages to get an advantage and lands a massive blow on Negi. While Negi is flying from the punch, he's punched again by Dynamis, the second in command from Cosmo Entelecheia. Other CE villains Nii, Septendecim, and Secundum all join the attack. Negi finds himself in a sea of black goo, which is apparently the actual body of Ialda (MotB). While CE summons more demons, Dynamis and Nagi-MotB state that even Asuna won't be able to stop them.
Meanwhile on Earth, college girls Misa, Madoka and Sakurako visit Eva, who's still trapped at Mahora thanks to the curse. They discuss the battle in space.
Back at MotB's asteroid, Negi is freed from the black goo by Mana, Kaede, Zazie, Chachamaru, Ku Fei, Setsuna, and Konoka. They yank him out, where he's caught by Asuna, who's flanked by Nodoka and Yue. Asuna had heard Nagi-MotB's words and is not concerned, feeling everything will be OK. She's joined by the surviving members of Ala Rubra, Jack, Al, and Takamichi. Further, Fate's battle harem of Homura, Shirabe, Koyomi, Tamaki, and Shiori jump in. Fate and Kotaro also join the mix.
Dynamis is not happy to see these people, especially Takamichi. Nagi-MotB shushes him, then asks Asuna to repeat what she said. Asuna reaffirms her belief that everything will work out OK. She tells Negi to stop worrying as if they die, they'll worry about that then.
Thoughts/Review:
Another chapter, sans UQ Holder characters, and this time, the splash page had to be used in a constructive manner, so no cameos there. Frankly, I don't mind that a bit. 😉
The Five Hour Battle
During the five hour battle between Negi and Nagi-MotB, K couldn't help remember when Negi fought the illusion of his father during the Mahora Budokai. Even though MotB claims that the Ialda persona and Nagi persona have been unified and merged, it was clear that the Nagi persona emerged during the fight with Negi. In that light, I think that Nagi-MotB actually enjoyed battling Negi. From Ialda's perspective, this was probably a bit of entertainment. And from Nagi's perspective, we know he loved a fight. So it all made sense to me.

MotB felt no fear about Asuna and company coming to help, so as far as Ialda was concerned, have a bit of fun, then when Negi's allies arrive, end the fun and give Negi a sample of the despair.
Cosmo Entelecheia, Ala Ruba, and More Return
You know, I'm sad to say that I had kinda forgotten about Cosmo Entelecheia. There really hasn't been a hint of them in UQ Holder, so I suppose it is natural. After all, Negi may have wiped them out before failing to defeat MotB. So it was fun seeing that group return and lay the smack down. No doubt they have some thirst for revenge, both against Negi and against Nagi. Since Nagi is "occupied" (har!har!), they have to settle for Negi. I'm kinda hoping that Fate gets to square off against Secundum.
I like seeing the surviving members of Ala Rubra show up. We Negima! fans already know about Jack, Al, and Takamichi. I had to smile when Dynamis had the biggest reaction to Takamichi showing up. I recalled that in Negima!, Takamichi was celebrated on the magic world for having taken down a powerful (criminal) organization. I don't think Takamichi was ever discussed as having battled CE (I need to look I guess), but if not, then I think this reaction from Dynamis shows that Takamichi really put a hurt on CE back in the day.
Fate's battle harem also showed up. I was really surprised to see them 'cause there too, we've not had an indication of them being in the UQ Holder timeline. I doubt we get more than cameo shows for their fights, but it is still cool to see them.
Ala Alba
Then you had what I'm calling Ala Alba, aka Negi's battle harem, show up to save him. Zazie, Ku, Kaeda, Mana, Setsuna, Asuna, and Chachamaru are your obvious front-line warriors. Konoka, Yue, and Nodoka are your back-line support, with Yue having the ability to not only provide tactical info to the front-line folks, but having the ability to give defense to the back-line.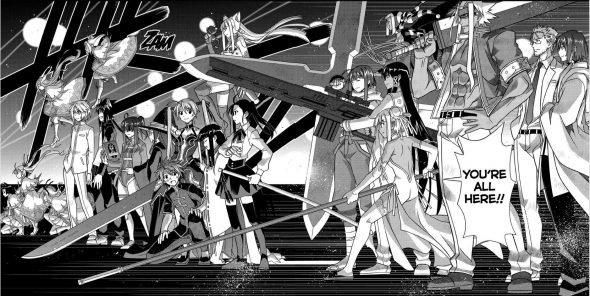 We had Paru being the pilot of the new Great Paru-sama Mark II. (I wonder if the ship Kotaro and the others were on is the original Great Paru-sama.) So I'm thinking her support role will be air support. We don't know who all else might have come with Paru, but I would assume the ship's weapons could be used.
I was glad to see that Ayaka and Chizuru were with Natsumi and Kotaro on the other ship. Both are looking quite lovely as college girls. Akamatsu-sensei did well in making them look more mature, unlike what he did with Setsuna (she is hanyou, so maybe that's to be expected), Konoka, and Ku. Those three still looked like junior high girls, as did Natsumi now that I think of it.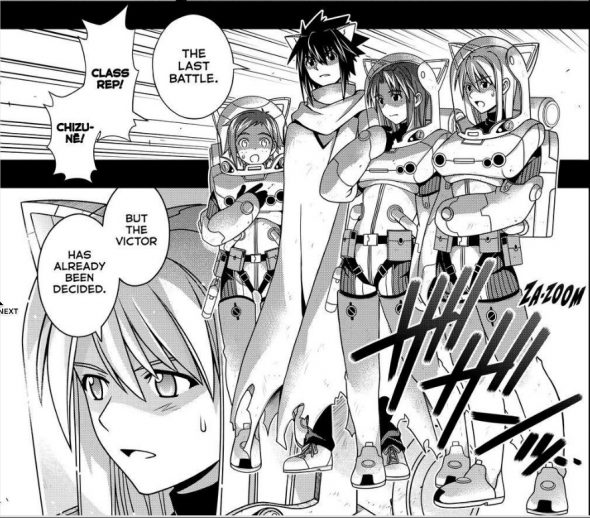 I'm really wanting to see Zazie in combat. We've seen the others, and it will be great seeing them in action again, but Zazie had a mostly passive role in Negima. Now that she's on the team battling CE, I want to see her in combat, kicking bottom and taking names.
We don't know where Chisame is, though she'd be worthless in this kind of fight. Ditto Asakura and Sayo. However, I'm thinking we'll see them all before this UQ Holder-free flashback is done.
Final Thoughts and Conclusion
With so much of UQ Holder chapter 139 dedicated to Negi battling Nagi-MotB, there's not a ton to say, so I'll wrap this up.
 I absolutely loved the idea that the three cheerleaders Misa, Madoka and Sakurako would pay Eva a visit to eat, drink, and chat. Akamatsu-sensei really did a good job showing how they've matured, and he matched that by making them look like hot college babes.
Further, I enjoyed seeing how Eva has mellowed over the years. However, as she mentioned being a junior high school student, the reality of the curse really came home to me. Her classmates from Negi's time became her friends, but they had to move on to high school and now college. Eva has to start junior high school all over again every three years. I think that realization helped make the visit from Misa, Madoka and Sakurako more impactful.
I wonder what that house is that Eva is apparently living in. I don't remember her old log cabin getting destroyed. However, I do love this modern home with a roof terrace. I'm kinda curious as to where Akamatsu-sensei got the idea.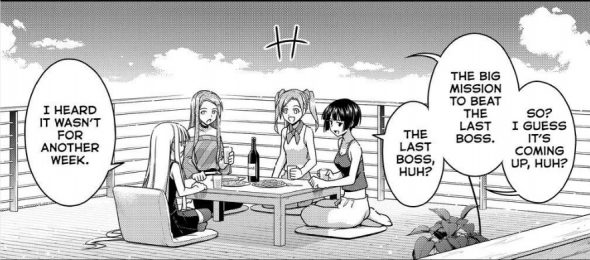 In the end, UQ Holder chapter 139 continues to wrap up the main plot thread from Negima! and start to give us Negima! fans the closure we've been craving for years. That alone makes this chapter awesome and a half!